The Indianapolis Quartet performs with guest artist Soyeon Kate Lee April 1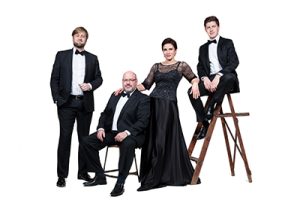 INDIANAPOLIS—The Indianapolis Quartet marks its third season in residence at the University of Indianapolis with an April 1 concert featuring the music of Joseph Haydn, César Franck and Edvard Grieg. The Quartet welcomes acclaimed guest pianist Soyeon Kate Lee for a performance of Franck's explosive 1879 masterpiece, the Quintet for piano and strings in F minor. The program opens with Haydn's witty "Joke" Quartet, Op. 33, No. 2, and concludes with the soaring intensity of Grieg's String Quartet No. 1 in G minor, Op. 27. The performance is open to the public and free of charge.
7:30 p.m., Monday, April 1, Ruth Lilly Performance Hall, Christel DeHaan Fine Arts Center
Faculty Artist Concert Series presented by Katz, Sapper & Miller
Featuring Zachary DePue and Joana Genova, violins; Michael Isaac Strauss, viola; Austin Huntington, cello; with guest artist Soyeon Kate Lee, piano
Guest artist Soyeon Kate Lee has been hailed by The New York Times as a pianist with "a huge, richly varied sound, a lively imagination and a firm sense of style." Winner of the 2010 Naumburg International Competition and the 2004 Concert Artist Guild Competition, she has appeared as soloist with the Cleveland Orchestra, London Symphony Orchestra, Louisiana Philharmonic Orchestra and San Diego Symphony, among others. Recent solo recitals have taken her to Alice Tully Hall, the Kennedy Center and the Ravinia Festival. A Naxos recording artist, Ms. Lee will record a double CD of Scriabin piano works this season following the Scarlatti and Liszt albums released earlier. Lee is an assistant professor of piano at the Cincinnati-College Conservatory of Music.
Regular collaborations with premier chamber music artists and composers, including University of Indianapolis artist-in-residence, Christel DeHaan fellow and 2017 American Pianists Awards winner Drew Petersen, pianist Orli Shaham, cellist Mark Kosower and clarinetist Todd Palmer, have afforded The Indianapolis Quartet a creative expansion of the group's repertoire and reach to new audiences. After its Chicago debut in March 2018, the Quartet made summer festival appearances and performed live on Vermont Public Radio, broadening its scope beyond the Midwest. The current season has seen the ensemble on stages in Cincinnati, Indiana Landmarks Center, Butler University and Illinois Wesleyan University.
About The Indianapolis Quartet
Founded in 2016, The Indianapolis Quartet (Zachary DePue and Joana Genova, violins; Michael Isaac Strauss, viola and Austin Huntington, cello) is the ensemble-in-residence at the University of Indianapolis, reaching audiences through their unique musical language and emotional performance style. In addition to concerts, masterclasses and open rehearsals at the Christel DeHaan Fine Arts Center, The Indianapolis Quartet performs frequently throughout central Indiana, the Midwest and Vermont, exercising its mission to gradually expand its reach not only regionally, but also nationally and internationally, as it continues to build its repertoire of world-class music. The Indianapolis Quartet is grateful for support from the Christel DeHaan Family Foundation.

Download a high-resolution image of The Indianapolis Quartet.