UIndy engineering students earn top awards at ASEE conference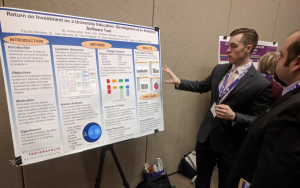 Twenty engineering students and ten engineering faculty attended the American Society for Engineering Education (ASEE) Illinois-Indiana Section Conference for 2019 hosted by the University of Evansville in March.
From a field that included students from universities from around the region including Purdue University, students from the R.B. Annis School of Engineering at the University of Indianapolis took home both first- and second-place poster presentation awards. (See a complete list of the winning teams below.)
"It was a great experience to be able to share our project with other engineering professionals and experts," said Marko Tasic '21 (industrial and systems engineering).
Students participating in the conference are from the sophomore level ENGR 298 – Engineering Design Lab IV and junior level ENGR 398 – Engineering Design Lab IV, both core classes of the DesignSpine curriculum that emphasizes project-oriented courses with practical, hands-on experience and collaboration on real-world projects.
Joseph B. Herzog is the lead instructor and course coordinator for ENGR 298 and David Olawale is the lead instructor and course coordinator for ENGR 398. Teaching both of these courses is a team effort from all of faculty in the R.B. Annis School of Engineering. Student teams meet with engineering faculty members each week to discuss project status and also consult with faculty outside of class time for technical assistance.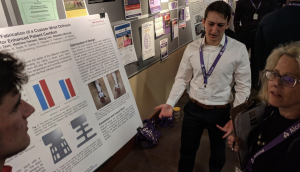 "What I love about this class is that when I walk into the machine shop during the class period, I see a diverse group of students working on multiple different projects. Some students are welding, others are cutting steel, and others are working on the mill. This is a great experience that connects students with external customers, enables students to use their technical engineering skills to design the project, but also give students the opportunities for hands-on work, that will make them better engineers," Herzog said.
Olawale said the focus during the junior year of the DesignSpine sequence is "entrepreneurial mindset development in our engineering students. Our students are not only developing critical technical skills like engineering design, they are also developing the capacity to identify and exploit needs as opportunities to create value for different stakeholders. Such is the case for our student team that took first position. They are developing a software product that will help universities in assessing the value of the education they are providing."
List of 2019 ASEE IL-IN Section Award Winners:
Outstanding Poster Awards
1st Place:
"Return on Investment On A University Education: Development of An Analytical Software Tool"
Student Team Members:
Joshua Love '20 (software engineering) 
Kristians Kanders '20 (s

oftware engineering) 
Kinsey West '20 (i

ndustrial & systems engineering)
Ante Lucev '20 (s

oftware engineering) 
2nd Place:
"Design and Fabrication of a Custom Wrist Orthosis for Enhanced Patient Comfort"
Student Team Members:
Marko Tasic '21 (industrial & systems engineering)
Matthew Hansen '21 (m

echanical engineering and engineering)
Mang Lian '21 (m

echanical engineering)
Demetre Mitchell '21 (m

echanical engineering)