2019 Scholars Showcase results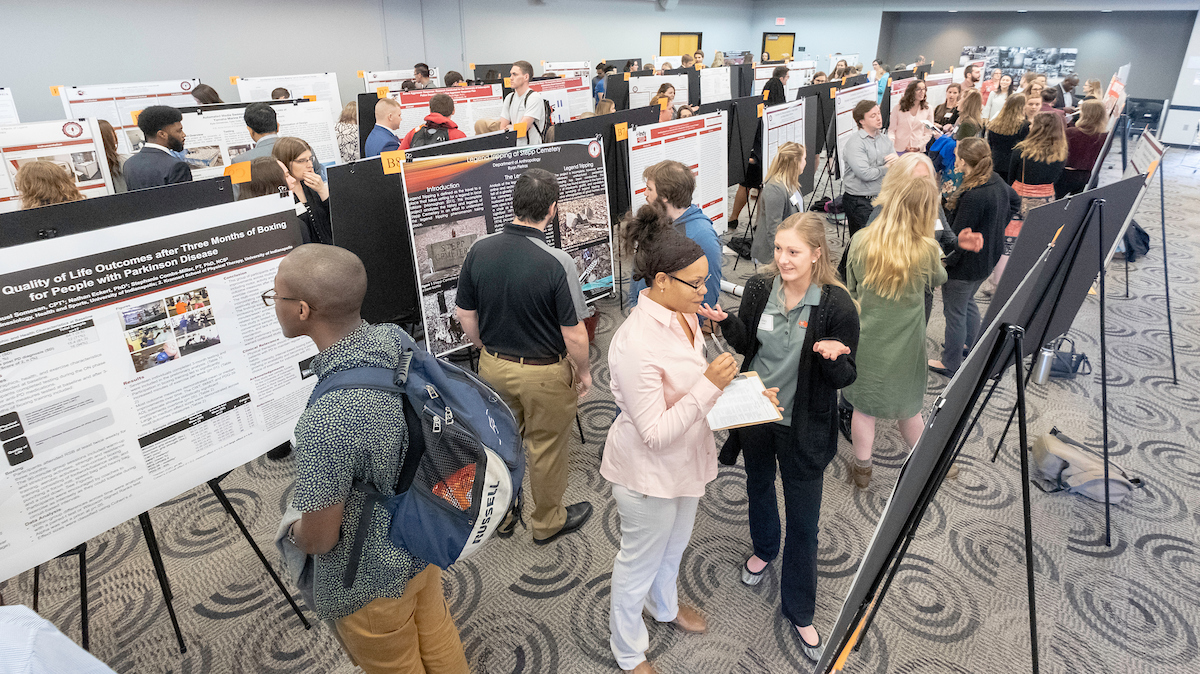 The first annual Scholars Showcase featured 179 presentations and performances, highlighting the academic research of students and faculty from the University of Indianapolis.
"We noticed a few years ago that faculty and students across campus are engaged in all types of scholarship that are not only enhancing learning opportunities for our students but are advancing the science of our professions and impacting our communities," said Professor & Director of Research in the College of Health Sciences Stephanie Combs-Miller, one of the event organizers. "While these scholarly achievements are typically shared within departments, we wanted to create an opportunity to showcase these achievements to the broader campus and community."
Research projects and collaborations were featured at multiple locations across campus, and 300 people registered to attend the daylong event.
"Scholars Showcase also provided an opportunity for students and faculty to network and build interdisciplinary relationships. This event serves to prepare students to think critically and share their work with others," said Combs-Miller.
See a complete list of winners below.
A campus-wide event highlighting the research accomplishments of undergraduate and graduate students, plus faculty from all colleges, units and departments! uindy.edu/scholars-day

Posted by University of Indianapolis on Friday, April 12, 2019
Scholars Showcase 2019 Awards
Poster Awards
Best Faculty Poster –
Robert L. Karlinsey:  Mining, Raiding, and Writing: The Untold Interplay that Transformed England in the 16th Century 
Best Graduate Student Poster –
Jazmin Atzhorn: School Relationships and Victimization Impact on Just World Beliefs: A Study Among Brazilian Students
Runner-up Graduate Student Poster –
Jeanette Hoeksema and Erin Fekete: Grit is Related to Less Internalized Weight Stigma and Better Health Outcomes
Best Student Poster –
Maranda Fitzpatrick, Rachel Abraham, Channing Bearhope: Does College Students Mental Health Status Affect Academic Performance?
2nd Place Student Poster –
Vanessa Bump and Leah Courtland: Investigating Scoria Cone Morphology via GPR Imaging in Crater Flat Volcanic Field
3rd Place Student Poster –
Maria McCune: What are the Key Elements and Strategies to Promote a Growth Mindset Classroom?: What I have learned from my field project in an elementary classroom
4th Place Student Poster –
Tyler Cole, Jevis Tizie Muluh, Tyler Cook, Kyla Christmas, and Ryan Veazie: Lost Media
Student Choice Poster (Highest ranked poster from student judges) –
Megan Davish, Abi Bushman, Dylan Faulkenbergh: Risky Business? Is Oral Cancer Risk Knowledge Associated with Subsequent Behaviors in College Students?
Presentation Awards
Best Faculty Presentation –
Elizabeth S. Moore, Jennifer N. Carmack, Kara Cecil, Kathleen E. Hetzler, Jessica E. Jochum, Briyana Morrell, Alison Nichols, Jane Toon: Impact of Interprofessional Week on Student Perceptions of Interprofessional Education
Best Undergraduate Presentation –
Katelyn Lutzmann, Christopher R. Moore: A Study in Pottery Decoration and Socio-Economic Status of the Baum Family
Runner-up Undergraduate Presentation –
Miles Furr, Stephen J. Bauman, Dennis Doyle, Meredith Magee, Jake Fontana, and Joseph B. Herzog: Surface-enhanced Raman Spectroscopy (SERS) with Subnanometer-Gap Metasurfaces. Midwest Journal of Undergraduate Research at Monmouth College in Monmouth Illinois
Student Choice Presentation (Highest ranked poster from student judges) –
Zhe Zhang: Examining Gendered Spaces in Fountain Square, Indianapolis
Roundtable Discussion
Excellent Roundtable Discussion –
Dr. Nelson Kraus: STOP Memorizing; START Understanding!
Beth Ann Walker, Kelsey Lemond, Tori Faulkner, Kasey Otte, Pamela Hess: Occupational Performance Inventory of Sexuality and Intimacy (OPISI)
Rebekah Raab: Representing Disability Studies in the High School English Classroom
Honors Awards
Best Honors Poster –
Kacie Johnson:  Practice What You Preach: An Analysis of How the Perception of the Physical Health of Nurses Affects Patient Outcomes
Best Honors Presentation –
Nicole Scott: Comparative Analysis of Resistance to Ampicillin, Streptomycin, and Oxytetracycline at Sites near Beef Cattle Pasture in Rural Decatur County, Indiana
Excellent Performance –
Rochelle Bauer: Performance Type: Poetry Reading – Turn to Page 210: A Poetry Chapbook
Taylor Jacob Kleyn: Performance Type: Short Film – Letters: A Creative Short