Physical therapy professor Emily Slaven named Teacher of the Year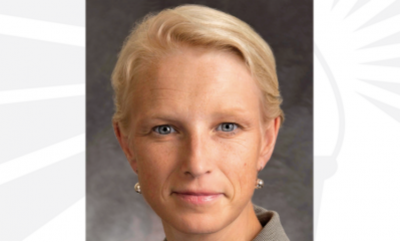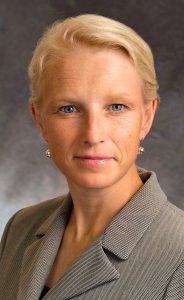 "It's important to teach students how to think as much as learning the content," said Emily Slaven, PT, PhD, who has been named the 2019 University of Indianapolis Teacher of the Year.
Slaven, an associate professor and director of the orthopedic residency program in the Krannert School of Physical Therapy, has been a faculty member since 2010. Her students frequently cite her willingness to get to know them as people and not just students.
"Since my first class with her, Emily treated me both as a student and a future colleague," said a former student.
Known as a professor who teaches beyond the textbook, Slaven said "seeing others give back to the profession as excellent clinicians, to impact lives for the better, is what teaching is all about."
She not only talks about the importance of giving back, but she teaches by example. Slaven regularly volunteers as a supervising physical therapist at a student-run pro bono clinic that provides care to underserved clients and is the president of the Indiana chapter of the American Physical Therapy Association.
In letters of support, former students pointed to Slaven's clear passion for teaching and her dynamic classroom presence as key assets.
College of Health Sciences Dean Stephanie Kelly said: "Emily consistently demonstrates excellence in teaching through her commitment to preparing excellent physical therapy clinicians." Kelly noted that Slaven often extends her teaching beyond the classroom, working with small groups of students outside regular class time, mentoring students in volunteer efforts, and providing continuing education and clinical in-services to practicing clinicians.