Information Technology update for Fall 2020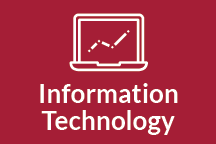 Campus Community,
As the University enters Phase 1.5 of the
UIndy Road to Re-Engagement
, I wanted to provide some information on technology support and services starting next week.
Computer Labs
Beginning Monday, August 3, the Krannert Memorial Library Open Lab will be available during published library hours. Scholar Stations within the library will also be available.  Note that capacity will be reduced to maintain social distancing.  Other computer labs will begin opening in stages until August 24, at which time all planned labs for Fall will be open.
Remote Access: Due to the reduced capacity of labs this semester, IT has made it possible to access certain lab software titles remotely.  See the link below for the requirements and process for connecting to a lab remotely.
More information:
IT Help Desk
The Help Desk will continue to be open for support during normal business hours.  To maintain social distancing, in-person assistance will be available by appointment only.  We will not be able to accommodate walk-ins at the current time.  For fastest service contact us by any of these methods:
Create a ticket at help.uindy.edu
Send an email to help@uindy.edu
Call (317) 788-3318
Help Desk staff will be actively monitoring tickets and will use remote methods to the extent possible to resolve your issue.  If in-person assistance is required, we will schedule an appointment time with you.
Printing Services
Previous printing services such as poster printing, laminating and color copying are now offered via the University Copy Center and will no longer be available in IT.  Please visit
My Uindy
for more information on the services available in the copy center.
Computer Deployments (faculty and staff)
If you are due for a computer replacement this year, your new equipment has already been identified and verified with a departmental head.  Appointments will begin in late September.  Appointment scheduling will become available to eligible individuals in phases.  Due to supply chain issues related to the Coronavirus pandemic, there may be delays in obtaining your new computer from our suppliers. You will be contacted by IT directly when we are ready to have you select a specific appointment.
Note that changes to these and other IT-related services may be modified based on governmental and University guidelines and policies.  You can review a full list of planned IT support services for the different phases of the re-engagement plan at
Get Tech Support During Re-engagement
.
Have a safe and successful Fall semester.
Steve
—
Steve Herriford
Vice President and Chief Technology Officer