University of Indianapolis announces May 2019 Commencement Ceremonies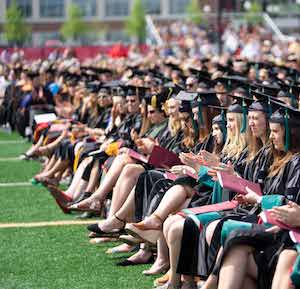 INDIANAPOLIS—The University of Indianapolis will host two Commencement Ceremonies May 3-4, 2019, at locations on campus, 1400 E. Hanna Ave., Indianapolis.
Graduate Commencement Ceremony
When: 7 p.m., Friday, May 3, 2019
Where: Nicoson Hall, University of Indianapolis, 1400 E. Hanna Ave.
Undergraduate Commencement Ceremony
When: 11 a.m., Saturday, May 4, 2019
Where: Key Stadium, University of Indianapolis, 1400 E. Hanna Ave.

Watch a live stream of the Commencement Ceremonies on uindy.edu/graduation.
President Manuel will preside over each ceremony, which includes a full academic procession and musical performances by University faculty and students. The total number of University of Indianapolis graduates for 2019 (including May and August) stands at 1,352 students from 22 countries and 27 states, with 843 undergraduates, 468 master's and doctoral students, including 41 graduates at the University's international partner sites.
Honorary degree recipients
The University of Indianapolis will confer honorary degrees on Lonnie Johnson and Bob Zellner, two visionaries who embody the mission of the University. Lonnie Johnson is a world-renowned inventor, as well as president and founder of Johnson Research and Development Co., Inc. He has earned numerous awards from NASA for his spacecraft control systems and is the inventor of Hasbro's Super Soaker® Water Blaster. Bob Zellner is a prominent civil rights activist and Freedom Rider who has dedicated his life's work to the pursuit of equal rights for African Americans. Zellner will be honored during Friday's Graduate Commencement and Johnson will receive his honorary degree during the Undergraduate Commencement Ceremony on Saturday. Learn more.

Trevor Manspeaker '19 (doctorate of occupational therapy) will serve as the graduate student speaker May 3, and Jacob Whatley '19 (nursing) will speak on behalf of the undergraduate student body May 4.

Brenden Everett '19 (music) will perform the National Anthem at both ceremonies as well as the Alma Mater at the graduate ceremony. Brynn Stebbe '19 (music teaching) will perform the Alma Mater at the undergraduate ceremony. Daniel Huckstep '19 (doctorate of physical therapy) will perform the invocation and benediction May 3, and Natalie Benson '19 (religion and psychology) will serve the role May 4.
UIndy 2019 Commencement by the numbers:
843 undergraduates

468 master's and doctoral candidates (136 doctoral, 332 masters)

27 states and 22 nations represented

1,311 graduates from home campus

41 graduates at UIndy's international partner sites

Total: 1,352 graduates