Larry Powell Discusses studioHFL Podcast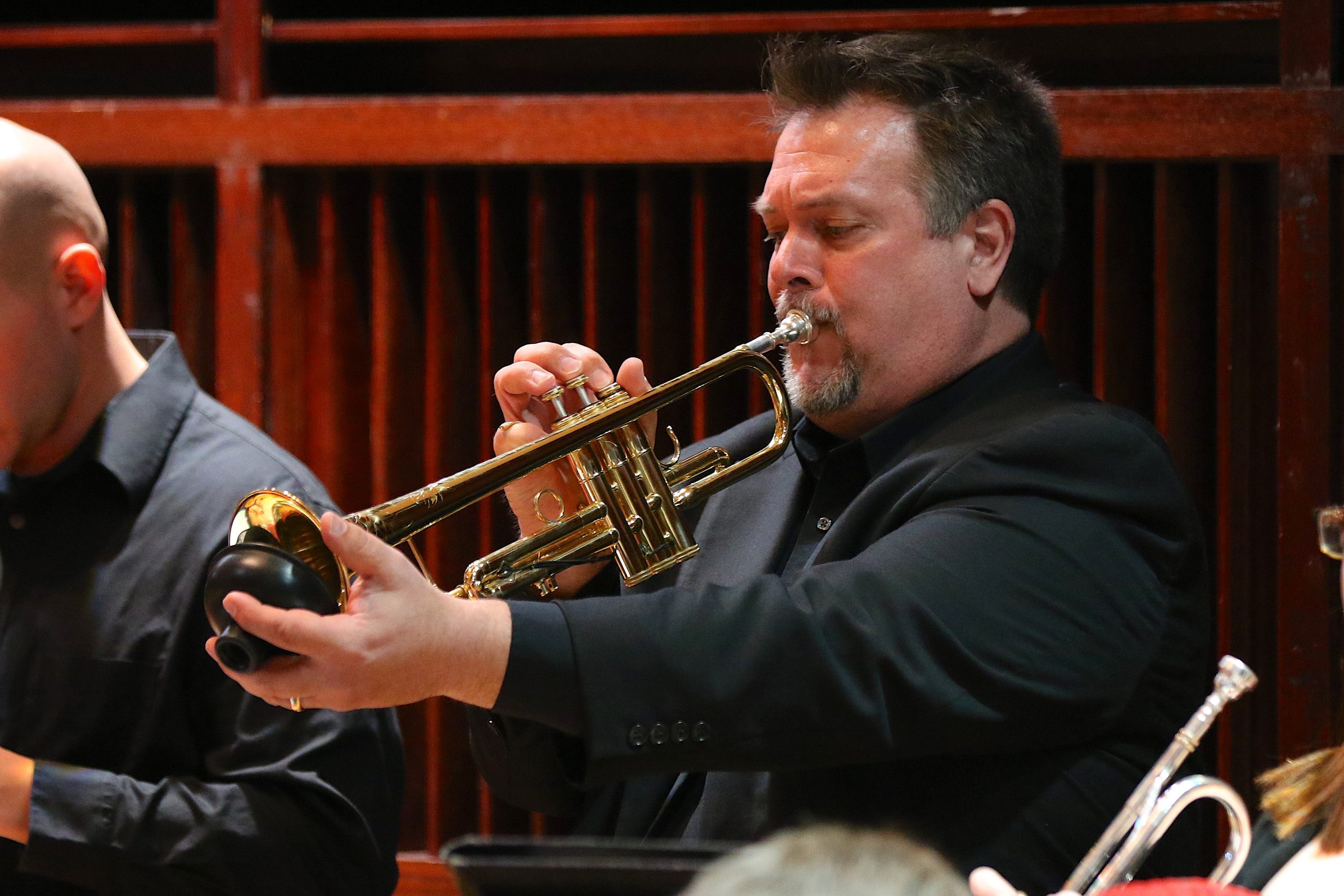 Adjunct trumpet instructor Larry Powell has been teaching at UIndy since 2007. In August 2018, he started interviewing famous musicians and releasing those interviews as a podcast called studioHFL.
Intercom: What was your inspiration for starting this podcast?
Larry: I started listening to the podcasts The Brass Junkies, and The Other Side of the Bell, both brass player shows. I enjoy both tremendously, but as I was listening I noticed that the interviewer let a lot of things fly by without following up. They are typically stuck to their script and don't do a great job of followup. It is effective, but I imagined that I could do interviews where I just started a conversation and listened to where the guest wanted to go. To me that provides for the opportunity to hear some things that are way more interesting than stock questions and answers. So, I lined up some interviews with musician friends that I've known, interviewed them, edited, and boom! I had a podcast! Of course, there is much more that went into the development of my brand, but that was the impetus for my podcast.
Intercom: Who is the target demographic for your podcast?
Larry: Since I'm a trumpet player it seemed obvious that trumpet players should be my guests. Since I started interviewing back in August of 2018 I have conducted ninety-eight interviews! And, I have a list of musicians that will likely never be exhausted. Around guest number fifty I started straying from the trumpeter-only interviews. The guests are all still brass players, but now include horn, trombone, tuba, and some composers. Originally, the HFL in studioHFL stood for Higher Faster Louder, sort of a trumpet player's motto! In April of this year I changed that to Hear From Legends. That widens my audience exponentially. My focus has always been about interviewing legends and legends in the making. All of my guests are significant in the world of music. Some internationally known, and all high profile even if it is just in their area such as jazz, solo, or orchestral players.
Intercom: Has the pandemic impacted your podcast in any way?
Larry: March 13, 2020 was a significant day for all of us. But, for gig workers that day forward has proved disastrous. Our entire calendars were immediately wiped clear. Even now, four of the regional orchestras I perform with are postponing concerts into 2021. It has been depressing and it doesn't look good for our industry. However, I realized back in April that everyone was in the same place. Meaning, we all had free time. So, I ramped up scheduling guests for interviews. Where it had taken me well over a year to conduct my first 50 interviews, I've now conducted forty-eight in the last four months! I'm trying to make hay while the sun shines, or find that silver lining. I've been making the most of building this brand and growing my listenership.
Intercom: What does a usual episode consist of?
Larry: I start my interviews the same way with everyone by asking "where are you and what are you doing right now?" They tell me about how they are handling their lives during COVID19 and what projects they are working on. Many of my guests are now working on musical projects they had little time for when they were so busy gigging. After that I usually steer the conversation in reverse order of their life, from now backwards to include everything from teachers, gigs, experiences, cancer survival, depression. Yeah, we talk about life, and not just the easy and fun parts. My guests often show their vulnerability and humanity. Something that their fans may not ever get to hear or see. We don't talk about gear. If anyone wants to know that they can go to the artist's website and find that out. That is just fluff, anyway.
Intercom: What is your favorite interview you've done?
Larry: I've many favorite interviews. Doc Severinsen may be at the top. He was the bandleader on the Tonight Show with Johnny Carson for over thirty years. Doc has become a good friend and has been to my house for dinner. Ronald Romm, a founding member of the Canadian Brass has also become a dear friend. It is strange to think that these people are some that I watched and listened to while I was growing up. And, now we are friends. Those are two highlights, and it would be wrong to say that they were my only favorites. I've truly enjoyed every interview I've done. My guests are giving me their time and sharing their lives. How special that is!
Intercom: Who would be your dream interviewee? (Could be living or deceased)
Larry: I'll be honest, I loathe questions like these. Only because I have to choose one! There are so many for so many different reasons. I've already had some dream interviews. I'll have more. I have reached out to some NFL players! There are parallels between high-performing athletes and high-performing musicians. The amount of preparation, focus, grit, and intellect is shared by both professions. I'd love a chance to interview Adam Viniateri, or Tiger Woods.
Tune in to StudioHFL:
Spotify
iHeartRadio
Google Play
iTunes/Apple Podcasts
SoundCloud
Become a podcast supporter at www.patreon.com/studiohfl