Senior Megan Davish seeks to impact health policy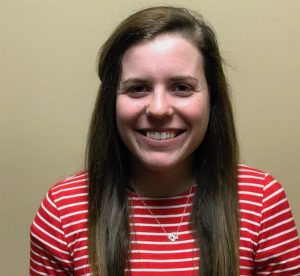 The University of Indianapolis is the place senior Megan Davish credits with igniting her passion for public health policy. Davish, who will graduate on May 4 with a degree in public health promotion and education, plans to go to graduate school to study health policy.
"Before coming to UIndy, I was a biology major at the University of Louisville," she said. "When I discovered that was not the right path for me, I transferred to UIndy, where I majored in public health with the intention to eventually pursue occupational therapy."
Davish's public health courses and the support of two public health faculty, Dr. Amie Wojtyna and Dr. Heidi Rauch, changed that.
"Dr. W. helped me stay on track to graduate on time, even though I had transferred, and Dr. Rauch inspired my love and excitement for health policy and law, especially those that affect our daily lives," she explained.
Davish, who will study health policy at either George Washington University or the Fairbanks School of Public Health at IUPUI, took advantage of opportunities to co-author research and present it at national conferences including the Society of Public Health Education conference in Washington, D.C.
"UIndy has given me the chance to conduct research and work for and with my community," said the Hamilton, Ohio native. "The public health program allowed me to take my knowledge and apply it outside of the classroom as part of the Capstone implementation project."
Davish's Capstone project, which she did with classmates Lauren Ravesloot and Crystal Rains, was to develop and implement a social interaction and physical activity program for children served by Down Syndrome Indiana.
In addition to her public health studies, Davish participated in professional honor societies Phi Kappa Epsilon and The National Society for Leadership and Success and was involved in College Mentors for Kids.
Related: May 2019 graduates share what's next & how the University of Indianapolis helped them along the way