UIndy Class of 2019 urged to use skills for service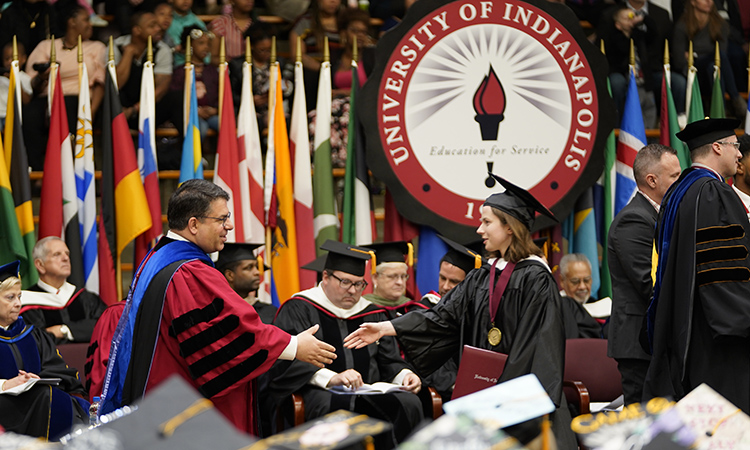 The University of Indianapolis held May Commencement ceremonies before capacity crowds in Nicoson Hall Friday and Saturday.
The total number of University of Indianapolis graduates for 2019 (including May and August) stands at 1,352 students from 22 countries and 27 states, with 843 undergraduates, 468 master's and doctoral students, including 41 graduates at the University's international partner sites.

President Rob L. Manuel encouraged graduates to pursue great ideas through community-building, service and passion.
"You are now and forever will be a part of our story. You are now part of the UIndy quilt – a tapestry woven together over more than 110 years," Manuel said.
The ceremony included a full academic procession, performances by Department of Music faculty and students, and the National Anthem performed by Brenden Everett '19 (music).
Trevor Manspeaker '19 (doctorate of occupational therapy) served as the graduate student speaker May 3, and Jacob Whatley '19 (nursing) spoke on behalf of the undergraduate student body May 4. 

Manspeaker, who will be working at St. Joseph Regional Medical Hospital in his hometown of Mishawaka, Ind. as an inpatient therapist, urged the Class of 2019 to be prepared to give back.


"We live in a world where success is measured by many things. It is measured by the money you earn, the power you have and by the material things you own – but I challenge each of you to measure your success in another way – that is the way of service," Manspeaker said.

"Reflect on UIndy's motto, 'Education for service' and recognize that we are now equipped to make a difference in our communities. In the last four years, our toolbox has been filling with all sorts of tools and a broken world awaits us.  How can we drive a positive change in this world in the next four years?" said Whatley.
Whatley plans to work as a registered nurse on the adult intensive care unit at Franciscan Health, Indianapolis campus after graduation.

Daniel Huckstep '19 (doctorate of physical therapy) and Natalie Benson '19 (religion and psychology) performed the invocation and benediction for the graduate and undergraduate ceremonies, respectively.

Emily Slaven, associate professor and director of the orthopedic residency program in the Krannert School of Physical Therapy, was named 2019 University of Indianapolis Teacher of the Year.
Three students were honored with the I. Lynd Esch Award, which is given each year to students with the highest scholarly achievement during their University of Indianapolis career. The award, named for a former president of the University, recognizes persistence, consistency and dedication to academic excellence. The 2019 recipients are Samantha Froh (pre-art therapy), Brittany Isaacs (elementary education) and Chloe Wahl (biology and chemistry).

The University of Indianapolis conferred honorary degrees on Lonnie Johnson and Bob Zellner, two visionaries who embody the mission of the University. Lonnie Johnson is a world-renowned inventor, as well as president and founder of Johnson Research and Development Co., Inc. He has earned numerous awards from NASA for his spacecraft control systems and is the inventor of Hasbro's Super Soaker® Water Blaster. Bob Zellner is a prominent civil rights activist and Freedom Rider who has dedicated his life's work to the pursuit of equal rights for African Americans.
Zellner thanked the University for the honor, and reminded graduates of the ongoing struggle for civil rights.
"I learned one thing in my work with Dr. [Martin Luther] King and Mrs. Rosa Parks – that is that brotherhood and sisterhood is not so wild a dream as those who profit by postponing it pretend. You are the ones who will go forth and prove that we can come together and save our democracy."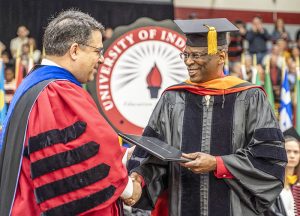 Johnson challenged graduates to continue the legacy of human innovation, citing examples such as artificial intelligence.
"As my generation passes the torch to you, your generation will become the future leaders of the world and address the challenges associated with the activity that comes with computers and all of those great, wonderful things that man will continue to develop," Johnson said.

Johnson also urged the Class of 2019 to consider how to "spread the wealth and ensure everyone is treated in an equitable and balanced way."