"Shark Tank" meets DesignSpine at the R.B. Annis School of Engineering Business Pitch Competition

Imagine a data analytics tool to help universities demonstrate the value of higher education. Or an after-market device that alerts drivers to motorcyclists lurking in their blind spots. How about a better charging station for your electronic devices?
Students from the R.B. Annis School of Engineering at the University of Indianapolis presented plans for these ideas at the inaugural Business Pitch Competition held in April 2019.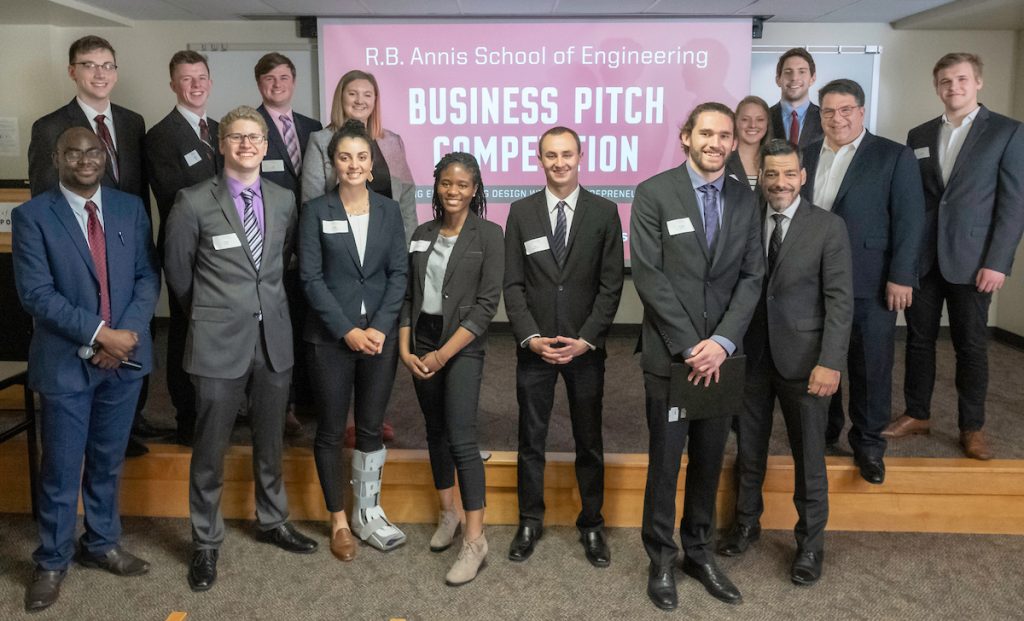 As part of the R.B. Annis School of Engineering's unique DesignSpine curriculum, students in the third year of the program work in interdisciplinary teams to design and pitch a product, process or service in collaboration with industry mentors. At the inaugural event, three teams presented their work to faculty from within and outside of the School of Engineering, including mentors from Citizens Energy Group, Huntington Bank, and Anthem NGS.
Following a "Shark Tank"-style competitive format, the teams presented prototypes for a multifunctional charging station, a motorcycle detection system, and an analytical software tool that explored the return on investment of university education. The team challenge is aimed at developing a mindset that combines design and entrepreneurship.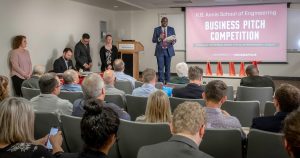 With more than 200 students now enrolled, the R.B. Annis School of Engineering offers an array of programs, including computer, computer science, electrical,  industrial & systems, mechanical, software and general engineering.
José R. Sánchez, associate dean of the R.B. Annis School of Engineering, refers to DesignSpine as the R.B. Annis School of Engineering's "secret sauce" that informs students' learning experiences throughout the program. The goal is to help students graduate with a multi-layered skill set that helps them stand out in a competitive workforce.

"We want to make sure our students are working in interdisciplinary teams as early as freshman year learning how to collaborate, be creative, think critically and, most importantly, become modern engineers and industry leaders," Sánchez said.
Working closely with industry mentors to identify market demands, the teams collaborated throughout the academic year, consulting with School of Engineering and Department of Communication faculty.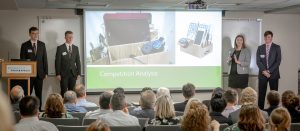 During their presentations, students must demonstrate how their solution beats the competition; how the product works; how they will position themselves in the market and find channels to move the product to customers; articulate the revenue projections, as well as create an overall business plan. Faculty and industry mentors questioned the students and voted according to the criteria. The winner was the Eagle Eye, a motorcycle detection device.
David Olawale, assistant professor of engineering, said students work in interdisciplinary teams to learn skills that will set them apart as future business owners or employees.
"It is a joy to see the transformation in the students over the course of the two semesters in a bid to convert an idea into a viable venture," Olawale said. "They move from being just technically focused to developing an entrepreneurial mindset whereby they see problems as opportunities, and where they focus on the customers and value creation."
Richard Calvert '16 (MBA), an energy distribution design manager with Citizens Energy Group, was one of several industry mentors who worked with the students throughout the year to provide advice and feedback.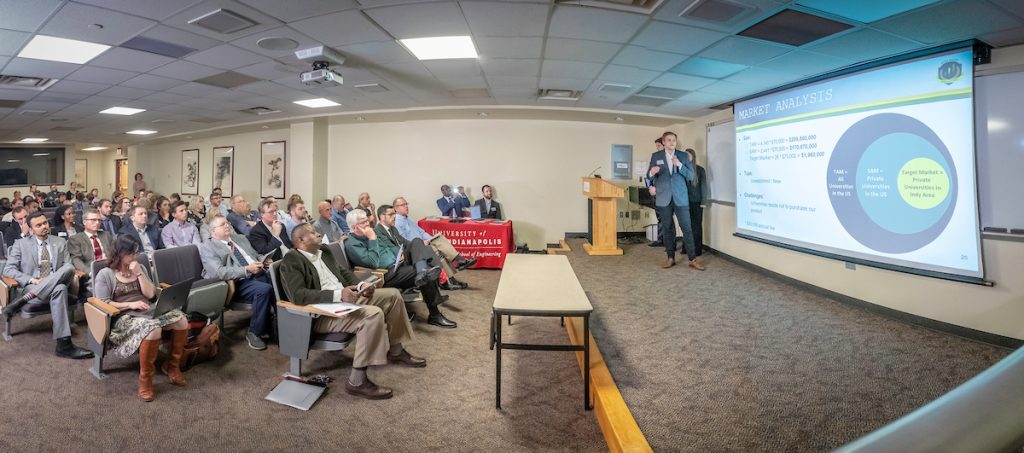 "The work the students have produced is professional, polished, and practical. The process starts with a project concept discussion. The students do their work with periodic gate reviews that are very helpful and then a final presentation," Calvert explained.
For the students, the experience has been transformational. Allison Zwickl '20 (industrial & systems engineering), whose group presented the multifunctional charging station, went from being doubtful to confident in presenting her product.
"Even though it has been a challenging year for everyone, I really feel like it has changed us all for the better. For myself, it helped with my speaking skills. At the business pitch this year I was comfortable talking about our product," said Zwickl.

Zwickl credits her new communication skills with landing her an internship at Sallie Mae.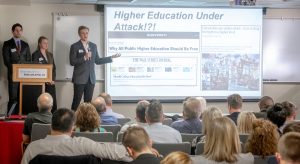 "The most important thing they were looking for was not if you knew how to do technical things. They wanted to know how I could communicate with everyone around me. And ultimately my internship has a lot to do with communicating with a variety of departments, and I would not have that skill if it wasn't for these classes," she added.
Sánchez said the focus on communication is by design.
"Our goal is to create leaders who can communicate effectively to various audiences by the time students get to senior year," he said.

Payton Staman '20 (mechanical engineering) added, "The focus on entrepreneurship layered with the challenge to develop engineering solutions helped shift students' perspectives to consider the business implications."
"This project helped us develop our interdisciplinary competencies and the connection between our major and the sales and marketing sectors," Staman said. "Igniting each engineer's internal passions and an entrepreneurial mindset is the key to taking our professional careers to the next level!"
Learn more about the R.B. Annis School of Engineering
Written by Sara Galer, Communications & Content Strategy Manager, University of Indianapolis. Share your story ideas with newsdesk@uindy.edu.