Social Practice Art cohort presents second retrospective at Tube Factory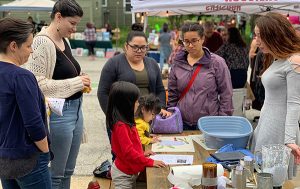 INDIANAPOLIS – The University of Indianapolis is celebrating student work from the Social Practice Art master's program with a retrospective event beginning Friday, August 2, 2019, at the Efroymson Gallery at Tube Factory Artspace. 
The second cohort has initiated numerous socially engaged projects around Indianapolis while examining such issues as pollinators and sustainability, aging in place, and human trafficking. 
The retrospective will include creative work from throughout the program, and the show will include interactive elements like listening stations, participatory art, and other projects attendees can take home.
"This year, students have intensely focused on Indianapolis and its neighborhoods," said Kevin McKelvey, program director and founder. "Beyond place, students have tackled bigger social issues in their creative work and found connections and inspiration across the state."
What: Masters Retrospective: Social Practice and Placemaking
When: August 2-16
Opening Reception: August 2, 6-10 pm
Closing Reception: August 16, 5-7 pm
Where: Efroymson Gallery at Tube Factory Artspace (1125 Cruft St., Indianapolis, In 46203)
The event is free to attend & open during regular Tube Factory Artspace hours
Students will be available during the opening reception to guide visitors through the interactive parts of their installations, and those components will be available throughout the run of the show.  Another part of the retrospective is a short documentary on the movement practicum students completed with choreographer Rebecca Pappas. 
Eve Eggleston presents a series of social practice art projects to create community awareness of the plight of the pollinators. This recent body of work has involved artistic interventions with re-purposing refuse and upcycling at Rabble Coffee. Her thesis project is using beehives for education about urban agriculture, sustainability, and pollinator value at IPS 39 William McKinley and at Indy Urban Awareness Gardens. She is also creating pollinator hotels with the Green Team of Groundwork Indy.
Kindness AK has aligned her passions by exploring how placemaking can encourage healing-centered engagement through community building and self-reflection. Her creative work includes transformative discussions and affirmation mirrors, as well as research-based projects on human trafficking and a small town of black farmers in Indiana, Lyles Station. These projects all in one way or another narrate how to enhance or identify the already "existing power of resiliency" within self and/or community. 
Writer and memoirist Sarah J. Wilson has deepened her exploration of Indianapolis' Eastside neighborhoods through her social practice and placemaking projects. She grew up in the area and continues to live there. This summer, she has worked on the Eastside to collect local history and artifacts, especially from youth and the aging population, to create interactive social practice projects to commemorate this history and to celebrate its future. 
During the closing reception on August 16, students will conduct their own graduation ceremony to celebrate the end of their exciting year of work. 
About the program
The Master of Arts in Social Practice Art is a one-year program with courses in social practice, placemaking, social entrepreneurship, and writing for nonprofits. The cohort brings together the talents of costume designers, photographers, painters, and other artists to create work of lasting impact that involves and engages the community. Many courses involve hands-on, immersive work in local places that have connected students to professional opportunities.  
About the University of Indianapolis
The University of Indianapolis, founded in 1902, is a private, liberal arts university located just a few minutes from downtown Indianapolis. The University is ranked among the top Midwest Universities by the U.S. News and World Report, with a diverse enrollment of more than 5,500 undergraduate, graduate and continuing education students. The University offers a wide variety of study areas, including 100+ undergraduate degrees, more than 40 master's degree programs and five doctoral programs. More occupational therapists, physical therapists and clinical psychologists graduate from the University each year than any other state institution. With strong programs also in engineering, business, and education, the University of Indianapolis impacts its community by living its motto, "Education for Service."