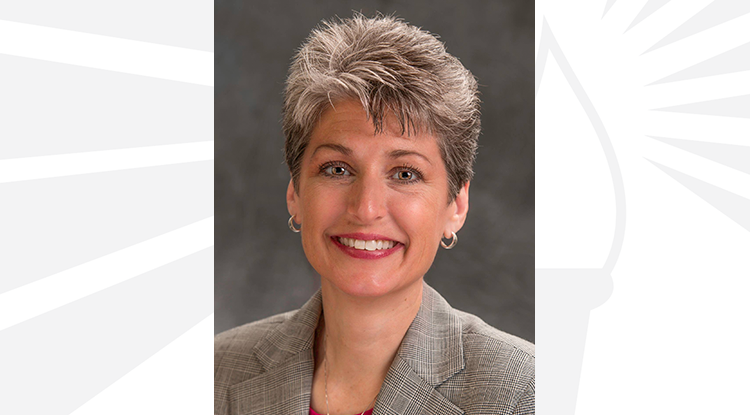 Dear colleagues,
It is with great sadness that I share with you the passing of Anne Thomas, immediate past dean of the University of Indianapolis School of Nursing.
Anne created an impactful legacy of caring and compassion throughout her career and her life. Through her outstanding leadership of the School of Nursing, Anne contributed significantly to the growth of the School's nationally recognized leading-edge reputation. Often working in partnership with local hospitals and healthcare systems, she oversaw the launch of several new degree programs, including the accelerated BSN program and the doctoral program in nursing.
Anne's notable contributions to teaching and academic research as a faculty member greatly enriched the UIndy community. She joined the School of Nursing in 1997 as a part-time instructor and became full-time faculty in 2008, when she also assumed the role of graduate programs director. She served in the School of Nursing dean role from 2009 to 2016.
As a colleague, Anne brought a positive, encouraging attitude to every conversation. She was passionate about the nursing profession and was equally dedicated to family and friends. Anne used her nursing skills to help rescue animals, and enjoyed many pets throughout her life. An avid runner, Anne competed in countless competitions. Her optimism shone through every aspect of her life and impacted many of her colleagues at the University.
Norma Hall, dean of the School of Nursing, remembers Anne not only as a great teacher, but also a great mentor. "During her tenure as dean in the School of Nursing she hired many new faculty and staff. She encouraged each to fulfill their potential, whether it was staff returning for a bachelor or master's degree or faculty obtaining a terminal degree. She pushed individuals to become their best selves and her legacy is a School with dedicated faculty and staff that strive to emulate that mentor role to students for an unparalleled collegiate experience. On a personal note, Anne is the reason I came to UIndy as a full-time faculty member. As a long-time adjunct, I was impressed with her dedication to teaching, to students, and even to me as an adjunct faculty member. Her enthusiasm about her work is what enticed me to leave a faculty position at another university, and her mentorship led me on a path into academic leadership that I hadn't considered. I wouldn't be dean today if not for her guidance and ready words of wisdom."
Stephanie Kelly, dean of the College of Health Sciences, was also tremendously impacted by Anne's mentorship. "When I stepped into the role of dean, Anne was an important mentor to me. In addition to helping me figure out the nuts and bolts of this new role, she mentored me into approaching the role with a sense of humor and adventure.  Some of my favorite memories are laughing with her as we discussed how to manage challenging administrative situations."
As an adult/gerontological nurse practitioner, Anne worked in rural primary care as well as occupational and mental health care settings, and she received several awards for her work in developing and implementing nurse-managed clinics. In addition to the University of Indianapolis, she held academic leadership positions at the University of Texas at Arlington, Indiana State University and the University of Michigan.
A national presence in the world of nursing, Anne's leadership roles within national health organizations reflect her broad expertise in the field. She served as a research director at the National Cancer Institute and the National Institute for Nursing Research. In 2012, she was inducted into the Fellows of the American Academy of Nurse Practitioners. Anne was honored to serve as president of the National Organization of Nurse Practitioner Faculties, a global network of educators devoted to promoting quality nurse practitioner education, setting standards and guiding curriculum development nationally and internationally. Anne's family has asked that donations in Anne's memory be made to the Dr. Anne Thomas Memorial Fund at the National Organization of Nurse Practitioner Faculties, established to support their Leadership Mentor Program for junior faculty leaders.  In this way, Annes' work educating the next generation of nurse practitioners will continue.
Our prayers are with Anne Thomas' family and friends at this difficult time. The University of Indianapolis is deeply grateful for her dedication as a teacher, colleague and friend.
President Robert L. Manuel