University of Indianapolis announces 2019-20 performing arts season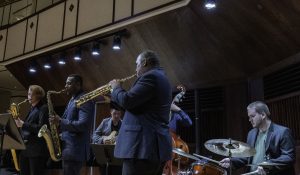 INDIANAPOLIS—The University of Indianapolis brings a wide range of diverse cultural activities to the Indianapolis metropolitan area with the announcement of the 2019-20 performing arts season. The institution serves as a destination point for musical performances, theatre productions, art exhibitions, readings and lectures, and highlights a progressive arts and music scene in the region. Fall performances include the Indianapolis Quartet, guest artists from the Indianapolis Symphony Orchestra, and 2019 American Pianists Awards winner and University of Indianapolis Artist-in-Residence Emmet Cohen with the UIndy Jazz Faculty. 
See events.uindy.edu for complete season listings and ticket information.

The Faculty Artist Concert Series is sponsored by Katz, Sapper & Miller. All performances are free of charge and held at 7:30 p.m. at the Ruth Lilly Performance Hall in the Christel DeHaan Fine Arts Center.
Experience these 19 Monday evenings at the Ruth Lilly Performance Hall, as the most comprehensive recital series in the area continues to feature compelling presentations of solo repertoire, dynamic readings of the great chamber literature, provocative presentations of new works, exhilarating period instrument performances, and distinctive approaches to both classic and contemporary jazz. 
Faculty Showcase
Monday, September 9, 7:30 p.m.
Kathleen Hacker, soprano; Mitzi Westra, mezzo-soprano; Daniel Narducci, baritone; Gregory Martin, piano; Joana Genova, violin; Michael Isaac Strauss, viola; Austin Huntington, cello. Nemanja Ostojić, guitar; Tamara Thweatt, flute; Jennifer Christen, oboe; David Bellman, clarinet; Mark O'Connor, tenor saxophone; Terence Mayhue, percussion; Rebecca Sorley, piano; Haruka Ostojić, piano.
Our distinguished faculty performers open the new season with an eclectic mix from the 20th and 21st centuries. The first half of the program features music from both sides of the Atlantic: Sir Malcolm Arnold's Divertimento for wind trio, Op. 37, and Mexican composer Eduardo Angulo's Quartet for guitar and strings. Voice faculty perform music of American composers Ben Moore, Stephen Mark Kohn, and UIndy's John Berners (his popular Cabaret Songs). Mark O'Connor and Terence Mayhue team for an intriguing jazz sampler followed by Aaron Copland's iconic El Salón México, transcribed for two pianos by Leonard Bernstein.
Artist-in-Residence Emmet Cohen with the UIndy Jazz Faculty
Monday, September 23, 7:30 p.m.
Emmet Cohen is the winner of the 2019 American Pianists Awards and recipient of the Cole Porter Fellowship in Jazz. He has been named artist-in-residence at the University of Indianapolis for two years. Downbeat has praised the "nimble touch, measured stride, and warm harmonic vocabulary" he employs to communicate with other musicians and audiences. Cohen has appeared at the Monterey, Newport, North Sea, and Edinburgh jazz festivals, and at legendary nightspots such as Birdland, the Blue Note, and Jazzhaus Montmartre. The first half of the evening will feature Cohen as soloist, with the second half devoted to collaborations with UIndy jazz faculty Mark O'Connor, Brandon Meeks, and Kenny Phelps. 
UIndy Jazz Faculty Celebrates Thelonious Monk
Monday, October 21, 7:30 p.m.
Mark O'Connor, alto & tenor saxophones; Steven Jones, piano; Brandon Meeks, bass; Kenny Phelps, drums. 
The UIndy Jazz Faculty celebrates the 102nd birthday of jazz pianist and composer Thelonious Monk. As the house pianist at Minton's Playhouse in New York City during the 1940's, Monk became one of the co-founders of bebop along with Charlie Parker, Dizzy Gillespie, Charlie Christian, and Kenny Clarke. Monk is the second-most-recorded jazz composer after Duke Ellington, which is remarkable since Ellington composed more than a thousand pieces, whereas Monk wrote about 70.  
The Indianapolis Quartet
Monday, October 28, 7:30 p.m.
Zachary DePue and Joana Genova, violins; Michael Isaac Strauss, viola; Austin Huntington, cello; with guests Carrie Dennis, viola, and Nick Canellakis, cello.
The Indianapolis Quartet returns for an ambitious fourth season of "marvelously unified" and "especially expressive" performances (Jay Harvey Upstage). The Indianapolis Quartet showcases cellist Austin Huntington in the opening Mozart Quartet (D Major, K. 575) followed by the premiere of their first commissioned work – the Quartet No. 3 by award-winning composer Robert Paterson. The evening's festivities conclude with Johannes Brahms' warm and melodic Sextet No. 1 in B-flat, Op. 18, with guest artists Carrie Dennis and Nick Canellakis.
Other highlights include: The Flower of England, Sept. 16, featuring the music of English composers caught in youth during the Great War; Baroque and Beyond, Sept. 30; Ronen Collaborations, Nov. 4; UIndy Brass, Nov. 18; Mozart to Motown, Nov. 25, Echoing Air, Feb. 24; The Indianapolis Quartet, March 30; and Guitar Through the Centuries, April 6. 

See events.uindy.edu for complete season listings and ticket information.