UIndy theatre department announces 2019-2020 season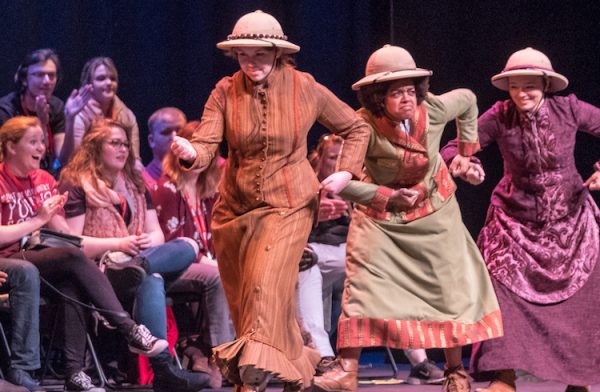 The University of Indianapolis Theatre program will present two series this season. The Main Stage Theatre Series will include a Broadway classic, a historical comedy and a British turn-of-the-century drama. The Student Experience Series will include fully realized productions, staged readings and a movement and written word performance by our graduating seniors. Buy tickets at events.uindy.edu.
Main Stage Theatre Series
"Too Much Light Makes the Baby Go Blind"
by Greg Allen
September 12-14, 8 p.m., Studio Theatre
"Too Much Light Makes the Baby Go Blind" was the longest-running show in Chicago and the only open-run Off-Off-Broadway show in New York. The show is the work of the Neo-Futurism movement, a variant of the Italian Futurism movement and reflects their aesthetic of non-illusory theater, where, as they describe it, "all of our plays are 'set' on the stage in front of the audience. All of our 'characters' are ourselves… We do not aim to 'suspend the audience's disbelief' but to create a world where the stage is a continuation of daily life."  
"Cabaret"
Book by Joe Masteroff
Based on the play by John Van Druten and stories by Christopher Isherwood
Music by John Kander, Lyrics by Fred Ebb
October 18-19 & 25-26, 8 p.m.
October 20, 2 p.m.
Ransburg Auditorium
In a Berlin nightclub, as the 1920's draw to a close, a garish Master of Ceremonies welcomes the audience and assures them they will forget all their troubles at the Cabaret. With the Emcee's bawdy songs as wry commentary, "Cabaret" explores the dark, heady, and tumultuous life of Berlin's natives and expatriates as Germany slowly yields to the emerging Third Reich.
"In the Next Room or The Vibrator Play"
by Sarah Ruhl
February 21-23 & 27-29, 8 p.m.
Ransburg Auditorium
A 2009 play by award-winning playwright, Sarah Ruhl.  "In the Next Room or The Vibrator Play" is set in the 1880s at the dawn of electricity. It concerns the early history of the vibrator as a clinical device for treatment of "hysteria." among women and the Victorian ignorance of female sexual and mental health. 
"The Drowning Girls"
By Daniela Vlaskalic, Beth Graham and Charlie Tomlinson
April 17 – 19 & 23-25, 8 p.m.
UIndy Studio Theatre
Bessie, Alice, and Margaret have two things in common: they are married to George Joseph Smith, and they are dead. Surfacing from the bathtubs they were drowned in, the three breathless brides gather evidence against their womanizing, murderous husband by reliving the shocking events leading up to their deaths. Reflecting on the misconceptions of love, married life, and the not-so-happily ever after, "The Drowning Girls" is both a breathtaking fantasia and a social critique, full of rich images, a myriad of characters, and lyrical language
Admission for Main Stage Theatre Series
$12 general admission
$10 for alumni, senior citizens, groups of eight or more and non-UIndy students with ID
$6 general admission on Thrifty Thursdays 
Free admission with ticket for UIndy Students, Faculty and Staff with ID