Vote 2020: Free poster from Hullabaloo Press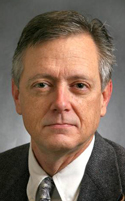 "Elections belong to the people"
The Hullaballoo Press at the University of Indianapolis created this free, downloadable, and printable poster in a non-partisan effort to encourage voting.
Print the poster at home! Click here to download the PDF.
"We in the Department of Art & Design aim to encourage and empower students to use their voice, to have their work seen and heard, to voice (visually or otherwise) about what matters to them. This poster was created using one voice – the press – to encourage everyone to use their voice through their vote; to show up and be heard," said Katherine Fries, director of Hullabaloo Press and associate professor. 
The power of the press has a long history at the intersection of art and advocacy. A silver lining of the pandemic, according to Fries, is the ability to connect digitally through art in new ways. 
"Printers across the country have been creating posters, and the cool thing is that through digital means, those posters are being sent to places beyond their usual reach," said Fries. "People are not only printing posters on presses and hanging them on street corners, in shop windows, or taking them to protests – they are on social media, and often posted on the web to be downloaded to be digitally printed anywhere – for everyone. Hullabaloo Press wanted to share in that digital representation of art and advocacy."