UIndy Homecoming Week Sept. 23-28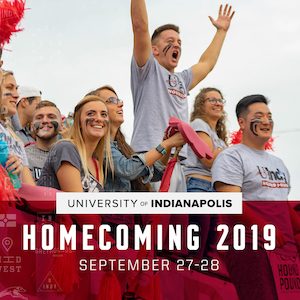 Alumni and friends are invited back to campus for the best week of the year! Relive your favorite UIndy memories and create some new ones at Homecoming 2019.
Show your UIndy spirit by purchasing a 2019 UIndy Homecoming T-shirt! $5 of every T-shirt purchased benefits UIndy scholarships. Available HERE for online order and home delivery—or purchase it on campus during Homecoming 2019 weekend.
Homecoming is always a special time of year for the entire University community with traditions like the parade and football game. But with this being the 60th anniversary of our School of Nursing, the Kermit Berg art gallery opening, the announcement of the John C Adams Finance Institute, and the inaugural Good Hall pillar naming at the President's Lunch and Founders Day Celebration, this year's Homecoming will truly be a celebration of our past, present, and future," said Andrew Kocher, Associate Vice President of Alumni Engagement.
During 2018's Homecoming festivities, the exterior restoration of the Good Hall pillars and portico was showcased. Built in 1904, Good Hall was the University's first and only structure for about 18 years. It was named after the University's third president, I.J. Good, and was home to the first University president, Rev. John Roberts. Good Hall has served as an administrative and academic building, library and chapel over the years.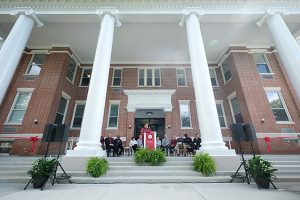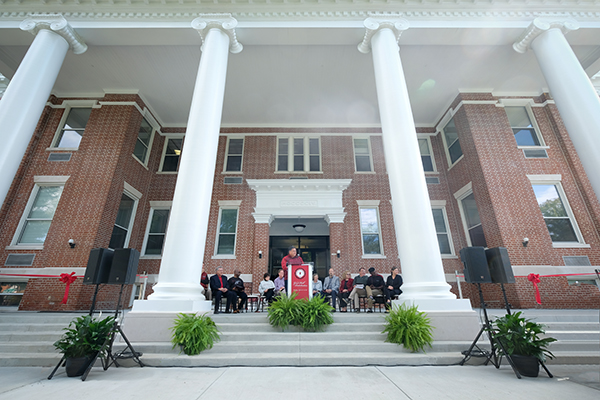 This year, the four pillars of Good Hall are being dedicated in honor of distinguished alumni and faculty. Join us to find out who these amazing Hounds are, and how they have impacted our campus community over the years.
For more information, a full schedule of events, and to register visit HOMECOMING.UINDY.EDU
Monday, September 23
Emmet Cohen Concert with UIndy Jazz Faculty — Join UIndy Artist-in-Residence Emmet Cohen, the 2019 American Pianists Awards winner and recipient of the Cole Porter Fellowship in Jazz, for a concert with the UIndy jazz faculty. (7:30 p.m., Christel DeHaan Fine Arts Center)
Tuesday, September 24
Alumni Employee Appreciation Lunch — All University employees who have earned a UIndy degree are invited to this special luncheon to celebrate Homecoming week. (Noon, Stierwalt Alumni House)
Wednesday, September 25
Hops and Hounds — Don't let hump day get you down. Join fellow Greyhounds at the popular new bar and grill, Jailbird, located next to campus. (5-8 p.m., Jailbird). Registration required!
Thursday, September 26
School of Nursing 60th Anniversary Celebration Dinner — All nursing alumni and friends are invited back to campus to celebrate this milestone anniversary featuring tours of the Health Pavilion and a special dinner program. (5:30 p.m. reception, 7 p.m. dinner). Registration required!
Friday, September 27
John Adams Finance Institute — Join the Board of Trustees for a special announcement that will benefit current and future UIndy business students. (1:15 p.m., Finance Lab in Esch Hall). Registration required!
50-Year Club Reception — All graduates of 50 years or more are invited to this special reception to celebrate our Indiana Central history and to welcome the Class of 1969 into the Club. (3 p.m., Krannert Memorial Library). Registration required!
Kermit Berg Gallery Opening Reception — Internationally renowned artist Kermit Berg '73 returns to campus to open a special exhibit for Homecoming 2019. (3 p.m. open, 5 p.m. remarks, Christel Dehaan Fine Arts Center). Registration required!
Alumni Honors and Recognition Celebration — Celebrate this year's alumni award winners and hear powerful stories of how UIndy alumni are impacting our communities. (6 p.m., Krannert Memorial Library). Registration required!
Student Homecoming Dance — UIndy students will get ready for the big day by dancing the night away while raising funds to support UIndy scholarship programs. (9 p.m., Old National Center)
Saturday, September 28
Hound Hustle 5K Run/Walk — Start your Homecoming day with a fun run/walk through campus and the local neighborhood. Proceeds benefit UIndy scholarships. (7:30 a.m. registration, 9 a.m. start). Registration required!
President's Lunch and Founders Day Celebration — Join President Manuel on the lawn of historic Good Hall to celebrate our history and learn who is being honored with their name on a pillar for 2019-20. (Noon, Good Hall)
Campus Tours — Visit new sites and old favorites on a guided campus tour. (1:30 p.m., Esch Hall). Registration required!
UIndy Alumni Recital — Alumni are invited to share their musical talents with Homecoming 2019 guests at this popular annual concert. (2:30 p.m., Christel DeHaan Fine Arts Center). Registration required!
Tailgate Town — All are invited to enjoy the festivities at the biggest tailgate of the year with inflatables, music, and more! (3 p.m., Nicoson Parking Lot). Register here.
Homecoming Parade — Floats, giant balloons, student carts and more will fill Hanna Avenue as we march towards Key Stadium for the big game. (4 p.m., Hanna Avenue)
UIndy Football Game vs. Southwest Baptist — Don your favorite crimson and grey gear and help cheer the Greyhounds to victory over the Southwest Baptist Bearcats. (6 p.m., Key Stadium)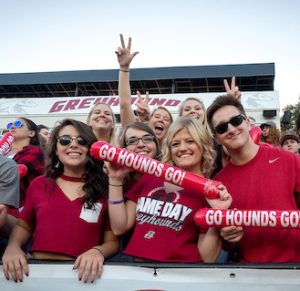 And so much more…..
Post Game Parties at Jailbird and Books and Brews
Class of 1969 Golden Anniversary Reunion
Class of 1988 KSPT Reunion
Class of 1994 KSPT Reunion
Men's Basketball Golf Outing
Men's and Women's Soccer Games
Men's and Women's Swimming & Diving
Women's Volleyball Games
Accounting Seminar
Speech and Debate Conference
History and Political Science Tailgate
IT Help Desk Alumni Tailgate
Adult Learning Tailgate