University of Indianapolis Announces 2019 Alumni Award Recipients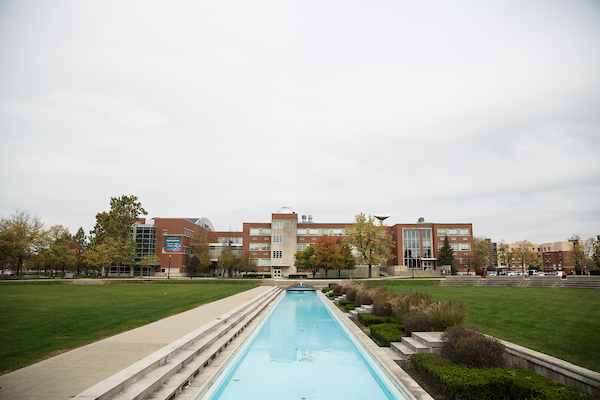 Each year during Homecoming Week the University hosts the annual Alumni Honors & Recognition Banquet. This night of celebration honors alumni who are community leaders, philanthropists, scholars and more who have achieved exceptional accomplishments and exemplified the mission of the University in their lives and careers.
Distinguished Faculty/Staff Alumni Award: Dr. Terry Schindler '84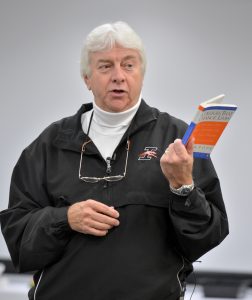 The Distinguished Faculty/Staff Alumni Award recognizes current faculty or staff members who are alumni and have demonstrated consistent dedication and superior service to the University.
Terry Schindler graduated from Indiana Central with a masters in business administration in 1984. He worked for Thomson for nearly 33 years and held numerous professional and management positions. His expertise is in training and organizational development and he founded ARTESIAN Training & Consulting in 1997. He joined the UIndy faculty in 2004 and was voted Teacher of the Year in 2008. Terry was instrumental in executing the Vision 2030 strategic planning process with President Manuel during 2012-13.  He and his wife, Brenda, have two children with their daughter, Jaclyn, being a 2015 graduate.
Distinguished Young Alumni Award: Chantal Uwizera '06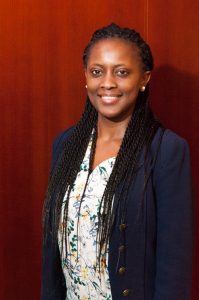 The Distinguished Young Alumni Award recognizes and honors an alumnus and/or alumna of the University who, while still relatively young, has made outstanding contributions to his or her community.
Chantal Uwizera graduated from the University of Indianapolis with a degree in political science and international relations in 2006. Chantal was born in Rwanda and settled in the United States. After graduating from UIndy she earned a master's in international conflict resolution at American University. She was appointed as a diplomat for Rwanda as part of the team that represented the country on the Security Council in 2013-2014. In 2015, she was promoted to second counsellor and led many negotiations, including the Global Goals on behalf of Rwanda at the UN. In 2016 she became the Director of Global Programs for the African American Institute.
Gene and Joanne Sease Award: Jeffrey '85 & Nancy '84 '04  '14 Bryant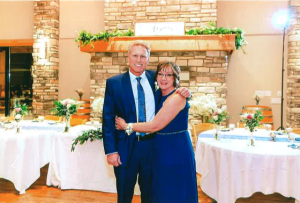 Named in honor of former UIndy President Gene E. Sease and his wife, Joanne, this award recognizes couples who contribute their time, talent, and treasure to the University.
Jeff Bryant graduated with an accounting degree from Indiana Central in 1985. Nancy (Miller) Bryant earned an associates, bachelor's, and master's degree in nursing from the University in 1984, 2004, and 2014 respectively. In addition to being generous supporters of the University, the Bryants have eight graduates in their family, including their son, Andrew, from the class of 2016 and their daughter, Molly, from the class of 2019. Nancy's aunt, Beverly (Sims) Long was also named an honorary alumnus after serving on the University staff for many years. Jeff is a successful entrepreneur and Nancy is a nurse with the Francesican Health Network.
Honorary Alumni Award: Gordon Wishard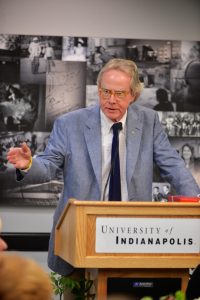 This award recognizes and honors those individuals who, although not graduates of the University of Indianapolis, have clearly demonstrated their commitment to the University over a significant period of time.
Gordon Wishard has served on the University's Board of Trustees since 1999, with this year marking his 20th year of service. During that time he has served on the Academic Affairs, Advancement, Board Affairs, and Executive Committees. In addition to his personal generous support, he was the advisor to the late Patrick and Pearl Smith who made the transformational gift to create Smith Mall on campus. Other notable honors Gordon has achieved in his career include Lawyer of the Year, Indiana Super Lawyer, Sagamore of the Wabash, and the 2001 Professional Partners in Philanthropy Award from the Central Indiana Community Foundation.
Distinguished Alumni Award: Thomas Martin '72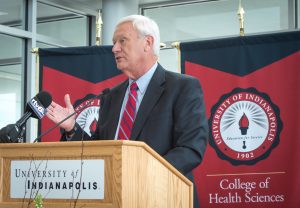 The Distinguished Alumni Award recognizes outstanding professional accomplishments or longtime service in a chosen occupation or profession.
Tom Martin graduated from Indiana Central in 1972. Soon after he began his career in auto sales in Bloomington and was invited to become a partner in several companies which included auto dealerships and a realty company. Today Tom is the president of Community Ford and continues to own and operate multiple businesses. He joined the Board of Trustees in 1992 and served as Chair of the Board from 2014 to 2016. Tom was awarded an Honorary Degree in 1998. His wife, Angela, is a graduate from the class of 1973. They have four children including Adam Martin, who is a member of the class of 2008. The Martins have generously supported multiple University projects with the Martin Family Finance Lab being named in their honor.
Education for Service Award: Harold Baumer '62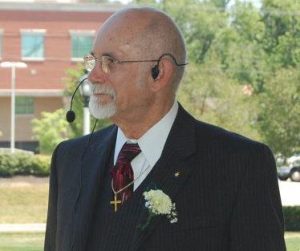 The Education for Service Award recognizes an alumnus or alumna whose life work has exemplified a fulfillment of the philosophy underlying the University's motto "Education for Service."
Harold Baumer graduated from Indiana Central with a degree in mathematics in 1962. He taught math and science at Emmerich Manual High School in Indianapolis for 33 years. Upon retiring from Manual he opened an academy to help tutor homeschooled children for 11 years. After closing the academy he became a volunteer chaplain for Essex Manor Care Center, Witham Hospital in Lebanon, IN, and the Boone County Sheriff's Department. He was recognized as a Tiger Pride Champion earlier this year by the Lebanon Community School Corporation. Harold is married to Deanna (Foster) Baumer from the Class of 1964.
For information on 2018's award winners, check out last year's post.