University of Indianapolis celebrates International Education Month in October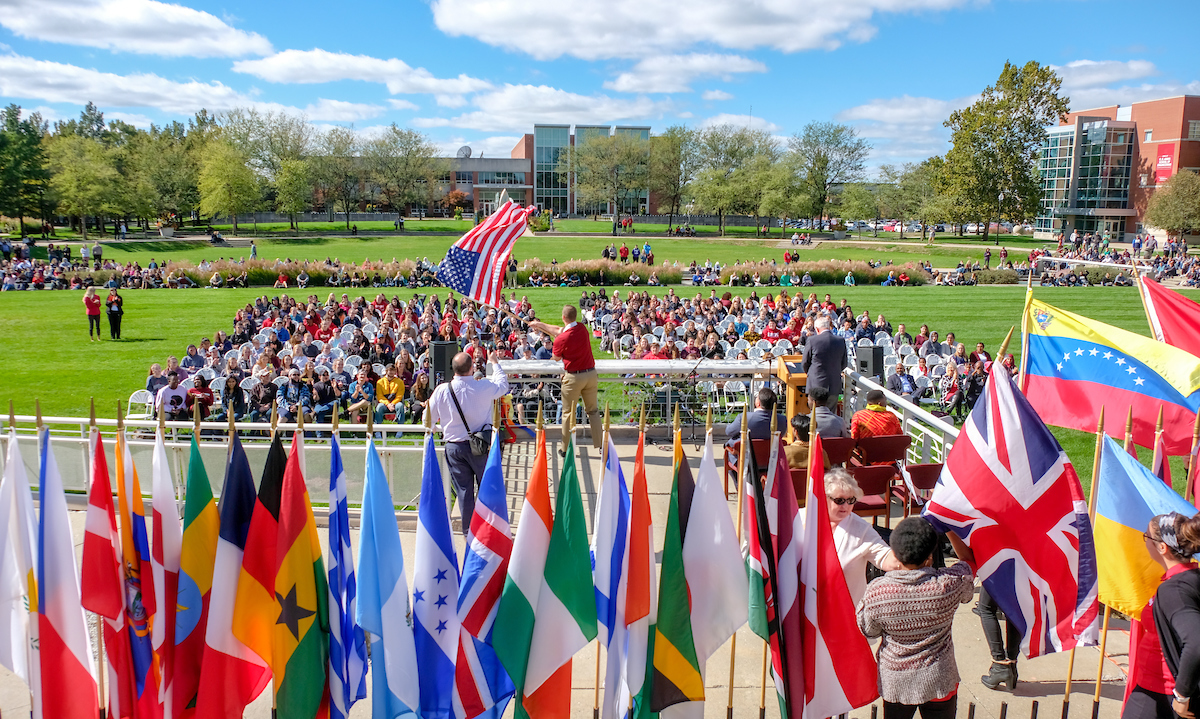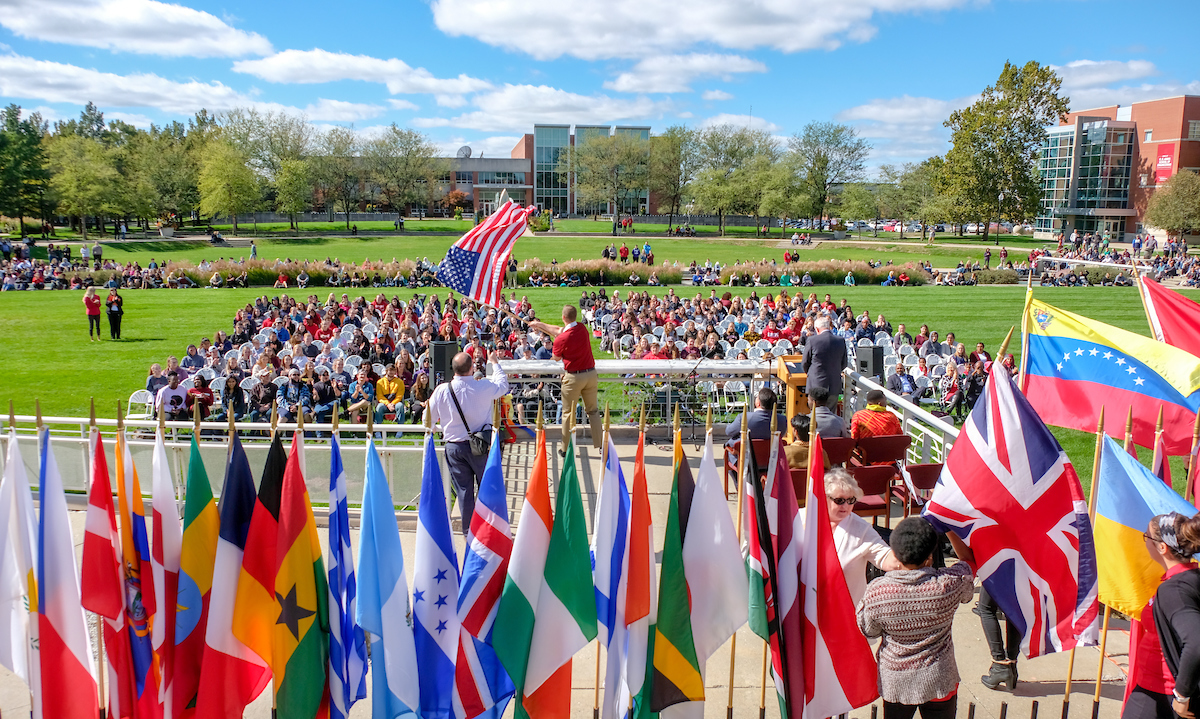 The third annual International Education Month is underway in October, with a variety of performing arts, film, lectures and interactive events designed to showcase international cultures at the University of Indianapolis and the rich benefits of intercultural exchange.
Highlights include the 31st Annual Celebration of the Flags on Oct. 10. Modeled after the Olympic-style opening ceremony, the event is held on Smith Mall, with international students carrying the flags that represent the many nations of the University of Indianapolis community.
Immediately following the Celebration of the Flags, students, faculty and staff are encouraged to visit the International Exposition in the Atrium of Schwitzer Student Center. The Expo will feature interactive displays hosted by campus offices, departments and student groups.  The Expo features henna hand painting, traditional artifacts, and international displays. Delicious international food will be catered.
International Education Month Events:
Through Their Eyes: Cultural and Social Refugee Integration into American Society
Oct. 9, 3:00-4:30p.m.
Good Hall, Room 105
Using photographs taken by the Congolese refugee women themselves, Drs. Saksena and McMorrow (Western Michigan University) will share their experience with integration and healthcare in Indianapolis. This Photovoice research was conducted in Indianapolis in 2016 and 2019. (L/P Credit)
German Movie Night: Nowhere in Africa
Oct. 10, 6:30-8:30p.m.
Health Pavilion, Room 138
An Oscar-winning love story spanning two continents, NOWHERE IN AFRICA is the extraordinary true tale of a Jewish family who flees the Nazi regime in 1938 to a remote farm in Kenya. Abandoning their once-comfortable existence in Germany, Walter Redlich, his wife Jettel and their five-year-old daughter Regina each deal with the harsh realities of their new life in different ways. As they eventually learn to cherish their life in Africa, they also endeavor to find a way back to each other.
Celebration of the Flags
Oct. 10, 2:00p.m.
Smith Mall
Modeled after the Olympic-style opening ceremony, this year's Celebration of the Flags will recognize faculty, staff and students coming to UIndy from 85 nations. This colorful and moving fall event is the highlight of the year! (L/P Credit)
International Expo
Oct. 10 2:45p.m.
Schwitzer Atrium
Food, Fun and Music from around the world.  Join us for this year's International Expo following the Celebration of the Flags.  Experience henna hand painting and meet your international peers! (L/P Credit)
West Meets East Forum III: The Experience of Suicide and Suicide Prevention Across Cultures
Oct. 11, 8:30a.m.-3:00p.m
R.B. Annis Theatre, UIndy Health Pavilion
The 2019 West Meets East Forum III will focus on the experience of suicide and suicide prevention across cultures. The Forum will provide an educational experience going beyond suicide prevention training. Engaging presenters will move our audience to greater awareness and to take action related to this pertinent issue. (L/P Credit)
Magic and Culture of Bulgaria
Oct. 17, 7:00-8:00p.m.
Ruth Lilly Performance Hall, CDFAC
Join Bulgarian violinist Joana Genova as she talks about the 1300-old history, traditions and music of her home country. In addition to showing photos and videos, there will be live performance of folk music and a display of pottery, icons and embroidery, as well as samples of foods and spices.
We Are Your Neighbors: Stories of Latin American Immigration
Oct. 21, 6:30-7:30p.m
Participants will discuss some of the reasons people choose to immigrate to the United States, how the representation of immigrants in popular media may differ from reality and how we can work together to refute common misconceptions and stereotypes.
Presentation by Felipe Restrepo Pombo, Editor of Gatopardo Magazine, Mexico
Oct. 22, 6:00-7:30p.m.
Schwitzer Lower Level, Room 010
Colombian editor, writer and journalist Felipe Restrepo will be interviewed by a group of UIndy Students. While Restrepo is Colombian, he has been living and working in Mexico for more than a decade. He is the editor-in-chief of "Gatopardo," one of the most important magazines in México. Students will conduct the interview in Spanish and English and will discuss his life as a journalist, and what it means to be a journalist in Latin America today.
College Mentors for Kids, UIndy celebrates culture and diversity
Oct. 22 & Oct. 23, 4:30-5:30p.m.
Schwitzer Lower Level, Room 010
Come and join the fun as local school children between the ages of 7-12 meet UIndy international students and "travel" to their different countries.
Chilean Movie Night: Una Mujer Fantastica
Oct. 30, 6:30-8:30p.m.
Health Pavilion, Room 138
Meet Marina and Orland, a young couple in Chile who meet, fall in love and plan for the future.  Twists of fate bring Marina to a point where she must grapple with her Trans identity as she struggles for the right to be herself.  Marina battles forces she has spent a lifetime fight just to become the woman she is now – a complex, strong, forthright and fantastic woman.