MacArthur Fellow and critically acclaimed artist Titus Kaphar to speak at University of Indianapolis Sutphin lecture Nov. 7 

The University of Indianapolis announces visual artist and social critic Titus Kaphar, who will present a lecture on campus Nov. 7, 2019, as part of the Sutphin Lecture Series.
The lecture, "Making Space for Black History: Amending the Landscape of American Art," is scheduled from 7:30 to 9:00 p.m., Thursday, Nov. 7, 2019, at the Ruth Lilly Performance Hall in the Christel DeHaan Fine Arts Center. Admission is free and open to the public. Registration is encouraged.
Titus Kaphar will discuss how his paintings, sculptures and installations seek to dislodge history from its status as the "past" in order to unearth its contemporary relevance. Kaphar is a 2018 MacArthur Fellow and a distinguished recipient of numerous prizes and awards including a 2014 Gwendolyn Knight and Jacob Lawrence Fellowship, a 2015 Creative Capital grant, a 2016 Robert R. Rauschenberg Artist as Activist grant and a 2018 Art for Justice Fund grantee.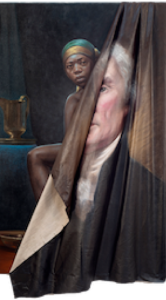 Kaphar's paintings are held in the collections of Museum of Modern Art, Brooklyn Museum, Yale University Art Gallery, New Britain Museum of American Art, Seattle Art Museum and Virginia Museum of Fine Arts.
Titus Kaphar on his work: "I've always been fascinated by history: art history, American history, world history, individual history – how history is written, recorded, distorted, exploited, reimagined, and understood. In my work I explore the materiality of reconstructive history. I paint and I sculpt, often borrowing from the historical canon, and then alter the work in some way. I cut, crumple, shroud, shred, stitch, tar, twist, bind, erase, break, tear, and turn the paintings and sculptures I create, reconfiguring them into works that nod to hidden narratives and begin to reveal unspoken truths about the nature of history. Open areas become active absences, walls enter into the portraits, stretcher bars are exposed, and structures that are typically invisible underneath, behind, or inside the canvas are laid bare, revealing the interiors of the work. In so doing, my aim is to perform what I critique, to reveal something of what has been lost, and to investigate the power of a rewritten history."