New public art on the White River Trail celebrates work by University of Indianapolis faculty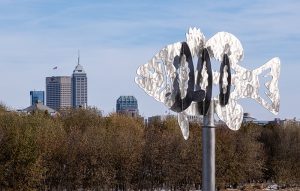 The University of Indianapolis held an unveiling ceremony Wednesday to commemorate the installation of a new, unique artwork created by University of Indianapolis Art & Design faculty. The "River Fish" artwork by Nathan Foley and James Viewegh features 12 kinetic sculptures representing four fish species native to the White River. It is located along the White River Trail, just south of the West Michigan Street bridge on the west bank of the White River.

The artistic endeavor is a collaboration between the University of Indianapolis and Riverview Apartments (developed by Indianapolis-headquartered Strategic Capital Partners, LLC and Goodwill of Central & Southern Indiana) through the City of Indianapolis' Public Art for Neighborhoods Program administered by the Arts Council of Indianapolis and the Department of Metropolitan Development.

Speakers at the unveiling ceremony included Robert L. Manuel, University of Indianapolis president; Jeff Bennett, City of Indianapolis Deputy Mayor for Community Development; Will Zink, senior vice president of construction and development, Strategic Capital Partners, LLC; Kent Kramer, president and CEO, Goodwill of Central & Southern Indiana; Julie Goodman, president and CEO, Arts Council of Indianapolis; and Moira Carlstedt, president, Indianapolis Neighborhood Housing Partnership.

"We are grateful to our partners at Riverview Apartments for this opportunity to positively impact the quality of life for residents of Indianapolis," said President Manuel. "This project is another great example of how the University of Indianapolis connects with the city as an anchor institution and extends its cultural and intellectual reach in ways that benefit the community."

Will Zink, senior vice president of construction and development, Strategic Capital Partners, LLC, was impressed by the local artists' "River Fish" concept as a tribute to area history.  "We're very pleased this new public art display honors the White River's heritage by highlighting the importance of fishing to the near westside communities. Very soon more than 200 new residents will come to appreciate the River as they establish homes at Riverview Apartments," Zink said.


University of Indianapolis Art & Design faculty collaborated with the University's R.B. Annis School of Engineering to make their vision a reality. James Viewegh, professor and department chair for Art & Design, conceived the design, and Nathan Foley, assistant professor of Art & Design, assisted by Maya Johnson '20 (studio art, sculpture concentration) fabricated the sculptures from steel.
"River Fish," the third public art installation completed under the Public Art for Neighborhoods Program, will contribute to the continuing neighborhood development which includes Indianapolis Metropolitan High School, the (Michigan Street) Excel Center, an IndyGo bus stop, the new Riverview Apartments and a new Pacers Bikeshare station. 
Viewegh emphasized the visibility of the artwork, noting how easily visitors and residents using the White River Trail will be able to appreciate it.

"Public art is important because it puts art in the public realm. This sculpture expands the University of Indianapolis' reach of how we can engage the Indianapolis community and the art we create," Viewegh said.