Michael Poulakis and PsyD students present research at national conferences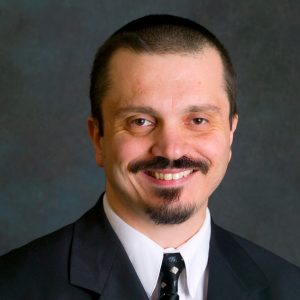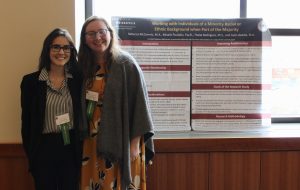 Michael Poulakis, assistant professor of clinical psychology, presented research at Boston College with two of his students, Rebecca McCormic and Aylin Acosta, who are both in their third year of the PsyD program at the University of Indianapolis. The presentation, "Working with Individuals of a Minority Racial or Ethnic Background When Part of the Majority," was part of the Institute for the Study and Promotion of Race and Culture (ISPRC)'s Diversity Challenge 2019, held in October 2019.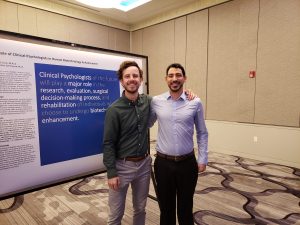 "The role of clinical psychologists in human biotechnology enhancement" by Alex Cook and Sebastian Del Corral Winder explored the new roles that clinical psychologists may assume as biotechnology expands in the future. Clinical psychologists will likely be part of the assessment of human enhancements, such as robotic prosthetics and genetic modifications. New themes may also come up in psychotherapy such as the human experience, self-identity, and social pressures.
"The therapeutic IPad: Technology in Neuropsychology" by Sebastian Del Corral Winder, Alex Cook, and Mixalis Poulakis explored
 the debate on the use of technology as a tool for psychological assessment. While the research suggests there are many benefits, clinical psychologists are reluctant to incorporate new technologies in assessing individuals.
Michael Poulakis' Consensual Qualitative Research Lab also presented the following work at the APA Conference in August 2019 in Chicago. Six PsyD students from the University of Indianapolis presented five posters related to their dissertation research:
"A CQR Examination of Police Officers' Perceptions on the Presence of Children at Drug Crime Scenes." First author: TJ Lesher; co-authors: Mixalis Poulakis, Sebastian Del Corral Winder, Samreen Khondker
"Gaslighted for Life?: Recovering Latina Victims of Psychological Abuse." First author: Sebastian Del Corral Winder; co-authors: Alex J. Cook, Mixalis Poulakis
"Osra: American Muslim Parents' Perceptions of Their Children's Safety in American Schools." First author: Samreen Khondker; co-authors: Mixalis Poulakis, Tj Lesher, Sebastian Del Corral Winder
"Does My Accent Affect Our Work?: Immigration and the Therapeutic Alliance." First author: Sebastian Del Corral Winder; co-authors: Tammy Lesher, Samreen Khondker, Mixalis Poulakis
"Working With Individuals of a Minority Racial or Ethnic Background When Part of the Majority." First author: Rebecca McCormic; co-authors: Mixalis Poulakis, Thalia Rodriguez, Aylin Acosta