Wisdom's Feast 2020 Book Discussion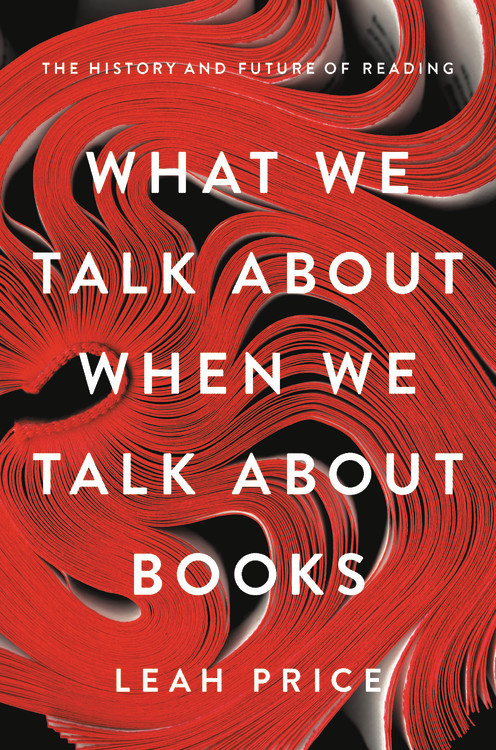 In conjunction with our planning for Wisdom's Feast 2020, the Office of University Mission, the School of Education and the Krannert Memorial Library are co-sponsoring a book discussion second semester. [1] We invite faculty and staff from throughout the university to participate in this three-session conversation that will take place at least twice next semester. 
Description of the Book:  What We Talk About When We Talk About Books: The History and Future of Reading (Basic Books, 2019) is a remarkable new book that we feel confident you are going to want to read. Copies of the book will be available to borrow (KML reserve) after Dec. 9, 2019.
Written by Leah Price, Distinguished professor of English and founder of the Initiative on the Book at Rutgers University https://sites.rutgers.edu/ru-book-initiative/, this small volume is chock full of "bookish" illustrations, provocative examples, and fascinating stories. Many of us know people who wring their hands with worry about the loss of the capacity for sustained reading. And yet there is evidence that the appetite for reading remains strong — even if the choices people make may fit our bookish ideals. All of which is to say that there is much to talk about when we think about the past, present, and future of reading in universities like ours where people like us talk about books.
In What We Talk About When We Talk about Books, Leah Price presents the bookish evidence in the present; it is a story-line that is a rather complicated: "the digital-age printed book isn't really an old medium at all. Rather, it's a format being reinvented by booklovers before our eyes. In that sense, our own era continues rather than breaks with, a tradition of innovation that has seen new formats emerge over and over again for half a millennium." (4) "The evidence that books are dying proves even scarcer. In encounters with librarians, booksellers and activists who are reinventing old ways of reading," Professor Price "offers fresh hope to bibliophiles and literature lovers alike."
We would love to hear what you have to say about reading – past, present, and future – and/at the university. Second semester you will have an opportunity to talk with colleagues about your own experiences with books. And you will have the opportunity to hear what your colleagues have to say about the prospects for the "bookish" university in the future. Take the the time to sign up now!
When will the Bookish University Conversations take place?   There will be two groups. Wednesday Group (2/5, 2/12, 2/19) will meet 12 to 1 p.m. in KML 302 (Blue Law Room).  The Thursday Group (2/6, 2/13, 2/20) will meet 12:30 to 1:30 p.m. in KML 302 (Blue Law Room).   If there is sufficient interest, we will offer a third set of discussions on Thursdays (3/19, 3/26, 4/2).
If you want to sign up to participate in one of the book groups, please contact Dawn Hershberger hershberger@uindy.edu  Please indicate whether you prefer to participate in the  Wednesdays group (at 12 noon for one hour) or the Thursdays group (at 12:30 p.m. for one hour).
If you are interested in discussing the book but the dates and times do not work for you, please contact Marisa Albrecht at albrechtm@uindy.edu to explore other possibilities.
How can you obtain a copy of Leah Price's book? Ten copies of the book will be available on reserve at KML for faculty and staff to borrow (one week at a time) beginning Tues. December 10th.
[1] The topic of Wisdom's Feast 2020 will be "The Bookish University: Past, Present, and Future." The School of Education, the staff of Krannert Memorial Library and the Frederick D. Hill Archives will co-host the 2020 edition, set for Thursday August 13, 2020 at 5:30 p.m.