R. B. Annis School of Engineering hosts FIRST Robotics Competition Kickoff Event

The R. B. Annis School of Engineering hosted the annual FIRST Robotics Competition Kickoff Event in early January. Dozens of high school students from around the state received their challenge to design, build, program and test a robot within six weeks.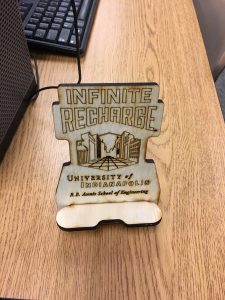 It's all part of the INFINITE RECHARGE FIRST RISE℠, powered by Star Wars: Force for Change, a worldwide challenge for young inventors to test their mettle and collaborative skills, organized locally by IndianaFIRST. R. B. Annis School of Engineering faculty and students provided presentations, met with students, and offered a VR experience of the newly-released game field. 
At Saturday's Kickoff, teams were shown the INFINITE RECHARGE game field and challenge details for the first time, and received the Kickoff Kit of Parts, which is made up of motors, batteries, control system components, construction materials, and a mix of additional automation components. With limited instructions students, working with experienced mentors, have about six weeks to create their robots to meet the new 2020 season's engineering challenge. Once the teams build a robot, students will participate in one or more of the Indiana district events that measure the effectiveness of each robot, the power of collaboration, and the determination of students.

New challenging game elements in the game INFINITE RECHARGE make for a complicated strategy with many options. INFINITE RECHARGE has high school robotics team students around the world eager to capture a championship. After the game was revealed Saturday, students immediately began brain-storming and drawing up initial designs for robots that will compete at several events this season. Teams have about 6 weeks to build their robots before the competition season begins.
During the FIRST build season, multiple UIndy faculty, staff, and students assist local FIRST teams with their robots, including the fabrication of parts using the R. B. Annis School of Engineering's fabrication facilities.