Five things you didn't know about Linda Corn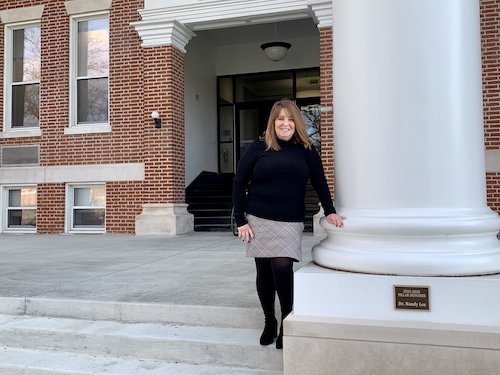 Linda Corn has worked at the University of Indianapolis for nearly 26 years, first in the Office of the Registrar and then in the Shaheen College of Arts & Sciences. A southside native, UIndy is a place where she's made memories most of her life. She remembers walking around campus as a kid, going to basketball games with her dad, and having Dr. I. Lynd Esch over for dinner at her parents' house, to name a few.
Take a walk down memory lane with Linda:
What's something people might be surprised to know about you? 23 members of my family have attended and/or worked at UIndy, both from my father's and mother's side. My grandfather, Roy Davis '25 (elementary education), taught children's literature here for 35 years. My uncle, Ralph Davis, is 99 years old and he still visits campus regularly.
What's your favorite thing about UIndy? The friendships I've established over the years. I love the family feel of the university. The people I've met here – students, staff and faculty – have been like my second family. 
What's your favorite place on campus? Good Hall. I love the historic feel of the building. I can remember taking flute lessons on the third floor as a kid!
What's something that hasn't changed over the years? The bathrooms in Nicoson! My friends and I would go to the bathroom during basketball games and practice the cheers we saw. They look the same today as they did 55 years ago. 🙂
What do you like to do in your free time? Reading! My favorite author is Francine Rivers. My family also loves traveling to Florida. We recently bought a condo on the gulf so we can visit a few times each year. 

Bonus fun fact: As a kid, my siblings and I were hired to perform pantomime at special events. Dad dressed up as David Seville and the kids were chipmunks. It didn't take much to entertain people at the time!