Master of Science in Sport Management off to a record start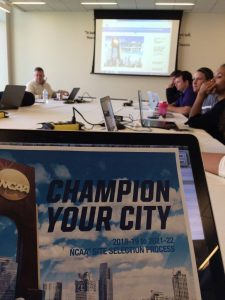 The new school year is off to a blockbuster start for the Master of Science in Sport Management (MSSM) program. The program, which is housed in the Department of Kinesiology, Health, and Sport Sciences, welcomed nearly two dozen new students this year – more than twice the size of any previous MSSM cohort.
Jennifer VanSickle, program director for both the undergraduate and graduate sport management programs, has some ideas for why the program is enjoying such a boost in enrollment.
"We made the master's program more accessible," she said, noting that applicants who posted at least a 3.0 GPA in their undergrad degree are no longer required to take the GRE. "The change in the admissions procedures puts us more in line with other sport management programs in the state."
UIndy's geography is also a draw for many students. The proximity to the NCAA headquarters and professional sports teams including the Pacers, Colts, and Indy Eleven –and the university's working relationships with these organizations – is a plus for students seeking careers in the sports industry.
"We require two internships with a sports organization," VanSickle said. "So our students gain valuable experience and have plenty of opportunities to network."
Jessie Benner is in her second and final year of the sport management master's program. Her internship experiences include a community relations internship with the WNBA franchise team, the Indiana Fever, and a championships and alliances ticketing experience at the NCAA.
"Both of my internship experiences have given me the opportunity to foster positive
relationships with those around me while expanding my network," Benner said. "I am able to interact with and learn from leaders within the sports industry, at both the collegiate and professional levels. The hands-on experience of internships also allows me to strengthen my skills as look to enter the workforce in the near future."
The internships, as well as class assignments, help MSSM students understand the rigorous nature of the world of sport management.
"A lot of people want to work in sports because it's glamorous and they want to work in an
industry that matches their passions," VanSickle said. "But the hours are long and most of the work is behind the scenes, so much that you might not actually get to see the 'scenes.' You have to work your way up before you can sit in the club suite and hobknob."
Students don't just have to take VanSickle's word for it. Each MSSM student is paired with a sports industry mentor. Benner's mentor is Kellie Leeman, senior director of ticket sales and service at the Indianapolis Motor Speedway (IMS).
"Kellie has experience in several areas of sport, including the NCAA and IMS," Benner said.
"Since I'm still unsure about what career path I want to take, Kellie's knowledge of different areas is very helpful. We meet once a month to discuss developments on my end; she has offered me great insights. I really value her opinion."
Prior to working as a mentor, Leeman collaborated with VanSickle to collaborated to develop the NCAA externship program several years ago.
"I really enjoyed working with the UIndy students through that program," said Leeman, who joined the staff at IMS in 2016. "The sport management mentor program was another great opportunity for me to work with UIndy students."
Leeman offered this advice to sport management students, "Network and seek as many different types of experiences as you can so you can learn what you like and don't like about the industry."
VanSickle also emphasized that the responsibility for networking and taking advantage of all the MSSM program offers lies with the student.
"We set the table for them; they have to close the deal."
Written by Amy Magan, communications manager for the Center for Aging & Community and the College of Health Sciences.