Indianapolis Quartet launches exciting spring season with New York City debut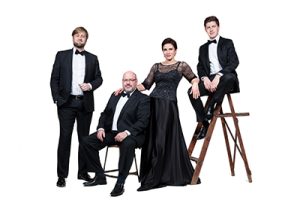 UPDATE: Per recommended guidelines from the Centers for Disease Control and Prevention (CDC) and World Health Organization (WHO) to prevent the spread of coronavirus (COVID-19), the Quartet's March 24 and March 30 events at the University of Indianapolis have been canceled. Visit events.uindy.edu for updates.
The Indianapolis Quartet makes its New York debut during an exciting spring season that explores both old and new classics. The quartet-in-residence at the University of Indianapolis is celebrating its fourth year on campus with regional and national performances.

On March 5, 2020, the Indianapolis Quartet performs at Carnegie Hall's Weill Recital Hall. Tickets range from $38 to $45 and are available at CarnegieHall.org. During this concert, the Quartet will give the world premiere performance of Robert Paterson's third quartet, a work they commissioned. The Quartet has been performing all of Paterson's string quartets in preparation for a recording scheduled for spring 2020.
For this occasion, the Indianapolis Quartet will join again with pianist Drew Petersen, recent University of Indianapolis artist-in-residence, Christel DeHaan fellow and 2017 American Pianists Award recipient, in Schumann's masterful and intense piano quintet. Frank Felice's charming Five Whimsies for Non-Grown Ups is also included in the program. This set of five pieces for string quartet is based on children's books, with each piece based on one line from each story: "In The Night Kitchen," by Maurice Senkdak; "The Mysteries of Harris Burdick," by Chris Van Allsburg; "Mr. Bliss," by J.R.R. Tolkien; and "The Sleep Book" and "The Cat in The Hat," by Dr. Seuss. Debussy's influential and exotically colorful G minor string quartet will close the program.

See all performance dates here.
On March 24, 2020, the Indianapolis Quartet returns to the Christel DeHaan Fine Arts Center for the popular open rehearsal and master class event. Violinists Zachary DePue and Joana Genova, violist Michael Strauss and cellist Austin Huntington draw on their vast expertise and experience in coaching University of Indianapolis student chamber ensembles, while also offering a unique behind-the-scenes look at their own rehearsal process. The audience is invited to sit on stage close to the performers. Admission is free.
The following week, on March 30, 2020, the Indianapolis Quartet performs on the University of Indianapolis Faculty Artist Concert Series at the Christel DeHaan Fine Arts Center, Ruth Lilly Performance Hall. Concert artist Ran Dank, a lauded prize-winning pianist on faculty at the Cincinnati College-Conservatory of Music, will join the quartet in Dvořák's Piano Quintet No. 2 in A Major. This work was written at the height of Dvořák's international fame and is considered a monument in the world of chamber music—both in use of dramatically lyrical lines and rhythmic vitality, as well as the richly vivid sound that Dvořák explores.
For the balance of this program, the Quartet will also present Beethoven's "Serioso" quartet, his opus 95 in F minor. This quartet is paired on the program with Bartók's single-movement third quartet, written in 1927. In this quartet, Bartók invents and employs the widest range of effects used in string writing up to that time. Bartók was one of the world's first ethnomusicologists and his intimate knowledge of Hungarian folk music was a huge influence on his own writing. This quartet explores a slow, poignant opening in contrast with a driven, rhythmic second part.