Laura Wilson joins Indiana Humanities' Speakers Bureau for 2020 suffrage centennial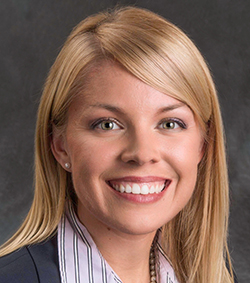 Dr. Laura Wilson, assistant professor of political science, was selected to participate in the Speakers Bureau for Indiana Humanities' celebration of the women's suffrage centennial in 2020.
In her series of lectures titled,"Have We Come a Long Way, Baby?", Dr. Wilson explores ideas around women comprising a majority of the population yet remaining underrepresented within American government. In fact, Indiana trails most national numbers and remains one of five states in the country to never have elected a female governor or senator. One hundred years post-suffrage, this lack of representation presses the question of "why?" Dr. Wilson's talk addresses this question by bridging historical narratives with current statistics. By sharing her key research findings, exploring larger national trends and analyzing influential factors, Dr. Wilson hopes that a better understanding of the past will enable us to work toward encouraging and electing more women in politics today.
Wilson spoke at the Indianapolis Bar Association in January and at the Seventh Annual Richard M. Fairbanks Symposium at the University of Indianapolis as well as the West Lafayette Public Library in March. Additional speaking engagements include:
March 25 – Westfield Washington Library
April 7 – Indiana Bar Association
1:30-2:30 p.m.
One Indiana Square, Suite 530, Indianapolis
April 19 – Allen County Public Library
2-3:30 p.m.
900 Library Plaza
Fort Wayne
November 18 – Monroe County History Association
Visit Indiana Women's Suffrage Centennial and scroll to "upcoming events" for details.