UIndy MPH student earns Stephen Jay Award for Leadership in Public Health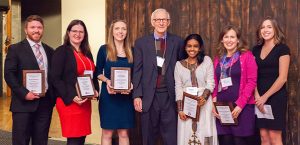 Second-year Master of Public Health student Yordanos Gebru recently earned the Stephen Jay Award for Leadership in Public Health at the 2018 Indiana Public Health Association Annual Dinner.
The award recognizes current MPH students across Indiana who have contributed to the improvement of public health in the state.
In her nomination, University of Indianapolis MPH Program Director Heidi Hancher-Rauch cited Gebru's ongoing commitment to both scholarship and service. The Journal of Health Promotion and Practice recently published an article written by Gebru, Hancher-Rauch, and another student entitled, Building Advocacy Capacity and Skills Through a Statehouse Advocacy Day: Indiana SOPHE Experience. The group also attended the national SOPHE Advocacy Summit in Washington, D.C. Gebru balances her academic work with serving as a Communication/Resource Database Specialist for the MOMS Helpline at the Indiana State Department of Health.
Gebru's father, Fiseha, attended the event with his daughter, traveling from their native Ethiopia. Being recognized with her father in attendance was a humbling moment for Yordanos.
"My dad repeatedly reminded me to remember where we came from, where we were at that point and where I need to be in the future; that I need to really work hard to make my professors who nominated me proud. The experience was amazing in an indescribable way," Yordanos says.
After earning her MPH, Yordanos plans on attending medical school and returning to Ethiopia—prepared to make a systemic difference in her home country.
To learn more about the UIndy Master of Public Health Program, contact Dr. Heidi Hancher-Rauch at rauchh@uindy.edu.
Written by Logan McGrady, Communications Specialist for Graduate & Adult Learning Enrollment.