Vice President for Intercollegiate Athletics announcement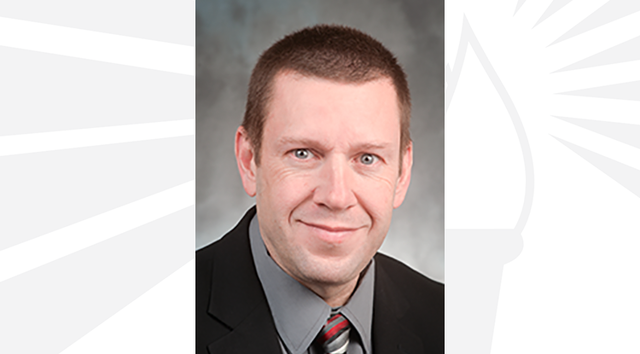 Dear UIndy community,
I am thrilled to share with you that Scott Young '99 '02 will serve as the next Vice President for Intercollegiate Athletics at the University of Indianapolis. Scott's selection for the cabinet position follows a nationwide search to fill the top leadership role for the Department of Athletics.
During his 26-year career at the University of Indianapolis, Scott has served in various roles that have familiarized him with all aspects and functions of the Department of Athletics, most recently as Senior Associate Athletic Director for Compliance. His achievements include regulating all compliance for 23 NCAA sports programs at the University, as well as oversight of the Sports Medicine and Sports Information Departments, and numerous athletic programs. Scott has played a role in several advancement initiatives including the creation of the Jordan Loyd Film and Study Suite and securing a financial commitment toward baseball facility upgrades. His leadership and collaboration, including his service as tournament director for NCAA playoff games and tournaments, and liaising with coaches on program and student-athlete needs, have contributed to the phenomenal success of University of Indianapolis athletic programs.
Scott demonstrates an equal commitment to the University of Indianapolis and to the principles of excellence that define our campus culture. He has chaired or served as a member of numerous NCAA and athletics-related University committees over the years. He is also a frequent contributor to the University community through his service on multiple committees and task forces essential to University operations. Scott received a Bachelor of Science in Athletic Training from the University of Indianapolis in 1999 and obtained his Master of Arts in Curriculum and Instruction from the University in 2002.
Scott's dedication to accountability and clear communication, combined with his innovative ideas for growing our athletics program both in terms of public awareness and in breadth, will be a vital asset in University initiatives including recruitment and retention. Scott is ideally suited to build on the high standards of success established by Sue Willey, his predecessor and current Vice President for Intercollegiate Athletics. Sue leaves a 45-year legacy that catapulted University of Indianapolis athletics to national recognition and countless accolades, including 90 Academic All-America honorees, a mark that is in the top ten in NCAA Division II. I would like to express my gratitude to Sue Willey for her many years of service to the University of Indianapolis and for her remarkable accomplishments that have positioned the Department of Athletics to continue to climb to new heights.
Scott will continue to grow the hallmarks and achievements of our athletics program, which include a 3.31 GPA for all 23 sports, a student-athlete graduation rate that is 13-percent higher than that of the general student population, Top Ten finishes in the Director's Cup seven out of the last eight years, the GLVC All-Sports trophy recipient for eight consecutive years and the Women's Golf National Champions (2015 and 2018).
I would like to acknowledge the hard work of the search committee for their thorough and robust review of a large field of highly qualified candidates: Andrew Kocher, Janel Bogenschutz, Debra Feakes, Brian Gerlach, Sara Galer, Greg Rakestraw, Jennifer VanSickle, Fahkara Malone, Matthew Donovan, Melissa Frost, Stanley Gouard, Christopher Molloy, Andrea Newsom, Isabell Mills, Neil Perdue, Bob Bartolomeo, Lisa Hicks and Larry Sondaus.
Although we have had to pause our athletic activities temporarily, we continue to plan for the future so that our institution emerges all the stronger when we are able to resume. I hope you will take a moment to celebrate Scott's achievement with me and congratulate him as we look toward the future together.
Please take a moment to congratulate Scott on his new position.
Regards,
Robert L. Manuel,
President