Changing lives through occupational therapy advocacy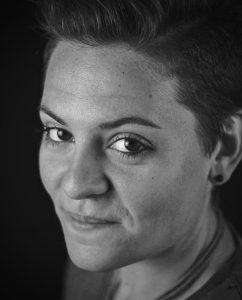 Kelsey LeMond will graduate in May 2020 with a doctorate in occupational therapy. Her doctoral capstone work at Public Advocates in Community Re-Entry (PACE) truly represents the University of Indianapolis motto, "Education for Service." The nonprofit organization provides a variety of services to incarcerated and previously incarcerated individuals and their families to lead productive and responsible lives in their community. LeMond created life skills group sessions for participants and has been featured twice in regional newscasts to discuss her work.
"PACE does not offer occupational therapy (OT) services, therefore my focus was to advocate the role of OT in a community mental health setting and create and lead a life skills group called Making Meaningful Meals," LeMond explained. "The goals and outcomes for this life skills group focused on facilitating a healthy social environment through meal preparation, opportunities for learning and application of knowledge, and increasing overall health and wellness."
Through her consultation services for PACE, LeMond gained valuable skills in communicating effectively as part of a team as she educated staff on the role of occupational therapy. 
"Facilitating the Making Meaningful Meals life skills group has enhanced my ability to provide verbal feedback and cues for social participation, engaging clients in meaningful activities, and assisting individuals with positive peer connection and recovery," LeMond said.

To continue her work with PACE, LeMond is working on applying for local grants in order to provide part-time OT services. "Our community has impacted me greatly. I only want to give back what I can and remain a member of the PACE family."
She learned two important lessons in the process: "There is no recovery if there is no community to support the individual's recovery journey and second, OT has the ability to provide individuals with guidance, hope and empowerment through advocating for the individual's occupational justice."
LeMond credits her success in the program in part due to mentors such as Beth Ann Walker, associate professor of occupational therapy and Taylor McGann, assistant professor of occupational therapy.

"Professor Walker is one of the most dedicated, enthusiastic, supportive and passionate professors I have had the pleasure of learning from. I consider her a role model and hope to embody her passion, ethicality and spirit with my own occupational therapy clients," LeMond said.
"Professor McGann has challenged me intellectually, professionally and personally. No question is ever considered inconsequential, and she takes the time to check in on her students. Her genuine attitude and positivity have influenced my capacity for developing a growth mindset. I would consider both Dr. Walker and Dr. McGann ethical colleagues and close friends."
"The School of Occupational Therapy prides itself on creating a strong foundation for students through integrated hands-on experience with faculty," LeMond added. "Many of our faculty have an open-door policy allowing students to feel comfortable and supported during the challenges of graduate school."

LeMond appreciates the opportunities the program has created for her to collaborate with various community partners.
"I love how passionate UIndy is about serving their beloved community. It truly takes a community to grow a person both in body, mind, and spirit and I am thankful for the UIndy community for  supporting me."
LeMond completed her level II fieldwork at Community Rehabilitation Hospital North in the brain injury unit. She wants to thank her fieldwork educator, Judy Trout, for being an amazing mentor, facilitator, role model and friend. LeMond also completed her second level II fieldwork at Cape Fear Valley Health in the adult neurological outpatient center under Sara Warren. She would also like to thank Sara for her directive leadership, support, and encouragement through fieldwork and will remain a mentor and friend for life.
After taking the boards to become a registered occupational therapy (OTR), she plans to apply for a job with Community Health Network. She will continue to participate in the American and Indiana Occupational Therapy Associations, where she advocates for the benefits of occupational therapy.
Learn more about the occupational therapy program at the University of Indianapolis.