The passing of Linda Dillman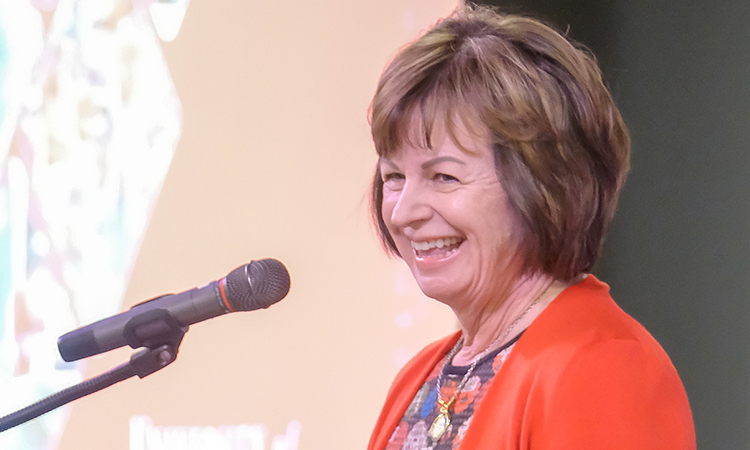 It is with deep sadness that we acknowledge the passing of Linda Dillman. Linda served on the University of Indianapolis Board of Trustees since 2017, was the Secretary of the Board, and past Chair of the Risk and Compliance Committee. Linda was a nationally recognized expert in management and technology, and used her experience and connections to benefit the students at UIndy. Linda was an advocate for women, children, and first-generation students, and she understood the power of higher education to transform their lives. The entire University of Indianapolis mourns the loss of this exceptional leader, and we extend our condolences to her family, friends, and colleagues.
Linda was a native of Fort Wayne, Indiana, and attended the University of Indianapolis (then Indiana Central University), where she sang in the choir and was a member of Alpha Phi Omega. After graduating with a bachelor's degree in business administration, she went on to hold executive leadership roles at some of the nation's most successful companies.
A globally recognized business and information technology leader, Linda was named one of Fortune's "50 Most Powerful Women in Business" for five consecutive years and was one of the University's Distinguished Alumni Award winners. Linda also was named one of the Top 10 Women in Retail Tech by Chain Store Age magazine. In 2015, she was named a Top IT Pro by the Philadelphia Business Journal, recognized as a Computerworld Premier 100 IT leader for 2014, and selected twice for the Most Powerful Women in Cable by CableFAX magazine.
At the end of 2016, she retired from QVC Inc, one of the largest multimedia retailers in the world, as their Chief Information Officer.  Before joining QVC, Linda was senior vice president of enterprise services/global functions IT for Hewlett-Packard Company, a leading global provider of products, technologies, software, solutions, and services for business, government, and individual consumers.
Linda also served in various executive leadership roles at Wal-Mart Stores, Inc., including executive vice president of benefits and risk management, and executive vice president and chief information officer.
Linda always used her talents to benefit others. She was a member of the Board of Directors for Cerner Corporation since 2010. She also served on the boards of GS1 U.S., GS1 Global, the Network of Executive Women, and the National Center for Women & Technology.  She was a member of the Advisory Group to the Director of the Centers for Disease Control and Prevention and the Federal Health IT Standards Committee, and most recently advocated for children in need as a volunteer member of Child Advocates in Marion County.
Linda was an insightful business pioneer who left her mark on the University of Indianapolis in the students she mentored and cared so deeply for, as well as the impact she made on further guiding the University to national prominence and relevance.
We hope you will take the time to remember Linda and her tremendous contributions to our University and students. Please keep her friends and family in your prayers.
Regards,
Phil Terry, Chair, Board of Trustees
The University of Indianapolis