New book by Craig Seidelson explores shifts in U.S.-China trade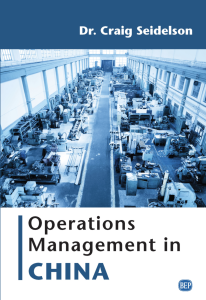 The coronavirus pandemic has had far-reaching implications for American manufacturers who rely on China, but other factors are also in play. A timely new book authored by Craig Seidelson, assistant professor of operations and supply chain management at the University of Indianapolis School of Business, explores these and other U.S.-China business topics.
"Operations Management in China" published by Business Expert Press delves into the relationship between the United States and China, its largest goods trading partner.
"Roughly 12 cents of every dollar U.S. consumers spend is on Chinese-made products. Nearly 60% of all U.S. imports from China are made by U.S. manufacturers," Seidelson explained.
"The reality is U.S. supply chain managers need Chinese-made products because prices are among the world's lowest and the export-oriented, manufacturing infrastructure is the world's largest. Yet, recent events are forcing companies to reexamine the sustainability of their sourcing models," he added.
The book explores how labor costs and corporate debt in China are on the rise, while the Chinese RMB continues to fall. As inflationary pressures build, so do political factors.
"The majority of U.S. investment into China is through Hong Kong. Under the United States-Hong Kong Policy Act of 1992, Hong Kong has been treated differently than mainland China," Seidelson said, noting that Hong Kong has benefited from a special status in terms of investment and trade.

That status is now in doubt. Seidelson noted that a new national security law grants mainland institutions in Hong Kong responsibility for security. In response, the Trump administration has indicated that the 'one country, two systems' scenario is no longer valid and that Hong Kong's special trade status should be dropped. As a result, Seidelson said tens of thousands of US companies may be forced to change how they do business in China.
The recent COVID-19 pandemic is also forcing a change in U.S.-China business relations, with American companies re-evaluating their reliance on Chinese-made products, Seidelson pointed out. In 2019, nearly 50% of every dollar spent on made in China products went to U.S. service providers. In April 2020, U.S. imports from China fell approximately 50 percent compared to a year earlier. 
"As Chinese companies shut down to control the spread of the virus, many U.S. companies were faced with the real possibility of shortages. This is particularly true in the pharmaceutical sector where China is the largest producer of the ingredients drugmakers use to make products," Seidelson said.
Craig Seidelson has spent over 20 years in manufacturing. During this time he worked 16 years in China, building and managing factories. He is presently a reviewer for the International Journal of Operations Research and Information Systems. As professor of operations and supply chain management at the University of Indianapolis, he teaches logistics, quality management, and manufacturing at the undergraduate and postgraduate levels. He also teaches a course on Manufacturing in China. Prof. Seidelson routinely consults on these topics and presents his research at conferences around the world. Through his work as vice president of the Board at the America China Society of Indiana, he brings together U.S. and Chinese businesses. His contributions in China were recognized with an honorary professorship at Changsha University of Science and Technology.