School of Education Alum receives Amazon Award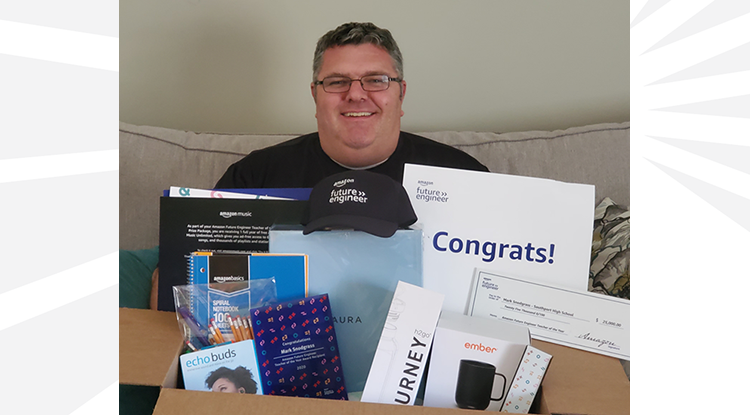 Mark Snodgrass '00 (elementary education) received one of 10 Amazon "Future Engineer Teacher of the Year" awards and was the only award recipient from Indiana.
"I am overwhelmed with joy and humbled that a company such as Amazon has recognized my love of teaching and my students need to access technology," Snodgrass said.
Snodgrass was chosen among thousands of applicants and was among the first recipients to ever receive the award, which contained a prize package valued at more than $50,000. The grant will provide improved technology to his students at Southport High School.
A School of Education alum, Snodgrass continues to support the program as a guest speaker and by bringing his students to demonstrate their work. He says UIndy's School of Education has been "the best decision I could have made." 
"The real-life experiences in the classroom, the professors understanding that their students will grow from mistakes, as well as the friendships and support from professors even after graduation, helped to make me the teacher I am," he added.
With relationships on campus that span decades, Snodgrass has also found support through the R.B. Annis School of Engineering at UIndy. 
"The department has been a great support for my classroom, my engineering teams, and Southport High School Engineering," he said. "I am so blessed to work with professors like Dr. Steffel, Dr. Pennell, and Dr. Talaga. I am forever grateful for their guidance and wisdom and for being awarded this honor by Amazon. Go Hounds!"