Carson Heights garden collaboration brings fresh produce to southside neighborhoods

Nothing says "summertime" more than a fresh-off-the-vine, homegrown tomato. Thanks to a group of UIndy staff, faculty, students, and volunteers, southside neighbors will soon be able to enjoy tomatoes and other produce grown in a new community garden just north of campus.
The Carson Heights garden is located on a half-acre of university-owned land on Standish Avenue and is the result of a collaboration between UIndy and several other organizations, said Gurinder Hohl, director of the UIndy-Community Health Network (CHNw) partnership.
"The garden is tied to the health and wellness strategy of SoIndy," Hohl explained.

The South Indy Quality of Life Plan (SoIndy) is a nonprofit comprised of community leaders from eight neighborhoods, including University Heights surrounding the University of Indianapolis, working to bring better quality living to the area. UIndy public health assistant professor Amie Wojtyna is the chair of the SoIndy Health and Wellness action team.
"Our goal is to create gardens that will provide access to affordable fresh produce," Hohl said. "In addition, we plan to engage neighbors who want to learn how to create their own home gardens and how to incorporate healthy food into their diets."
To achieve that, UIndy is working with garden partners including Purdue Extension, which is providing technical support; CHNw, which will offer free cooking classes to SoIndy neighbors, and Books & Brews South Indy, which will serve as a weekly distribution site for the produce grown at the Carson Heights garden.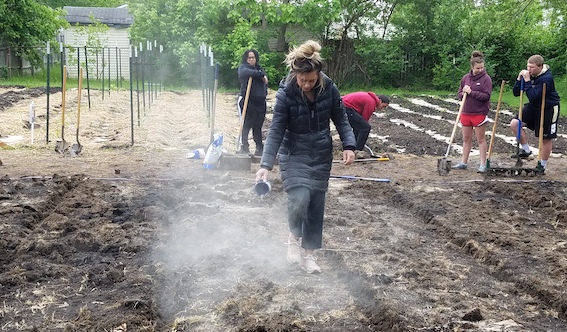 According to Hohl, this first year for the Carson Heights garden will be focused on amending the soil, making it healthy for growing produce. Tomatoes, peppers, cucumbers, radishes, squash, and zucchini will be grown.
The muscle for the planting and harvesting in the production garden will come from UIndy English professor Kevin McKelvey's "Urban Food and Farming" spring term course and from a group of TeenWorks volunteers who will be on campus in June.  
"I approach gardening and farming as a social, creative, and public practice," McKelvey said. "My Spring Term students and I are making a place on these vacant lots that will serve as a learning lab for Shaheen College of Arts and Sciences and the university with numerous opportunities for community engagement, research and service learning. We look forward to collaborating with neighbors."
In addition to distributing produce at Books & Brews, UIndy will purchase eggs at a low cost from the Hatch for Hunger program and distribute the eggs free of charge. This partnership was facilitated by Purdue Extension.
This is not the university's first foray into community gardening. Last summer, Hohl oversaw the planting and harvesting at University Heights garden located west of the United Methodist Church on campus. The Carson Heights garden is an extension of that first garden and has greater capacity to make an impact on the health and hunger of the surrounding neighborhoods. Details about the days and times of produce distribution at Books & Brews are still in discussion. 
Related: Community garden installed near the west side of campus