Choral Department hitting the right notes this fall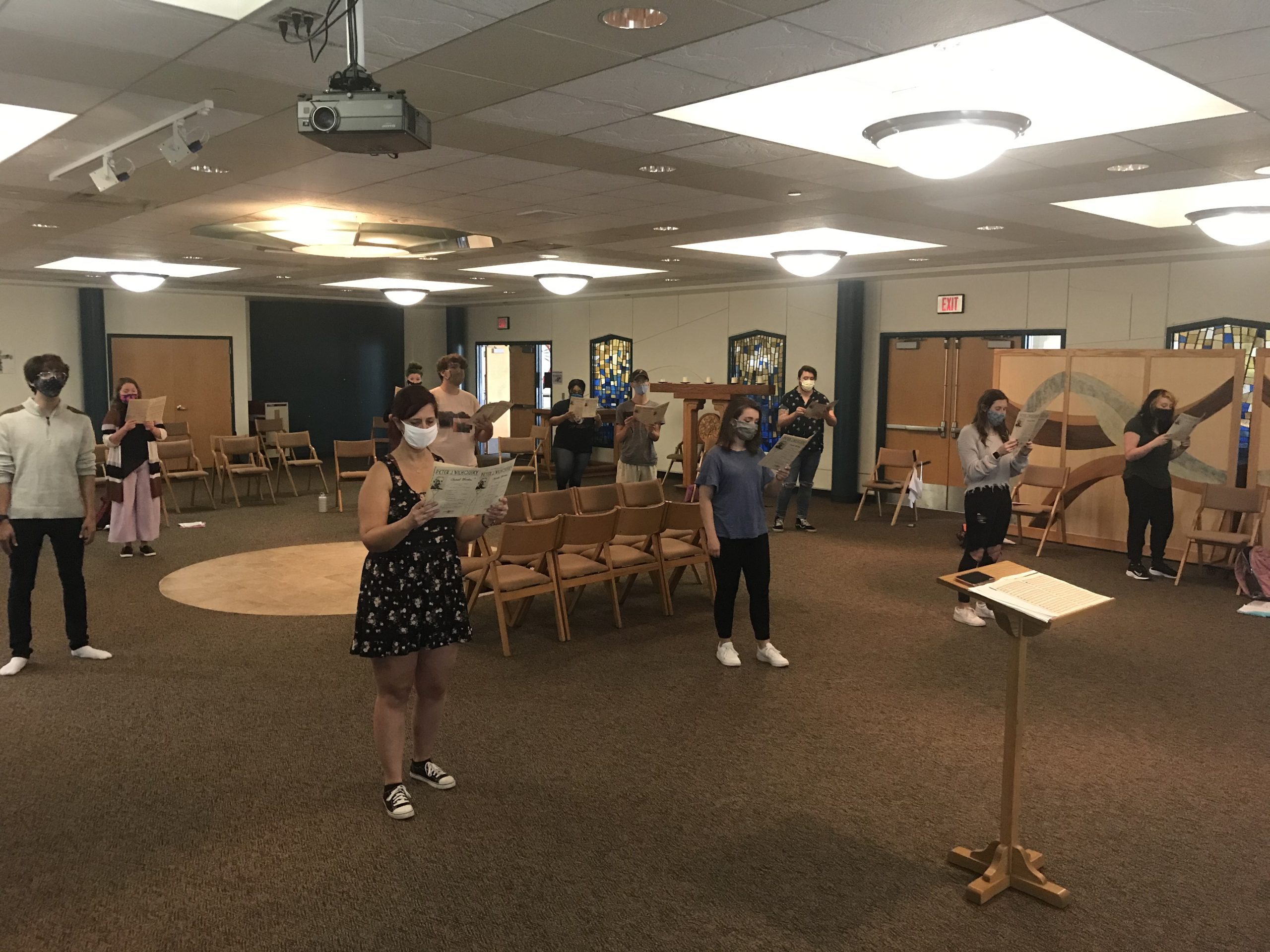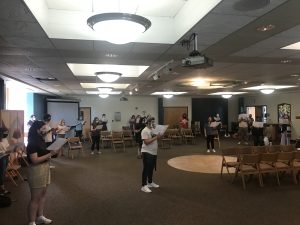 "There's a place for everyone to sing at UIndy," is the motto of UIndy Choirs according to Webb Parker, director of choral activities. That's true even during this fall semester when many programs are in a state of flux due to the coronavirus.
Students have been issued special personal protective equipment including a face shield and cloth cowl that they are wearing during singing activities, and the rehearsal space is very large in order to accommodate physical distancing of 10-12 feet between singers. Participants, as well as all others on campus, are also being asked to complete the campus health check on MyUIndy before coming to campus.
Parker estimates there are 60 students involved in UIndy Choirs today, and his goal is to double that number in three years or less. "I know there are tons of people on campus who love to sing," he said, "It's my goal to make sure they know there is a place on this campus for them to do that."
"All choirs are open to all students," he said. Auditions are held in the fall and spring before classes start for the semester, but he doesn't want the word "audition" to scare anyone off. "Students who want to sing, can sing," he said. "The 'audition' is really just a time for myself and the other choir directors to hear each singer's voice to know which choir is best for them."
UIndy Choirs are not only for students who are interested in class credit or have a major in the music department. In fact, there are Choral Fellowships specially reserved for non-majors who can receive grants just for singing in a choir.
Parker isn't interested in limiting who can participate in choral activities at UIndy. "Harnessing the talent on this campus is my goal," he said. "Getting the word out about UIndy choirs, on campus and to our community, is paramount for me."
There are currently four choirs on campus: Concert Choir, Schola, Treble, and Crimson Express. Concert Choir is UIndy's large, mixed voice choir, that sings a wide variety of songs from pre-Bach to modern day. Schola is a 16-20 voice mixed ensemble which focuses on a capella music from the Renaissance to the modern day. The Treble Choir focuses on music composed for the treble, or higher, voice. Their music selections range from the 17th century to modern pop music that you might hear on the radio today. Finally, Crimson Express is the university's jazz/pop choir, consisting of 12-16 singers focusing on popular music in the vocal jazz and pop-a capella tradition. In addition to the Treble Choir, Parker hopes to bring a Bass, or low voice, choir to campus as well.
All choirs usually perform at least two concerts a semester and often the Spring semester features a collaboration with UIndy bands, local churches, or Indianapolis area community music-making organizations. "In the coming years, I hope to begin a tradition of travel, both domestically and internationally with Concert Choir and Schola," Parker said.
Due to COVID-19 the concert schedule looks a bit different this year. There won't be any concerts with a live audience, however Parker said the department is putting together a digital concert for release at the end of October, as well as a concert of Christmas music that will be carried on UIndy's radio station 88.7 WICR. 
"We're very excited about this opportunity with WICR and hope to make it a UIndy tradition," Parker said. "We're also excited about some new live-streaming technology that is going into the Ruth Lilly Performance Hall which will hopefully be put to use in the spring."
Parker loves what he does, and tries to make sure that is reflected in his role as the director of choral activities. "I get to go to work to lead people in music-making, it's the best job ever," he said. "I keep rehearsals fast-paced, upbeat and fun. Laughter is a large part of what we do together in UIndy Choirs."