Mission Matters #65 – Prudent Leadership: Part II (2012-2020)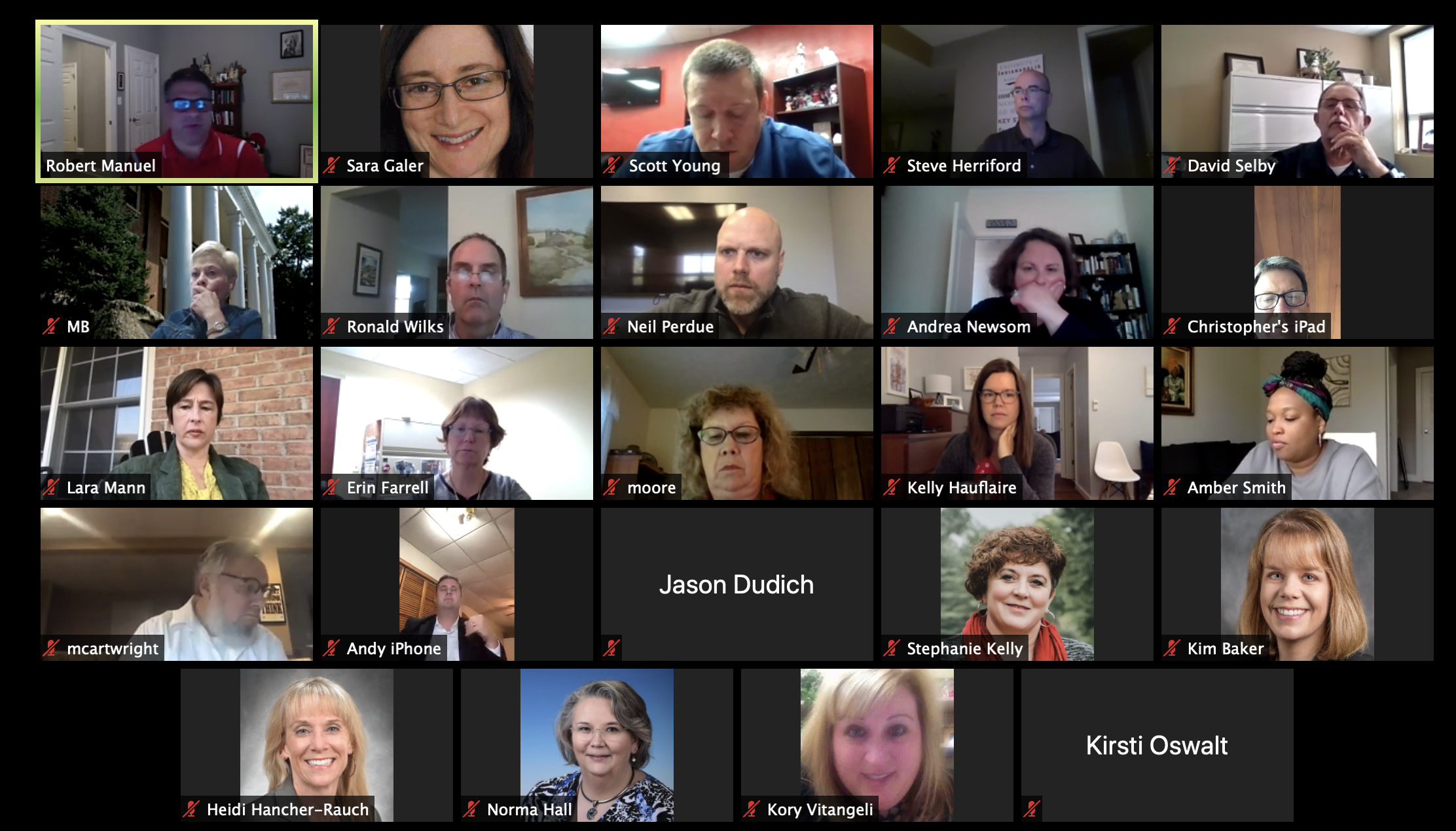 By Michael G. Cartwright, Vice President for University Mission and Associate Professor of Philosophy & Religion
This year we are exploring marks of excellence that can be discerned in the past and present of our institution. Virtues are displayed in the context of practices and social relationships, they reflect moral traditions, they are embodied by exemplars, and they are sustained by institutions such as universities. In MM #64, the focus was prudential leaders who served from 1902 to 1920.  This piece is about 21st-century examples of prudential leadership at the University of Indianapolis.
Many of us have breathed a sigh of relief to have made it through the first half of the fall semester, despite the fact that we see plenty of evidence of stress and strain on the part of students as well as employees. But we have only gotten this far because of the prudent contributions of many people from across the university. And all this began much earlier than most faculty and staff realize when President Manuel and the UIndy Board of Trustees began making adjustments in personnel in order to meet the challenges of the second decade of the 21st century. My hunch is that we are likely to see more focused examples of prudential leadership in the weeks and months to come.
With that in mind, I invite faculty and staff to think with me about who are examples of prudential leadership on our campus in 2020?  My answer to that question may or may not surprise you, depending on what you have noticed over the past six months.  
Let's begin by calling attention to the different cast of characters who offered prudential leadership in 1909-1920. When Presidents Bonebrake and Good had to make difficult decisions in the decade before, during, and after the First World War to find a viable way to obtain land on the north side of Hanna Avenue to expand Indiana Central, they relied on the experience of trustees and leaders such as Rev. William E. Schell, who served as the Chair of the General Board of Education for the United Brethren Church at that time.  All of that would have made sense for a fledgling institution of higher education that understood itself – at first anyway – as "the church's business" endeavor in University Heights, particularly an institution that had not yet managed to attract the kind of financial support that they had hoped to get from the clergy and laity of the United Brethren congregations in Indiana and elsewhere in the Midwest.
As Irby J. Good wanted to make very clear to readers, the issue of The Indiana Central Bulletin for Oct. 1914 displayed the six leaders (in this case, all-male clergy – two bishops and three conference superintendents in addition to the General Secretary) who were guiding the venture. These were the persons – along with Irby J. Good himself — who could be trusted to bear fiduciary responsibility for the gifts of clergy and laity to the endowment for Indiana Central University. This is not to say that persons with more specialized training in finance and law would have been unwelcome to Good et al., but given the patterns of decision making during that time period, the leaders of Indiana Central would have relied on people like William E. Schell to obtain that particular kind of "outside counsel," and the bishops and conference superintendents would have engaged President Good in critical decision making about the future of the institution.
The Board of Trustees at that time was almost all church leaders, very few of whom had broad business experience in corporate settings. Today we have much more diverse and differentiated sets of people involved in prudential leadership. Among the most obvious differences to be noted are the fact that there are fewer clergy involved and more lawyers at UIndy. Both shifts say more about higher education generally than they do about UIndy in particular.  
Before I say more about the wider variety of personnel who are involved in offering prudential leadership in 2020, I have a not so trivial question for readers to consider:  When was the first lawyer employed by this institution of higher education and in what capacity?
Was it in the year 19__, when John J. Haramy LL.B. was hired to teach French?

Or was it in 19__, when Bobby Potters J.D. was hired to teach Criminal Justice?

Or was it in 20__, when Samantha Karn J.D. was hired to be General Counsel?

Or was it in 19__, when Steve Maple J.D. was hired to teach Business Law?

Or was it when Marshall Chambers B.D, LL.B. was hired to assist President Esch?
Read on to discover the answer (but I will tell you that only one of these answers contains false information. The other four are examples of legal professionals who have also served as employees on our campus, several of whom served for long periods.) In the year 2020, at least seven people have worked at our university who have been trained to serve as attorneys or in paralegal roles, and they all contribute to effective leadership of the university.  
Robert Manuel's Administration: 2012 to the Present
Part of the responsibility of the person who holds the office of president of a university is to determine priorities.  At the time Robert L. Manuel took office as President of the University of Indianapolis in 2012, he provided the Board of Trustees (hereafter BOT) with an assessment of the administrative infrastructure of the university. Given the various federal and state mandates (Title IX, etc.) for compliance, the University needed to provide in-house legal counsel to advise the president and the board of trustees. The university had previously contracted with a local firm for legal services, primarily in matters of employment law, but the person who had served as "outside counsel" had already announced that she would be retiring within a year or so.
In addition, Manuel anticipated that the university would be engaging with outside companies in various ways to extend the work of the university and connect the campus community with opportunities in the public and private sectors. The incoming president wanted the president's cabinet and the trustees to have access to timely advice given that they anticipated the possibility of developing one or more business partnerships for student apartments and campus facilities. The UIndy trustees judged his recommendations to be prudent and accordingly authorized budgetary provisions to hire legal counsel to begin in 2013.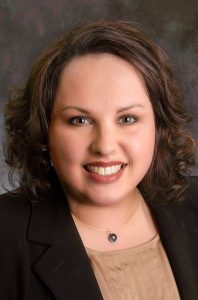 In January 2013, President Manuel hired Samantha Karn to serve as the first General Counsel.  Samantha formerly had served as the Corporation Counsel for the City of Indianapolis, providing legal advice and representation to the Mayor and all city and county agencies, and focusing on litigation, issues of contracts, and provisions for compliance according to the various legal codes (city, state, federal) etc. Initially, Andrea Newsom was hired to oversee contracts and progress for the construction projects that were built between 2014 and 2018, and she became General Counsel when Karn left the university.  More recently, she has taken on the responsibilities for risk and compliance, university policies, and additional board engagement duties as Lara Mann has shifted to work with the Admissions staff in addition to overseeing the Office of Events. 
Meanwhile, there is a wider set of responsibilities associated with making sure the University can document its compliance with federal, state, and local regulations. Lisa Green and Jodi Purtee, among others, review financial paperwork under the supervision of the University's Chief Financial Officer Jason Dudich, who also oversees the university's commercial insurance policies, such as commercial general liability and other coverage.  Jessica Ward and Angie Presnell share the responsibility for overseeing the University's compliance with Title IX provisions while also handling other tasks. 
You may be aware of the roles played by Yvonne Wakeford, who oversees the Institutional Review Board, and Jeanie Neal, who rides herd on grants initiatives and the IRB, and the extensive documentation for reporting. Having had occasion to administer six grant projects over the past 25 years (with a couple of more in the pipeline), I can tell you that I am grateful we have colleagues who can make sure the details are doing right!
The Board of Trustees: Even so, if we are careful in our judgments, we know that as good as UIndy employees are, we need the advice and counsel of outside experts to make sure that we continue on a prudent course.  Since becoming a member of the President's Cabinet seven years ago, I have had the opportunity to get to know more of the members of the Board of Trustees. As I have had opportunities to work with individual trustees, I have grown in my respect both for their attention to detail and their prudent regard for the university's faculty and staff in relation to short-term, long-term, and medium-term considerations. 
One of the things I have found impressive is the way UIndy's Trustees have managed to make provision for the university's ongoing growth and development while also resisting the temptation to invest in ways that are unduly speculative. It is not possible to foresee all problems. There are issues that unexpectedly arise that cannot be deferred. For example, when it became clear that Good Hall – the oldest building on campus – had structural issues that required renovation sooner than previously anticipated, the Manuel administration found a way to do the repairs.
Over the past seven years, the University has carried out several significant building projects (many of which involved creative partnerships): a complete renovation of the Krannert Memorial Library, construction of the Health Pavilion, a new multisport practice field, Greyhound Village Apartments, and University Lofts, and Good Hall renovations, along with projects of a more limited nature.  In 2019, the Board of Trustees authorized the purchase of the two buildings across the street from the University (part of the original Alexander Hanna estate) for use by the faculty in the R.B. Annis School of Engineering and the SCAS Department of Art & Design. These actions were reviewed and approved by UIndy's Board of Trustees after President Manuel worked with faculty and administrators and exercised appropriate due diligence.
Think about the conversations the Executive Committee of the Board of Trustees might have with a President and Chief Financial Officer of a university when the latter pair puts forth a request to draw upon the university's unrestricted endowment to fund a budget for the next academic year. There are very good arguments why a Board of Trustees might not choose to take such action. And yet, precisely because of the intergenerational status of an endowment, in principle, a Board of Trustees must be open to the prospect of taking such actions in those circumstances when it is critical to the university's immediate future. The Board of Trustees' action in June 2020 rightly has been described as a historic judgment; there is no record of the trustees having taken such action since the development of the university's financial operating structure in 1947. Naming such necessity in the context of exercising fiduciary responsibility and consideration of intergenerational equity, however, also defines prudential, informed leadership as opposed to irresponsible expenditure or a stingy-minded lack of provision.
Prudence in 2020:  The COVID 19 Task Force & Related Groups
Prudence can be displayed in a variety of ways. Some have strategic significance. Others are tactical. We can focus on the impact of choosing not to take an action (that is, abiding by the "do no harm" of moral conduct) or we can determine that it is necessary to take action despite having considerable reservations against doing so. Precisely because judgments are matters of moral character as well as actions taken with due regard for the duties of office (e.g. presidents, chief operating officers, etc.) "counsels of prudence" often conflict. Even so, executive leadership brings such persons together – in the same place or virtually – because people from different backgrounds who have different responsibilities often ask different kinds of questions.
Fast forward to 2020 when the coronavirus forced the university to abruptly move into virtual operations at roughly the same time that the university was working through budget cuts for the coming year. By that point, thanks to the good work of Lara Mann, V.P. and Secretary to the University, the Office of General Counsel, among others, the university had developed and/or updated various policies and procedures that made it viable to take the necessary actions in the context of a networked administration.
Even as faculty and staff shifted to virtual forms of engagement with students for pedagogical purposes, the Board of Trustees convened more frequently during the spring and summer of 2020 than they would normally.  Outgoing Board Chair Steve Fry and incoming Chair Phil Terry and the Executive Committee of the Board of Trustees have engaged President Manuel in well-calibrated and transparent decision-making. Because the Board of Trustees already had created a pro-active Risk & Compliance Committee that had been tasked to provide ongoing analysis to guide the Board on a wide range of matters, President Manuel moved quickly to create a task force to monitor the situation and began working through the process to make the necessary provisions to re-engage students in anticipation that at least some courses would be offered "in-person" beginning with Semester I of the 2020-21 academic year.
The COVID-19 crisis has called forth remarkable leadership from across campus and beyond. We are still working our way through these challenges. Faculty carefully negotiate the three types of pedagogical engagement, and in the process, make a variety of adjustments from day to day as they continue to make it possible for undergraduate and graduate students alike to study and learn. Coaches have found ways to choreograph weight training and practice sessions for athletes with appropriate social distancing. Folks in the Office of Campus Life and Student Affairs are working diligently to guide students to continue to engage one another in all the ways that are appropriate while following the provisions laid out in UIndy's Road to Re-engagement Plan. Thus far, we appear to have steered a prudent course, but we cannot predict what challenges are yet to come.
What we know is that, in some cases, the work of some of our colleagues has been transformed – at least temporarily — by COVID. I would not pretend to be able to say how many hours a week Kory Vitangeli and her staff work to stay on top of COVID concerns. Neil Perdue's work as VP & Chief Operations Officer seems to have doubled over the past year. Meanwhile, President Manuel has proven to be ever the hands-on executive over the past six months, calling forth some of our best work. Interim Provost Mary Beth Bagg oversees Academic Affairs, working with the deans of the schools and colleges as well as with the leadership of the Faculty Senate, led by Kim Baker, Associate Professor of Biology and President of the Faculty Senate. If you are not already aware of the remarkable job that our colleagues in Enrollment Management and Admissions have done, be sure to thank Ron Wilks and Lara Mann, who worked together to reorganize the Admissions staff and enrollment management processes to address a new set of challenges as the university switched over to providing "virtual" engagement opportunities for prospective students. Kudos to these colleagues!
Both as a member of the President's Cabinet and a participant in the COVID Task Force, I have had the opportunity to see several kinds of contributions. These groups meet often (via Zoom and Google Meets).  The expertise brought by colleagues such as Heidi Hancher-Rauch (Public Health), Linda Handy (Financial Aid), David Statler (Facilities), David Selby (Campus Police), and Jennifer Rang (Operations) has made sure that operational mandates and tasks have been implemented with precision and in timely ways. Andy Kocher, Associate VP, is responsible for monitoring what is happening in the state and community COVID management agencies. Folks like Sara Galer from the Marketing & Communications staff design interpretive resources and put together timely communications. These eight persons comprise only one-third of the members of the task force! 
From where I sit, the COVID Task Force is another good example of the widely shared pattern of prudential leadership that characterizes the networked administration of President Robert Manuel. Other examples include the University Planning Council and PC2 (President's Cabinet & Provost's Council).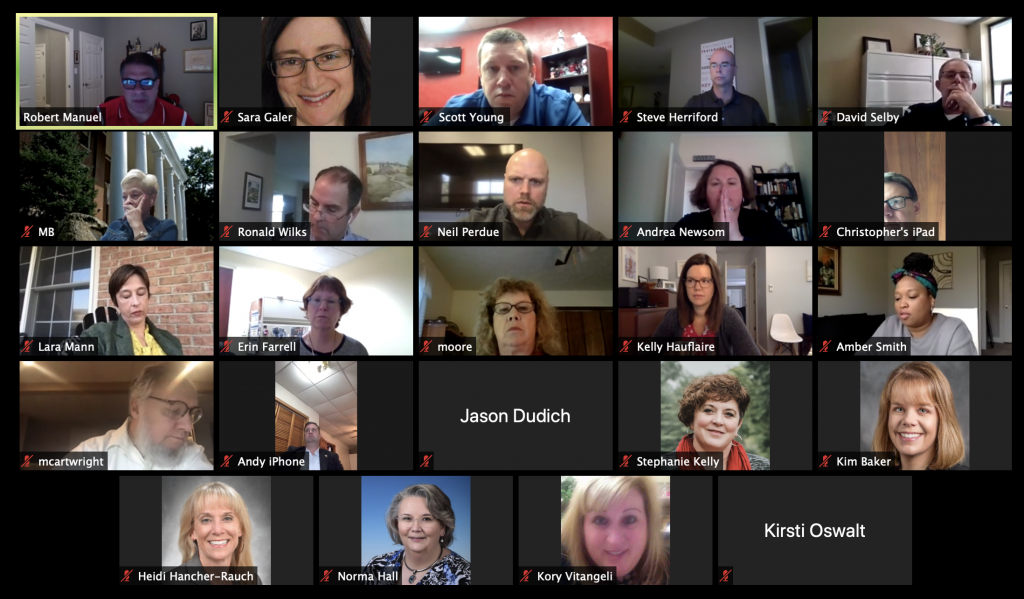 A Case in Point – Contact Tracing
As we know, the test of prudent leadership lies in the results. Do our plans work? And where they don't work, do we have the capacity to register problems, find solutions, and rework our plans? This past month, we had an opportunity to see the effectiveness of this more widely shared approach to prudential leadership. As a result, UIndy has put together one of the best plans you will find anywhere for reengagement with students on a university campus. That does not mean that it has been perfect, nor do I think anyone expected that it could be enacted without encountering obstacles. After all, various authorities at the national, state and local levels have chosen not to administer contact tracing, which means UIndy has had to figure out its own path toward re-engagement and create its own monitoring protocol, etc. 
A critical piece of our planning, therefore, involved a contact tracing application named Campus Clear. This digital tool was thoroughly vetted by the university's technology, legal, contact tracing, and administrative operations teams. In retrospect, however, everyone working on this project was so focused on "getting the application running before the beginning of the semester" that we failed to consult as extensively as we should have.  Shortly after this application was launched, the Executive Committee of the Faculty Senate received "concerns surrounding the terms and conditions of using the app, and with the data usage parameters that would be enabled." President Manuel received this feedback shortly after the implementation of Campus Clear, and he quickly recognized the need to change course, despite the time and money that had been invested.
As Rob Manuel explained in his communication to the campus on Aug. 27, 2020, "I implemented a thorough review of the term and conditions for use within the contact tracing app. The app we chose was free, and as a result, there was not room to negotiate any additional rights or responsibilities beyond what was offered in the standard language provided. Those standard terms included a use provision that would enable the company to use de-identified data from our app for purposes that were not related to the intended use of the app."  After assessing the situation, President Manuel quickly asked Steve Herriford and the Information Technology staff to find another technology solution that the UIndy campus could use "to screen our community for entry to the campus."
Fortunately, the University's Information Technology staff is versatile and skillful enough to be able to develop an "in-house" product that works well for our purposes. Under the supervision of Steve Herriford, our colleagues Amber Weishaar, Marty Tormoehlen, et al. performed this feat in less than 48 hours. (If you haven't taken an opportunity to say thanks to Amber and Marty, I encourage you to do so.). The UIndy Health Check is available via the Health Check icon on My UIndy and through the UIndy mobile app. As you may know, Kirsti Oswalt – a recent UIndy M. Public Health graduate – now oversees contact tracing for the university under the supervision of Public Health faculty Heidi Hancher-Rauch. While we may not all need to recognize their faces in order to trust they are carrying out their responsibilities for the greater good, we probably do rest better at times knowing that persons who are highly competent in their respective fields of endeavor are in charge of these important tasks. 
To make this change was inconvenient for all of us, but as President Manuel conveyed in his message, clearly it was the right thing to do. The input and counsel offered by faculty is part of the ongoing process of shared governance.  No doubt we will encounter other needs to make adjustments during this very challenging season in the university's history. I for one am grateful to see that we have already displayed the capacity to make these kinds of adjustments that we need to be able to make in order to meet COVID-19 challenges.
My point in calling attention to this particular case is twofold:  First, the best leaders – prudential leadership – know that they need the advice and counsel of other people, and they make provision accordingly as they plan. They expect to have people call problems to their attention. Members of the President's Cabinet are charged with that kind of responsibility, and President Manuel makes it clear that where problems arise, we need to address such concerns as soon as possible. And second, none of us should take these contributions of prudential leadership for granted. Indeed, we should take the time to remind ourselves of the contributions – great and small – that result in good decision-making informed by the competent advice of persons who play different roles on campus.
And we dare not forget the fact that we need counsel from outside personnel who bring special expertise to bear on our institutional concerns. As we continue through the 2020-21 academic year, Robert Manuel will gather the best advice available from the external Advisory Group. The team includes an infectious disease specialist, a professor at a leading medical school, a public health specialist, experts from our partner hospitals, the CEO of the Red Cross of Indiana, and Dr. Randy Lee, an internist associated with Community Hospital South who has been affiliated with the University for many years. (Yes, one of these persons has legal training, but it might not be the one you would guess.) Together these subject matter expert advisors will provide President Manuel with prudent counsel about the complications associated with "how quickly to move the University through the phases of transitioning our business operations."
Click to view the UIndy Road to Re-engagement Plan
As I participate in meetings of the COVD Task Force, President's Cabinet, and the University Planning Commission, repeatedly I have been impressed by the careful advice and dedicated service of our colleagues. (My own role is often more that of the encouraging colleague than offering any technical expertise, but occasionally I ask a probing question that it hasn't yet occurred to anyone else to ask.) In such conversations, I sometimes draw attention to ways that our contemporary experiences compare with what generations past have said and done as they engaged the challenges of their own time and place. Just because we remember what happened, of course, does not mean that we will engage challenges wisely, i.e., act with prudence. On the other hand, but when we don't bother to think about the lessons of the past, we can multiply our mistakes, and thereby display foolishness.
Leadership that is mission-driven pays close attention to the roles we are assigned because that is what makes it possible for the university to function well, especially with respect to the leadership virtue of prudence. Which brings me back to the trivia question. When was the first lawyer hired and what role(s) did that person play at this institution? Based on what we have learned about faculty teaching competencies, I am not sure that we are likely to hire many more lawyers to teach French like John J. Haramy LL.B. did from 1926-1930. He spoke the language, but he wasn't trained to teach modern languages, and teaching Romance Languages actually wasn't his primary competency.  Fortunately, Indiana Central's leadership – under President Good – was able to make adjustments to take into account the strengths and weaknesses of faculty.
Haramy turned out to be quite effective as a professor of history and political science up until World War II, even though he never completed his doctorate in history!  Haramy was Lebanese; he was born in Jerusalem in 1894, and his parents moved to the U.S. in 1898. He also graduated from Earlham College and served part-time as a Quaker pastor in Greenfield. Students in the 1920s and 1930s loved Haramy's classes about the democratic process.  Many alumni from that era remembered the straw poll that Haramy's students and The Reflector newspaper organized in October 1932, which featured candidates for President of the United States from the four political parties – Republican, Democrat, Prohibition, and Socialist – all of which received votes from both faculty and students (Learn more about this in MM#66). No one would have had a doubt how Irby J. Good voted in that straw poll; our third president was known to be a "staunch Republican." But the lawyer on campus was not as predictable. Nor should he have been.  The role that he played in those days was not that of a legal advisor to the president. John J. Haramy's first responsibility was to teach!   
As always, please feel free to contact me missionmatters@uindy.edu if you have follow-up questions or feedback. Remember, UIndy's mission matters!
Please Note:  The next three issues of Mission Matters will focus on the cardinal virtue of temperance, which turns out to have a tangled history at this university.