University of Indianapolis announces world-renowned ecologist Nalini Nadkarni as 2020 honorary degree recipient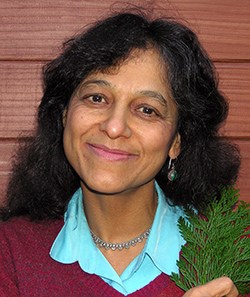 The University of Indianapolis will present an honorary degree to Nalini Nadkarni, forest ecologist and science communicator, during the December 2020 Commencement ceremonies.
A pioneer in the study of the Costa Rican rainforest canopy, Nadkarni has dedicated her career to ground-breaking research and public engagement. Her academic research interests include the ecological roles that canopy-dwelling plants play in forests at multiple spatial and temporal scales, and the effects of forest fragmentation and climate change on the biodiversity and ecosystem function of canopy communities. Her research is supported by the National Science Foundation, the National Geographic Society and the Mellon Foundation.

Nadkarni is recognized as a dedicated educator and communicator who uses nontraditional pathways to make scientific knowledge accessible to wider audiences and to raise awareness of nature's importance to human lives. She has innovated bringing science education, conservation projects and nature imagery to the incarcerated. In 2003, she co-created the Sustainability in Prison Program in Washington State, and in 2011, created the Initiative to bring Science Programs to the Incarcerated (INSPIRE). These programs bring multiple benefits for inmates, scientists, correctional institutions, and the community.
"Throughout her career, Nalini Nadkarni has demonstrated a remarkable commitment to connecting her academic expertise with broader audiences while continuing her critical research on rainforest ecology. The impact of her work is immeasurable. The University of Indianapolis is deeply proud to recognize her career with an honorary degree and to highlight her shining example of our university mission, 'education for service,'" said President Robert L. Manuel.
An Emeritus Professor at The Evergreen State College, Nadkarni currently is a professor in the Department of Biology at the University of Utah. She collaborates with a wide range of humanists, creative writers, poets, dancers, musicians and visual artists to better understand and communicate the relationships between nature and humans. Her work has included developing moss growing techniques with prisoners, as well as bringing artists, like musician and biologist G. Duke Brady, into the forest canopy to write and perform.

Nadkarni is deeply committed to public engagement with science. In 1994, she co-founded the International Canopy Network, a non-profit organization that fosters communication among researchers, educators, and conservationists concerned with forest canopies. Her work has been featured in media outlets including the Guardian, Natural History, Glamour, "Good Morning America," Bill Nye the Science Guy and many more. She has given two TED talks (Conserving the Canopy and Life Science in Prison) and more than 25 endowed lectures around the world. She is the author of two books, "Between the Earth and Sky" (2002) and "Kingfisher Voyages: Rain Forest" (2006).
Nadkarni is the recipient of multiple honors and awards, including the John Simon Guggenheim Fellowship (2001), the Aldo Leopold Leadership Fellowship (2004), the J. Sterling Morton Award from the National Arbor Day Foundation, the Grace Hopper Lifetime Achievement Award, the Public Service Award from the National Science Board (2010), the AAAS Public Engagement With Science Award (2011), the Monito del Giardino Prize for Environmental Action (2012), an Honorary Doctorate of Science from Brown University (2014), Time Magazine's Best Inventions of 2014: "Blue Room, the prison room that helps inmates relax," Washington State University's William Julius Wilson Award for the Advancement of Social Justice (2015), Wings Worldquest, Women of Discovery Awards (2018) and Inspiring Scientist, Union of Concerned Scientists (2019), among others.

About the University of Indianapolis
The University of Indianapolis, founded in 1902, is a private university located just a few minutes from downtown Indianapolis. The University is ranked among the top National Universities by U.S. News and World Report, with a diverse enrollment of nearly 5,600 undergraduate, graduate and continuing education students. The University offers a wide variety of study areas, including 100+ undergraduate degrees, more than 40 master's degree programs and five doctoral programs. More occupational therapists, physical therapists and clinical psychologists graduate from the University each year than any other state institution. With strong programs in engineering, business, and education, the University of Indianapolis impacts its community by living its motto, "Education for Service." Learn more: uindy.edu.