University of Indianapolis history faculty Edward O. Frantz collaborates with Indiana political mainstay John Mutz on new autobiography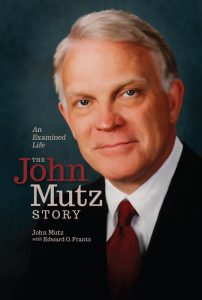 "An Examined Life: The John Mutz Story" from IHS Press chronicles life of former Indiana lieutenant governor
INDIANAPOLIS—A collaboration between Edward O. Frantz, professor and department chair of history at the University of Indianapolis, and longtime Indiana politician John Mutz, explores the role of Mutz's career in shaping what the city of Indianapolis looks like today.
"An Examined Life: The John Mutz Story," published by the Indiana Historical Society (IHS) Press, provides a comprehensive overview of Mutz's expertise in politics, philanthropy and business. Mutz helped establish Indianapolis' reputation as a sports business hub and was the person most responsible for bringing the Subaru plant to Lafayette, Ind., a move that reinvigorated manufacturing throughout the Hoosier state.
"John Mutz is one of the people who helped to dramatically transform Indianapolis," Frantz said. "His character, emotional intelligence, and leadership have helped to inspire scores of Hoosiers; I am so happy to play a part in helping to tell his story."
Photo of Prof. Frantz available here.
Mutz, who served Indiana in the General Assembly (1967-1971), State Senate (1972-1980) and as lieutenant governor of Indiana (1981-1989), is one of only two surviving architects of Unigov. He authored the bill that rewrote Indiana's school funding formula and co-sponsored the bill that created White River State Park. His philanthropic achievements include establishing the Lumina Foundation, where he served as board chair (2002-2010), and serving as president of the Lilly Endowment (1989-1993), where he oversaw the major initiative Giving Indiana Funds for Tomorrow, resulting in $2 billion committed across the state.
In this book, Mutz collaborates with American historian Frantz, author of "The Door of Hope: Republican Presidents and the First Southern Strategy, 1877–1933," and editor of "A Companion to the Reconstruction Presidents." Working together, Mutz and Frantz have combined the perspective and experience of an accomplished leader with the insight of a political historian. Mutz's gratitude about the life he has led is the motivating force behind "An Examined Life." This book represents a culminating contribution to Indiana's civic life by imparting the life experiences of a man who uniquely merged politics, business and philanthropy.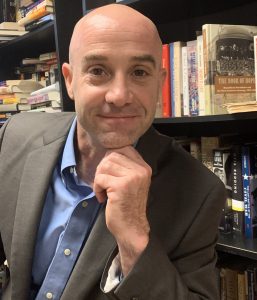 "John often talks about many of the events of his life being a series of happy accidents," Frantz said. "This project was the happiest of accidents I could have ever hoped for. Given John's experience in politics, philanthropy and corporate governance, this book is unique in that it is both a memoir and a look at some of the most consequential changes in modern Indianapolis. John's life has provided me with a lifetime's worth of lessons."
"An Examined Life: The John Mutz Story" is available through IHS's Basile History Market and other places books are sold.
About the Authors
John M. Mutz served as lieutenant governor of Indiana from 1981 to 1989. A recognized leader in politics, philanthropy and business, Mutz is the author of "Fundraising for Dummies." Edward O. Frantz is an American historian and author of "The Door of Hope: Republican Presidents and the First Southern Strategy, 1877–1933," and editor of "A Companion to the Reconstruction Presidents."
**********************************
Title: An Examined Life: The John Mutz Story
Publisher: Indiana Historical Society Press
Pages: 223
Size: 6 x 9
Cover: Hardcover
Publication Date: September 2020
Cost: $24.95
ISBN: 978-0-87195-444-2