Etchings Press announces 2020 Whirling Prize recipients

University of Indianapolis students enrolled in the ENGL 479 course explored the genre of horror for the 2020 Whirling Prize. The students reviewed submissions and selected winners in the categories of prose and poetry in the annual competition organized by Etchings Press, the University of Indianapolis student-run publisher. Liz Whiteacre, assistant professor of English, serves as the Whirling Prize faculty advisor.
Laurel Radzieski received an award for the 2020 Whirling Prize in Poetry for her collection "Red Mother" (NYQ Books).  Joseph P. Laycock received an award for the 2020 Whirling Prize in Prose for his book, "The Penguin Book of Exorcisms" (Penguin Classics).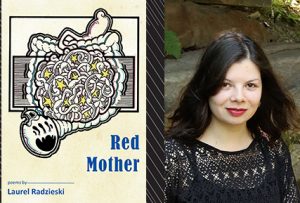 In "Red Mother," Laurel Radzieski weaves a love story told from the perspective of a parasite. This series of short poems explores the intimacy, desire and devotion we all experience by following the sometimes tender, often distressing relationship that emerges between a parasite and its host. Radzieski's poetry is playful, though often with sinister undertones. Far from romanticizing either role, "Red Mother" takes readers on a tour of their own innards, exposing the hooks and claws of all involved.
"Red Mother had amazing elements beautifully incorporated into it, making it very engaging. I might go searching for more horror-themed poetry just because of Radzieski's book." said Cassandra Dillon '22 (Professional Writing)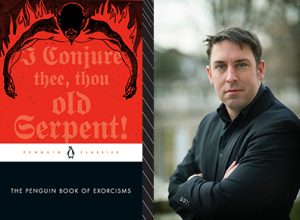 "The Penguin Book of Exorcisms," edited by religious studies scholar Joseph P. Laycock, showcases a range of stories, beliefs, and practices surrounding exorcism from across time, cultures, and religions. Laycock's exhaustive research incorporates scientific papers, letters and diary entries by the clergy, treatises by physicians and theologians, reports from missionaries and colonial officers, legal proceedings, and poetry and popular legends. The result is informative and entertaining, and proves that truth can indeed be scarier than fiction.
"Not only do these stories entertain and educate, but they maintain a sense of horrific reality within themselves that rings eerily true even today," said Hope Coleman '21 (Creative Writing).
"The student judges explored and engaged with Horror this fall and ended the competition with a greater appreciation of the nuances of the genre, after having the opportunity to read the contest entries. It was an excellent learning experience,"  said Liz Whiteacre, advisor of the 2020 Whirling Prize.
Call for 2021 entries
Student judges welcome recently published books of prose and poetry in response to the theme of nature published since January 2019. Students are employing a broad interpretation of these criteria in their reading and judging. The deadline for submissions is September 3, 2021. Details may be found on the Etchings website.