Faculty/Student collaboration completes audiobook narration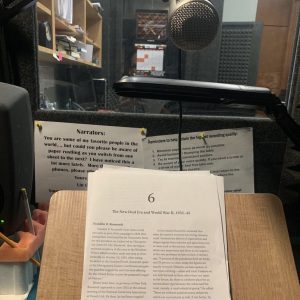 Indiana is known as the Crossroads of America, but what many people might not realize is how many times over the years Indiana has found itself at the political crossroads as well. While names like Pence, Buttigieg and Coney Barrett have had the state in the political limelight recently, Indiana was a tense battleground state for much of the century spanning Reconstruction to the Civil Rights era.
Recently, in partnership with Indiana Voices of the Indiana State Library, faculty members Stephanie Wideman, Whitney Tipton, Katie Greenan; and student Kathryn Leigh '21 (biology) completed a collaborative audiobook narration for "Campaign Crossroads: Presidential Politics in Indiana from Lincoln to Obama" which will be published this year and ultimately preserved by the Library of Congress.
Wideman, assistant professor in the Department of Communication and director of the UIndy Speech and Debate Team, was researching potential service projects for her team when she discovered Indiana Voices. "It seemed like a perfect fit," she said. "When I contacted Linden Coffman, the director of the program, and learned about its role in our community, I knew this would be a beneficial collaboration for our students and the state of Indiana."
Indiana Voices records Indiana-related books and magazines for patrons of the Indiana Talking Book and Braille Library. The project is funded by a grant from the Ruth Lilly Philanthropic Foundation and relies on volunteers to narrate and proofread the books.
"On the team, and in the Department of Communication, we pride ourselves on helping students find their voice," Wideman said. "This project allowed them to use their voice in service of our broader community." 
Leigh, vice president of the Speech and Debate Team, joined the project after Wideman mentioned it to the team. "I enjoy volunteering and books, so I figured it would be a perfect fit," she said. "It became something I looked forward to every week. I loved working with Linden, but also knowing that I was doing something very beneficial, as our work is for those who are visually impaired."
The project spanned most of a year, with narrators going to the Indiana State Library to record sessions roughly every two weeks to record their chapters. Once the task of narrating the 600-page book was completed the team set out to proof their audio recording. The final step was returning to the sound booth to fix any differences between the book and their audio recordings.
"This project allowed me to gain a new appreciation for the role of the state of Indiana in our presidential politics," Wideman said. "While traditionally the state tends to lean conservative, at certain historical points the state has been in play during election season—such as when Obama visited the state before ultimately winning it in 2008."
"'The Crossroads of America' takes on a new meaning for me now," added Katie Greenan, assistant professor of communication who also worked on the project. "From Lincoln, Grant, Roosevelt, Eisenhower, Johnson and JFK. The list goes on. Indiana was a battleground state and they all fought hard for it. I really appreciate Indiana's rich history."
Though this project began as an optional service project for the Speech and Debate Team, Wideman says that she is working on the possibility of future collaborations with Indiana Voices with the team, and possibly even in general communication courses. 
"I didn't realize Indiana's political history was so extensive," Leigh said. "It was a very interesting and fulfilling experience, and I hope to do similar work in the future."