Announcing the Strain Honors College Faculty Fellows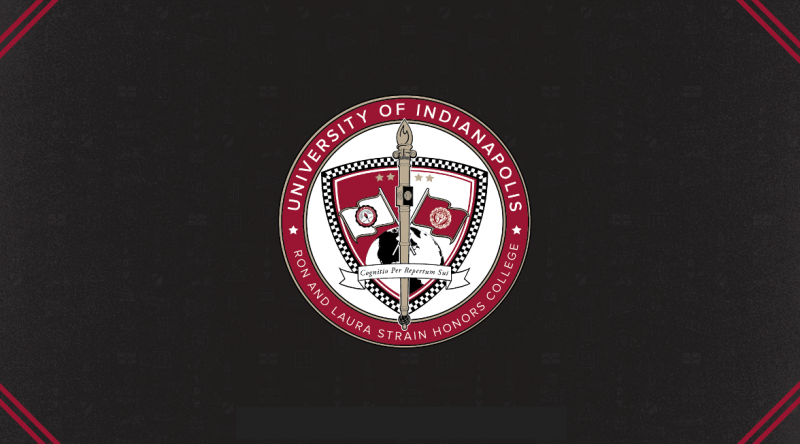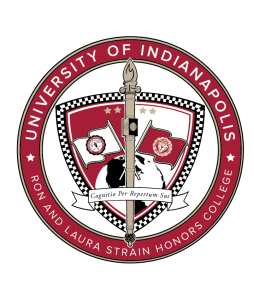 Five University of Indianapolis faculty members have been named Ron & Laura Strain Honors College Faculty Fellows. The three-year terms begin during the 2021 academic year. 
The primary purpose of the fellowship is to support the students of the Strain Honors College through teaching and mentorship or service. Strain Honors Faculty Fellows are expected to teach at least three credit hours of Honors coursework per semester and produce additional contributions related to student scholarship, mentoring, advocacy, and more. 
"This new fellows program will create a stable cohort of faculty dedicated to teaching and thinking about Honors, as well as serving Honors students in other capacities. This helps to resolve a long-standing issue about how Honors functions on our campus," said Jim Williams, executive director of the Ron and Laura Strain Honors College and associate professor of history. 
Get to know each Fellow and learn about their goals for the fellowship:
Emily G. Miller
Instructor of Practice
History and Political Science Department
Former UIndy Honors College student ('

Theory of multiple intelligences in relation to social studies'

was published in 2001)

Selected to write curriculum for the Fred T. Korematsu Institute in California to commemorate the 75

th

anniversary of the Supreme Court case

Korematsu v. U.S.

Will be teaching an Honors class to explore stories related to World War II on the US homefront, especially making connections between minority participation in the war and the power movements of the 1960s.
Passionate about acting as a diversity, equity, and inclusion advocate for Honors students and faculty
"I am encouraged by the call for diversity, and I appreciate the commitment to a theme on inequity because the experiences of World War II have played a significant role in racial progress that has impacted my life and that of many others."
Marc A. Milne
Associate Professor
Department of Biology
Directs part of the General Biology program, teaches upper- and lower level biology and honors biology courses, and supervises a productive undergraduate lab

Will be teaching an Honors Introduction to the Diversity of Life course that will explore the origination, evolution, and diversification of life on earth

Has mentored Honors and non-honors students on research related to the ecology of arthropods in nearby forests, the identification of spiders to species from various parts of North America, the illustration of specimens for new species descriptions, and the extraction, amplification, and sequencing of spider DNA for phylogenetic analyses
"Through promoting and advancing the diversity and inclusionary policies of the Honors College, supporting Honors research, and serving on the Honors committee, I hope to enhance my support of the Strain Honors College through this position."

Nicholas Soltis
Assistant Professor
Physics & Earth Space Science
Interdisciplinary researcher whose work bridges the gap between geology, environmental science, and education

Works closely with the School of Education and contributes to the

Elementary Education STEM

program; has six years of experience as a middle school math and science teacher

Engages in research on how individuals conceptualize complex Earth systems as well as interdisciplinary biogeochemistry research working to understand the relationship between low-rank coal-hosting aquifers and kidney disease in the U.S. Gulf Coast Region

Partners with

GeoFORCE

to bring high school students from underrepresented and historically marginalized groups into summer field trips to broaden the participation of diverse groups in the geosciences
"One thing I love about my job at UIndy is that I get to teach a wide variety of students about how amazing our planet is through my introductory Earth Science classes that also fulfill the university's natural science requirement."
Jordan Sparks Waldron
Assistant Professor
Department of Psychological Sciences
Facilitates internship and research opportunities as the practicum coordinator for the undergraduate and masters in psychology programs

Has mentored undergraduate and graduate students on research projects related to factors that impact mental health stigma

R

eceived the Honors Mentor of the Year Award in 2019 for her work advising honors students on their projects

Excited to develop new honors offerings for students of psychology

Looks forward to intentionally supporting and mentoring students through connections made inside the classroom
"Being able to mentor students in research is a vital part of my scholarship and I loved the connection between my role as a teacher and my role as a research mentor that I experienced through teaching in honors."
Elizabeth Ziff
Assistant Professor
Department of Sociology
Teaches an Honors First-Year Seminar course on inequality and is mentoring two students on the development of their honors project proposals focused on medical malpractice and microaggressions against female athletes

Co-faculty advisor for UIndy Pride, faculty advisor for Sociology Club, and member of the Inclusive Excellence Strategic Leadership Coalition

Committed to interdisciplinary study and engagement; maintaining diversity in the curriculum and being a voice for underrepresented groups when crafting policies and initiatives at all levels

Excited for the opportunity to work closely with a community of young scholars who are eager to be challenged in their studies
"My approach to honors education is to emphasize the process of knowledge production and reproduction, generate intellectual curiosity, and craft ownership of one's intellectual pursuits."