DHSc alum takes top billing at national PT conference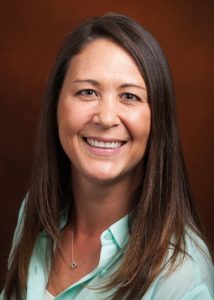 The Academy of Neurologic Physical Therapy (ANPT) Degenerative Diseases Special Interest Group recently awarded "Best Platform Presentation" to Dr. Suzanne O'Neal, a 2020 UIndy Doctor of Health Science (DHSc) alumna. O'Neal's platform presentation at the APTA Combined Sections Meeting, "The effects of backward cycling on posterior protective stepping responses in people with Parkinson disease," was based on her DHSc doctoral project at UIndy. 
It was O'Neal's interest in physical therapy for the treatment and management of Parkinson disease that led her to UIndy's DHSc program. 
"I chose UIndy because of their organized curriculum and because a faculty member — Dr. Stephanie Miller — had similar research interests," O'Neal said. "I thought it would be a great match in terms of a doctoral project. Turns out, I was right!"
The award of Best Platform earned O'Neal, an associate professor at Midwestern University in Glendale, Arizona, a spot on the Academy of Neurologic Physical Therapy's Degenerative Diseases Special Interest Group's podcast "4D: Deep Dive Into Degenerative Diseases." She said that it was the support of the DHSc faculty at UIndy that helped her to succeed. 
"My UIndy Doctoral Committee was such an integral part of the success of my project," O'Neal said. "They were all so responsive and helpful. Also, each had their own expertise to bring to the table, which brought a variety of perspectives to my project." Notably, O'Neal said it is Miller, chair of the UIndy Krannert School of Physical Therapy, who was O'Neal's doctoral project mentor, who stands out as a key influence. 
"From the moment I met her at the UIndy program orientation, I knew our research interests would click! She was always so approachable and responsive. Even though I know she wears many hats and is so  busy, she never made me feel like I was bothering her or taking away time." 
"I'm so fortunate to have found the UIndy DHSc program," O'Neal continued. "For a working professional, it was the absolute perfect choice. I received quality education regardless of being online."  She found the research methods and statistics courses to be particularly valuable. 
"I loved how I went through the program with a cohort as it allowed me to get to know people, have a support system and who I still remain in contact to this day!"