University of Indianapolis announces new study abroad partnership with Maynooth University, Ireland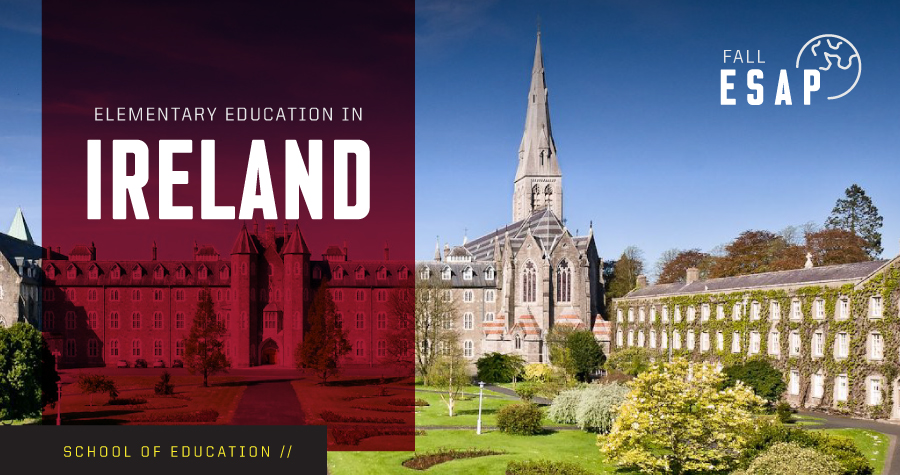 Program will connect School of Education students with real-world learning experiences in Ireland
INDIANAPOLIS—University of Indianapolis School of Education students will gain hands-on experience to become globally competent teachers through a new study abroad partnership with Maynooth University (MU) in Ireland. The UIndy-MU Embedded Study Abroad Program (ESAP) in Elementary Education allows participants to attend classes at MU and engage in school classroom experiences at local elementary schools in Ireland. 
The program, which will launch in Fall 2021 with a cohort of up to six students, will take place during the fall semester of each participant's junior year. The program includes placement at a local elementary school. Participating UIndy students (ESAP Scholars) will be paired with a mentor and assigned to courses individually to maximize their exposure to the authentic Maynooth, Ireland environment.
"The opportunity for UIndy education majors to study abroad will further develop their teaching ability and the competitive skills that are in high demand in today's education landscape. Learning pedagogical practices from national scholars in another country will allow our teaching candidates to be well prepared to teach confidently in classrooms globally," said John Kuykendall, University of Indianapolis School of Education dean.
"We are looking forward to welcoming international student teachers from the University of Indianapolis to the Froebel Department of Primary and Early Childhood, Maynooth University for the first time in September 2021. The social exchanges between Irish and American student teachers will support a comparative appreciation of the respective education systems in both jurisdictions. Such international experiences strive to complement teacher education studies undertaken in their own university whilst also providing students with an invaluable opportunity to immerse themselves in a significantly different cultural, social and educational experience," said Prof. Marie McLoughlin, head of department & Dr. Máire Nic an Bhaird international coordinator, Maynooth University.
UIndy's Center for Global Engagement and School of Education have worked with Maynooth University to align the course curriculum so that students can continue working towards their degree with no delay. The program is designed to be financially affordable, allowing scholars to retain the maximum amount of their federal, state and institutional aid.
This ESAP emphasizes the real-world classroom experience that is the hallmark of the University of Indianapolis School of Education. Through the program, students will experience international education systems and develop their ability to adapt, learn and explore within new surroundings while practicing communication skills and teaching techniques with colleagues and students from diverse backgrounds. 
"Study abroad programs continue to be a high-impact practice in higher education, and we look forward to a strong partnership with Maynooth University," said Kuykendall.
"We greatly value our partnership with UIndy, and we have enjoyed welcoming many UIndy students to Ireland over the past five years to participate in our International Summer School. We are excited by the prospect of welcoming more UIndy students to our campus for semester-long study-abroad programs," said Ben Finnegan, international officer for North American partnerships Maynooth University.
About the University of Indianapolis
The University of Indianapolis, founded in 1902, is a private university located just a few minutes from downtown Indianapolis. The University is ranked among the top National Universities by U.S. News and World Report, with a diverse enrollment of nearly 5,600 undergraduate, graduate and continuing education students. The University offers a wide variety of study areas, including 100+ undergraduate degrees, more than 40 master's degree programs and five doctoral programs. More occupational therapists, physical therapists and clinical psychologists graduate from the University each year than any other state institution. With strong programs in engineering, business, and education, the University of Indianapolis impacts its community by living its motto, "Education for Service." Learn more: uindy.edu.