UIndy MBA students explore service-learning opportunities with Goodwill Commercial Services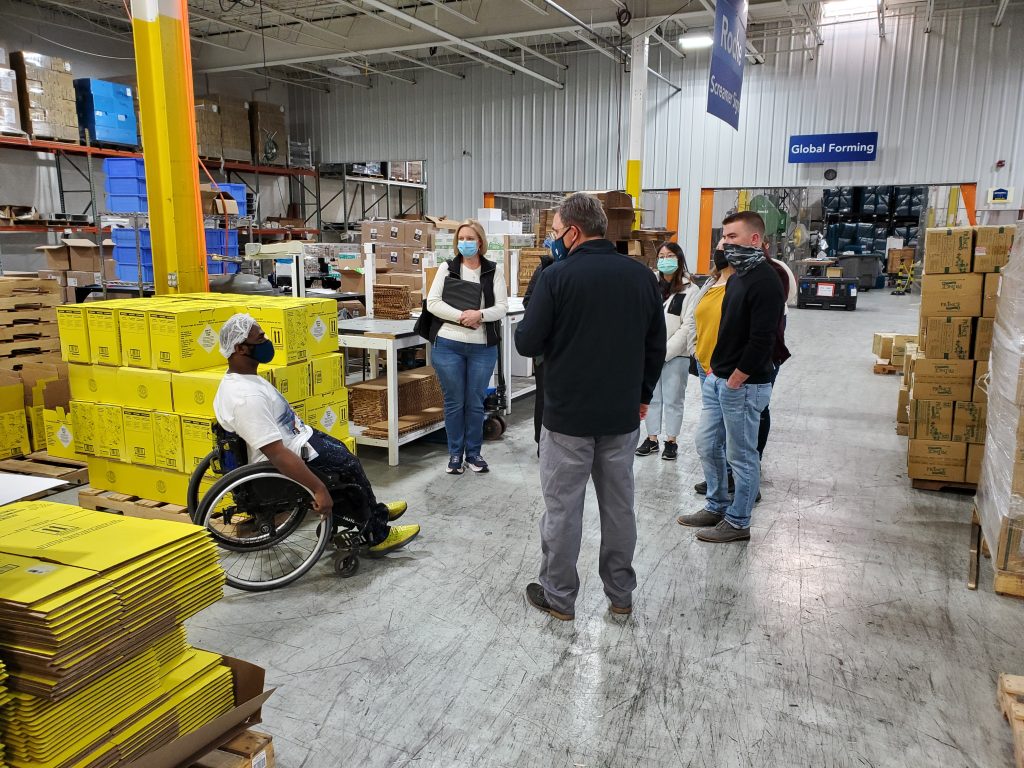 At the University of Indianapolis, "Education through Service" is much more than a motto.  It's at the core of what we do.  Service-learning gives students an opportunity to put their course learning objectives into practice while also making a positive impact on the community.  A recent example of this involves students enrolled in MBA 660 Operations and Supply Chain Management.  This course prepares students to set up and manage factories.
With labor accounting for 15-30% of total factory cost, human resource management is a key part of business planning.  Two groups that are too often overlooked in these plans are those with disabilities or previously incarcerated.  According to the U.S. Bureau of Labor Statistics, in 2020 only 17.9% of persons with a disability were employed. This is nearly 3.5x lower than employment among those without a disability.  According to the Center for American Progress, formerly incarcerated people in the U.S.face a 27% unemployment rate—nearly five times higher than the unemployment rate of the general public.
As part of their operations coursework, MBA students have an opportunity to meet with the management team and shop floor associates at Goodwill Commercial Services located on the west side of Indianapolis.  The 100,000-square-foot facility is an ISO-certified contract manufacturer staffed with associates, 85% of whom are either disabled or previously incarcerated.
"Goodwill Commercial Services provides contract manufacturing and assembly services to business customers. We were very pleased to host Dr. Craig Seidelson and the MBA students to see our Tremont plant. As future business leaders, the students will be in a position to affect change through their communities and we were proud to introduce them to some of our employees," said Jim Humphrey, vice president, Goodwill Commercial Services.
Time spent at Goodwill Commercial Services teaches University of Indianapolis students challenges that these groups face in the workforce and what can be accomplished when business leaders provide opportunities.  One student, Alice Whitaker '22(MBA, concentration in organizational leadership), commented:
"It is so encouraging to see that a place that hires people often overlooked by hiring managers is not only in business but is thriving.  It was wonderful to get to speak to their employees and hear their stories and how their lives were touched by Goodwill.  As a future leader, I want to be someone who has a people-first business strategy and I appreciated getting to tour Goodwill which proves that this goal is possible," said Whitaker.
Another student, Bailey Dodson '23 (marketing) '24 (MBA global supply chain), commented:
"It was interesting to see some of the concepts we talk about in class being put into action in terms quality, labor, and efficiency. One major aspect of the visit that really touched me was hearing some of the worker's experiences," Dodson said.