Phil Terry announced as new "Executive in Residence"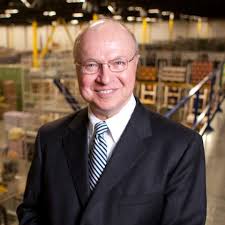 INDIANAPOLIS—The University of Indianapolis recently named Phil Terry, retired CEO of Indianapolis-based Monarch Beverage Company, as "Executive in Residence" in partnership with the Professional Edge Center. Terry also serves as Chair of the Board of Trustees for the University of Indianapolis.
The recently-established Executive in Residence program through the Professional Edge Center aims to help University of Indianapolis students and alumni in a variety of career stages by connecting them with regional and global leaders. The program focuses on career-building through the development of professional relationships and soft skills that are often learned in the professional world. The Executive in Residence will meet with students and alumni—individually and in groups—to mentor them, expand their professional networks and realize their career potential.
Terry has had a successful 45-year professional career in central Indiana. After graduating from Indiana University, and the Robert H. McKinney School of Law, he was a practicing attorney for 15 years. He then served for thirty years as the CEO of Indianapolis-based Monarch Beverage Company before retiring last fall. He has also served on a number of boards of directors for civic, professional, not-for-profit, and business organizations; including currently serving as the Chair of the University of Indianapolis Board of Trustees.
"What excites me most about this opportunity is the ability to meet and interact with students and alumni," Terry said. "I hope that I can add value to their lives and help them lead successful careers—however they define that for themselves."
At a time when career-readiness is at the forefront of higher education initiatives, the addition of the Executive in Residence program is a differentiator for the University of Indianapolis and helps its graduates use the early stages of their careers as a launching pad for future successes. 
"As a net-importer of talent into the city, state and region, it is important for us as an institution to help network our graduates with other professionals in the area," said University of Indianapolis President Robert L. Manuel. "These connections allow them to jump-start their careers and ultimately contribute to our community in a more meaningful way, and more quickly, than if they had to make these connections on their own."
"As our alumni community continues to grow, it is important for us to capitalize on existing professional connections as well as forge new ones," added Manuel. "I'm excited for our graduates to learn from and utilize the network that Phil Terry has built and nurtured over the course of his successful 45-year career."
About the Professional Edge Center
The Professional Edge Center works with local employers and professionals to develop internship, mentorship, entrepreneurship and employment opportunities for students and recent graduates. The Professional Edge Center sponsors essential skills training, speakers and career-related events throughout the year in order to give all students a competitive advantage and make each student confident, connected and career ready. More information on the Professional Edge Center is available at www.uindy.edu/professional-edge.
About the University of Indianapolis
The University of Indianapolis, founded in 1902, is a private university located just a few minutes from downtown Indianapolis. The University is ranked among the top National Universities by U.S. News and World Report, with a diverse enrollment of nearly 5,600 undergraduate, graduate and continuing education students. The University offers a wide variety of study areas, including 100+ undergraduate degrees, more than 40 master's degree programs and five doctoral programs. More occupational therapists, physical therapists and clinical psychologists graduate from the University each year than any other state institution. With strong programs in engineering, business, and education, the University of Indianapolis impacts its community by living its motto, "Education for Service." Learn more: uindy.edu.