Senior Spotlight: Elizabeth Brock '19 '21 (psychology, OTD)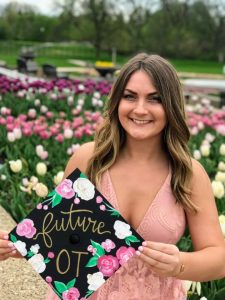 This May, Elizabeth Brock '19 '21 (psychology, OTD) will complete her UIndy journey that she began back in 2015 when she graduates as a doctor of occupational therapy. UIndy 360 caught up with Elizabeth before commencement and asked her to talk about her experience at UIndy and what she has planned after graduation:
What advice do you have for incoming freshmen?
I encourage incoming freshmen to take advantage of the intimate classroom setting at UIndy. Take time to build relationships with your professors and reach out with any concerns. The professors at UIndy are excellent and want to help you reach your professional potential.
What is the most significant way UIndy has had an impact on you?
I have a network of professionals and colleagues from my undergraduate and graduate programs that are supporting me as I enter into the workforce. 
How has your program prepared you for the next steps in your career?
Several employers and educators from various healthcare organizations have made positive comments of their experience hiring students from UIndy. The OTD program at UIndy is highly accredited and I feel adequately prepared and confident with my skills to enter into the job force. UIndy offers unique educational experiences that sets their students apart from other programs such as a cadaver lab, multiple orthoses, a Certified Brain Injury Specialist course, a direct-admit program, Anatomage labs, etc.
Do you have any faculty mentors? If so, who are they and how have they helped you? 
Through faculty guidance, I am prepared and excited to become an occupational therapist. I am blessed to have learned lessons from each one of my professors. You all have inspired me to advocate for client-centered and occupation-based care in the workforce. Specifically, my faculty mentor and doctoral capstone advisor Dr. Taylor McGann, has inspired me with her confidence and expertise in the field. She always encourages me to believe in my skills and pursue my dreams as a young practitioner. I am truly honored to be an UIndy Alum of the Doctoral Occupational Therapy Program for Cohort 2021. 
Have you been involved in any extracurricular activities? (athletics, RSOs, volunteer work etc.) How have those experiences impacted your time at UIndy? 
Super Saturday of Service

through UIndy

Note-taker for students diagnosed with learning disabilities

through UIndy

Member of the

National

S

ociety of Leadership and Success

through UIndy

Volunteered at St. Thomas More Clinic in Morgan County, IN for 6 years- they provide health care services for those without health insurance

Member of "Community Group" a Christian organization at UIndy where fellow students gather to express and growth their faith on campus
I grew personally and professionally through my volunteer and group experiences through UIndy. I met several close friends and colleagues through these opportunities. I learned it is important to set apart time to give back to your community! 
Have you done any internships, and if so, where were they? What skills did you gain?
During my 12-week rotation at the Rehabilitation Hospital of Indiana (RHI), I was mentored by two talented UIndy Alumni occupational therapists, Christian Lauletta and Taylor Yeager. I split time between the stroke and brain injury units on site. During my rotation, I discovered my passion for the neuro practice setting. It is rewarding to help individuals work through their most vulnerable state and get back to their meaningful occupations. Also, I held an in-service for the therapy department on how to use their 3D printer to design and create resources on site for occupation-based interventions. 
Also, I spent 14-weeks in Missouri working with BC Stables and Training Center to develop a program called Healing Horseshoes for my doctoral capstone experience. Healing Horseshoes allows children diagnosed with autism spectrum disorder to participate in equine-assisted therapy focused on treating socio-emotional and mental health deficits. I advocated for my profession and equal opportunities for suffering from occupational injustice. 
What would you like to do following graduation? What are your long-term career goals? 
Following graduation, I hope to find a full-time occupational therapist position in an in-patient neuro unit, specifically treating brain injury and stroke diagnoses. My long-term goal is to advocate for the profession of occupational therapy and encourage practitioners/facilities to continue prioritizing client-centered and occupation-based care!
What's your favorite thing about UIndy?
My favorite thing about UIndy are the small, personal classroom settings. I love that my professors know my name and I know my entire cohort. I have built so many meaningful relationships with my peers and professors during my academic journey at UIndy.