Class of 2021 Q&A: Haley Salamie
UIndy 360 spoke to Haley Salamie '21 (Operations and Supply Chain Management, Honors Concentration) about her UIndy journey.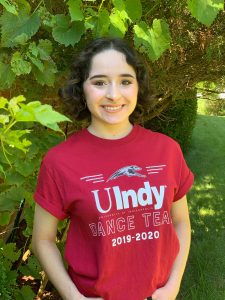 UIndy 360: What advice do you have for incoming freshmen?
Haley: Be confident, join clubs, and do not be afraid to talk to your professors!
360: What is the most significant way UIndy has had an impact on you?
H: The most significant way UIndy has impacted me is that I have been given many opportunities to have impact on the community through leadership and service.
360: How has your program prepared you for the next steps in your career?
H: My program has prepared me by giving me the tools and knowledge to stand out amongst my peers and succeed in my career. 
360: Do you have any faculty mentors? If so, who are they and how have they helped you? 
H: Yes, Dr. Karl Knapp! He has always believed in me and has helped me through my entire honors project process!
360: Have you been involved in any extracurricular activities? (athletics, RSOs, volunteer work etc.) How have those experiences impacted your time at UIndy? 
H: Yes, I am in UIndy's Supply Chain Club and Dance Team! Both of these clubs have allowed me to meet others on campus and make friends! Supply Chain Club has allowed me to gain further experience with my major and improve my leadership skills. The Dance Team has given me the opportunity to dance at a collegiate level, participate in many campus events, and travel! I also really enjoy participating in UIndy Pride's Annual Drag Show. All of these activities have allowed me to feel a part of the UIndy community!
360: Have you done any internships, and if so, where were they? What skills did you gain?
H: Yes, I interned with the Indianapolis Symphony Orchestra! I gained skills in leadership, management, communication, and planning.
360: What would you like to do following graduation? What are your long-term career goals? 
H: Following graduation, I would like to continue my education with a master's in supply chain. My long-term career goal is to have a job where I can improve sustainability throughout the supply chain operation.
360: What's your favorite thing about UIndy?
H: The people. I have met so many wonderful, kind, people during my time here!