The Sease Institute, powered by the University of Indianapolis, launches Engineering Management certification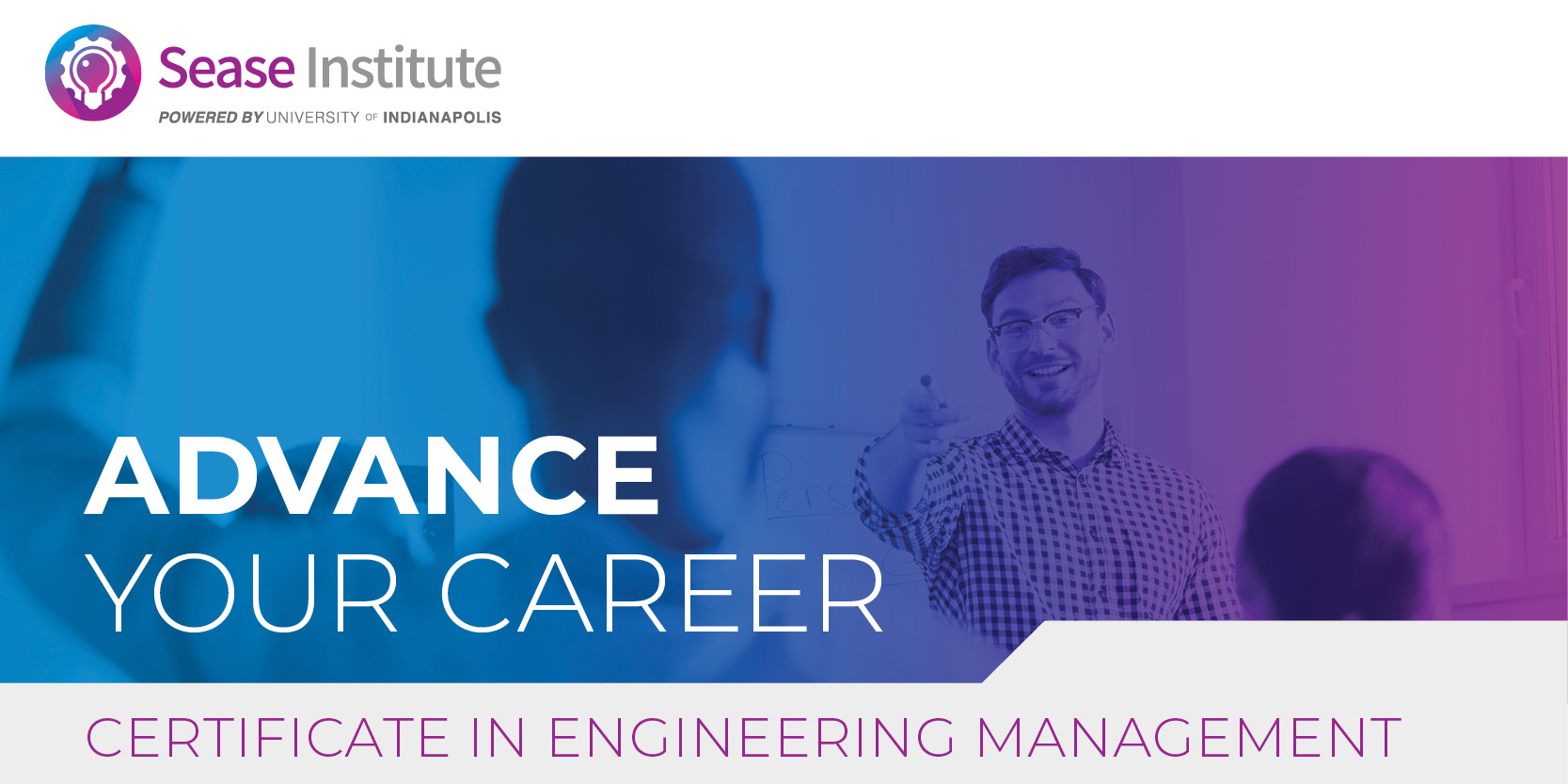 A new Engineering Management certification program offered by the Sease Institute, powered by the University of Indianapolis, will provide early-career engineers with a competitive edge in the marketplace.
Created by faculty in the University of Indianapolis School of Business and R.B. Annis School of Engineering, the online Engineering Management certification is available to any engineering student or engineer seeking to become a technical team lead, supervisor or manager.
Through a partnership with the American Society for Engineering Management, the program combines the technical aspects of engineering with the organizational and planning aspects of management. Participants will earn additional certifications in SAP, Lean Six Sigma Yellow and Green Belts, Occupational Health and Safety as well as ISO Auditing.
At a fraction of the time and cost required to complete a master's degree, the certification requires four courses, which may be taken synchronously or asynchronously. Each course meets online for three hours per week over seven weeks. Systems Management is available from May 17 through July 1, 2021. Process Management is offered from July 5 through August 20, 2021. Facilities Management and Financial Management will be offered in the summer of 2022. Registration is available online at SeaseInstitute.com.
Craig Seidelson, assistant professor of operations and supply chain management, co-developed the program alongside engineering professors Christopher Stanley, David Olawale and Mohammad Shokrolah Shirazi.
"As a person who made the transition to project manager, team leader, engineering manager and then chief engineer, I understand how difficult it can be," Seidelson said. "This program is designed to give today's engineers as well as those presently pursuing engineering degrees, the skills and experience necessary to take on leadership roles in engineering."
Learn more and apply today: seaseinstitute.com/emc
About the Sease Institute
The Sease Institute, powered by the University of Indianapolis, redefines the role of higher education in workforce development by generating custom corporate training solutions. With a solid track record of partnerships with Central Indiana industry and thought leaders, the Sease Institute focuses on being relevant, agile and responsive in order to design training programs that disrupt the status quo while creating positive and innovative outcomes for partners and the industry. Learn more: seaseinstitute.com.
About the University of Indianapolis
The University of Indianapolis, founded in 1902, is a private university located just a few minutes from downtown Indianapolis. The University is ranked among the top National Universities by U.S. News and World Report, with a diverse enrollment of nearly 5,600 undergraduate, graduate and continuing education students. The University offers a wide variety of study areas, including 100+ undergraduate degrees, more than 40 master's degree programs and five doctoral programs. The University was one of the first institutions in Indiana to develop the operations and supply chain major. With strong programs in engineering, business, and education, the University of Indianapolis impacts its community by living its motto, "Education for Service."
Learn more about the UIndy School of Business and the R.B. Annis School of Engineering.