Get to know UIndy's new Executive in Residence: Phil Terry

"The theme of my life may be serendipity," said Phil Terry, who was recently announced as the new Executive in Residence at The Professional Edge Center at the University of Indianapolis. Terry, who also serves as the Chair of the Board of Trustees, recently retired after a 30-year career as the CEO of Monarch Beverage, Inc., the state's largest distributor of beer and wine.
The serendipity Terry mentioned, the good fortune of "right place, right time," was the necessary ingredient to take him from a lifelong southsider, to a career in law, a transition to business, and ultimately to serving on the Board of a school he previously had no personal connection to.
The Executive in Residence Program at UIndy builds relationships between students and alumni by connecting them with regional and global leaders. The program focuses on career-building through the development of professional relationships and soft skills that are often learned in the professional world. In his new role, Terry meets with students and alumni to mentor them, expand their professional networks and help them realize their career potential.
"I think what I can do is primarily in the connection piece," said Terry, who has worked in the Indianapolis area for the last 45 years. "I think my value, that of someone who has been in the community for a long time, is a big contribution to students and alumni."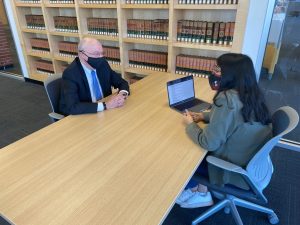 Joining the Executive in Residence program after a distinguished career in the community gives Terry a unique perspective to mentor students and alumni who are only just in the beginning stages of their careers. "I can help them sort through what works in this community, who the decision-makers are in this community, and how to make connections in this community," he said.
How did Terry become so entrenched in the community? "I'm a southsider from birth," he'll tell you with pride. "I can't think of a place I'd rather live or raise a family than Indianapolis." Calling Indianapolis the "biggest little town in the country," Terry is well aware of all the opportunities to which he can connect UIndy students and alumni. 
Terry grew up in Perry Township and attended undergrad at Indiana University before attending law school at IU's Robert H. McKinney School of Law in Indianapolis and beginning his legal career. "I didn't really know what I wanted to do long-term," he said. "It wasn't necessarily that I had a passion for the law or it was the family business or anything; it just sounded like law was something that might work."
That lack of plan during those formative years makes Terry uniquely suited to his role as a mentor to UIndy students and alumni as Executive in Residence. He remembers quite well what it was like to make his way through his educational career and not have it all "figured out" just yet, a feeling that is almost universal among college students at one point or another in their journey. "I just thought my life was going to be spent practicing law," Terry said. "But that's when the twist came."
When Terry was hired at McHale Cook & Welch following graduation from law school, he began to represent companies in the alcoholic beverage industry. "That's kind of a specialized field," he said. "There's all sorts of laws that companies have to be sure to not run afoul of."
One of Terry's longtime clients was Monarch Beverage Co., a family-owned beer and wine distributor based in Indianapolis. Because of significant business and regulatory issues, in 1991, that company asked him to join it as its chief executive officer.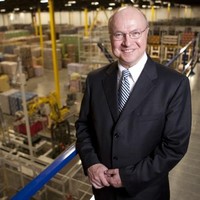 One of the reasons Terry so enjoyed his new role as CEO, which he held for thirty years before the company was sold in December 2020, was because it provided him a new, more fulfilling, way to look at how he conducted business. "In addition to alcohol law, I also did a lot of litigation, which is a classic zero-sum game," he said. "Whoever I'm dealing with I'm working to take something from them, and they're working to take something from me.
"But with business, it doesn't have to be that way," he said. "My business philosophy was that success comes from making sure that everyone you're doing business with succeeds as well. I liked that way of life a lot better."
As Terry grew in his career so too did his connections in the business community. In 2012 he joined the University of Indianapolis Board of Trustees. "At the time, I had no close personal connection to UIndy," he said. "But I did have a special connection with some people who were connected with UIndy."
Through the business community and serving on Boards of other organizations, Terry had developed a friendship with past University of Indianapolis Board member Robert Palmer, vice president and general manager of FedEx, and then-President Beverley J. Pitts. When there was an opening on the UIndy Board, Palmer and Pitts suggested Terry would be a good candidate. "It was a special affinity for Bob and Beverley that brought me on board initially," Terry said. 
"This was also at the time when President Manuel was taking over and all this creative and exciting stuff was happening and that made me want to take a bigger role in it."
Even after being involved with the University for nearly 10 years, Terry, who now serves as the Chair of the Board of Trustees, is just as energized as ever and excited about what UIndy can provide for the community. "We want to be an anchor for development in our community that will help Indianapolis generally, but more specifically, our neighbors," Terry said. "The prospect for the future is what I'm most excited about. We're creating greater opportunities for our students, and that will also create growth and prosperity for Indianapolis and Indiana."
These serendipitous connections, and the result of networking, are the backbone of what Terry believes he can provide in his role as Executive in Residence. If he can utilize his business network that he has cultivated over the last 45 years to help UIndy students and alumni, they will have an advantage as they begin their careers. "I'm hoping to help teach these soft-skills that too often aren't developed until someone is well into their career," Terry said. "If we can teach students how to network in a meaningful way and start them off with some built-in connections, it can really jumpstart their careers."
Another way Terry hopes to help students is to let them know it's okay to not feel like their "plan" is on track or perfectly curated to what their end goals are. "Early on, I wish I knew about the beneficial role that luck plays in life," he said. "I thought it was incumbent upon me to know exactly what I was going to do with the next step, every step of the way."
"I wish I had been a little more relaxed with that," he said. "You've got to spend time getting yourself prepared for whatever might come your way, but you've got to be open to what life presents."
When Terry reflects on his career he can't help but recognize the big role that "luck" played in it. From going to law school and specializing in alcoholic beverage work; working with Monarch Beverage and then transitioning to the world of business; meeting Robert Palmer and Beverley Pitts, leading to his current role at UIndy. It's not all luck, however. Terry uses a quote attributed to Dwight D. Eisenhower to exemplify the importance of preparing for whatever life may throw your way: "Plans are useless, but planning is indispensable." 
"If you're prepared, life gives you opportunities and you can take advantage of them," he said. "I've greatly enjoyed my life—and it didn't play out anything like I thought it would."