Donald Tanselle (1924-2021)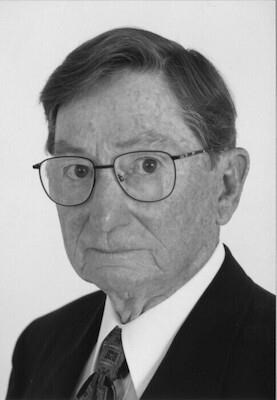 The University of Indianapolis was recently saddened to learn of the passing of former University Board of Trustees member Donald William Tanselle at the age of 96 after a lifetime of service to the Indianapolis and global community.
Don was born in Pittsboro, Indiana and was a graduate of Canterbury College and The University of Wisconsin Graduate School of Banking. He also holds an honorary PhD from the University of Indianapolis. He served with the U.S. Army in Africa and the Middle East from 1943 to 1946. Don began working for Merchants National Bank in 1948, and continued through his retirement in 1987, though he continued to serve as Chairman of the Executive Committee of Merchants National Corporation, as well as served as a Senior Consultant to Sease, Gerig & Associates. In addition to his honorary PhD from the University of Indianapolis, he also served as a member of the Board of Trustees.
"Don Tanselle was a very active board member who brought his wide circle of friends to campus," said former University of Indianapolis president Gene Sease. "During his presidency at Merchants National Bank, they built a branch on our campus; and he was helpful in our relationship with the American Institute of Banking in establishing UIndy as their educational component."
Don and his wife funded the Donald and W. and Nita Tanselle Scholarship at the University and in 1987 he was honored with the creation of the Donald W. Tnaselle Chair in Economics. The chair was endowed by Merchants National Corporation in honor of Tanselle after he retired as vice chairman from the corporation. Tanselle also headed the University's "Focus on the Future" campaign.
In 1978, Tanselle played a key role in preliminary secret meetings that ultimately culminated in the Camp David Peace Accords between Israel and Egypt under President Jimmy Carter. In 1980, Mayor Bill Hudnut asked him to serve as co-chairman of the Tanselle-Adams Commission regarding the use of force in police actions. He was an integral part of the passage of Senate Bill No. 1 in 1985 which allowed Indiana banks to expand beyond the boundaries of their headquartered county. Don was presented the honor of Sagamore of the Wabash by four of Indiana's governors.